To give your business the best chance of success, you need to invest in marketing. For a simple reason: marketing provides visibility for your products and converts customers.
Having said that, investing in marketing goes beyond just buying marketing tools and hoping for the best. Those tools will only be effective when your marketers have the skills to utilize them effectively.
That's why you also need to invest in marketing skills. By the time your marketers interact with your prospect, you want them to have the right skills to convince them.
In this blog post, you'll find 10 vital marketing skills that your business should start investing in today.
1. Interpersonal relationship skills
Even though a lot of marketing is done online today, marketers still end up interacting with their co-workers and prospects. Of course, the medium has changed but the concept is still the same.
Therefore, you need to train your marketers on how to communicate and collaborate with other employees. Otherwise, the lack of proper communication and collaboration can lead to workplace failures, according to 86% of executives and employees.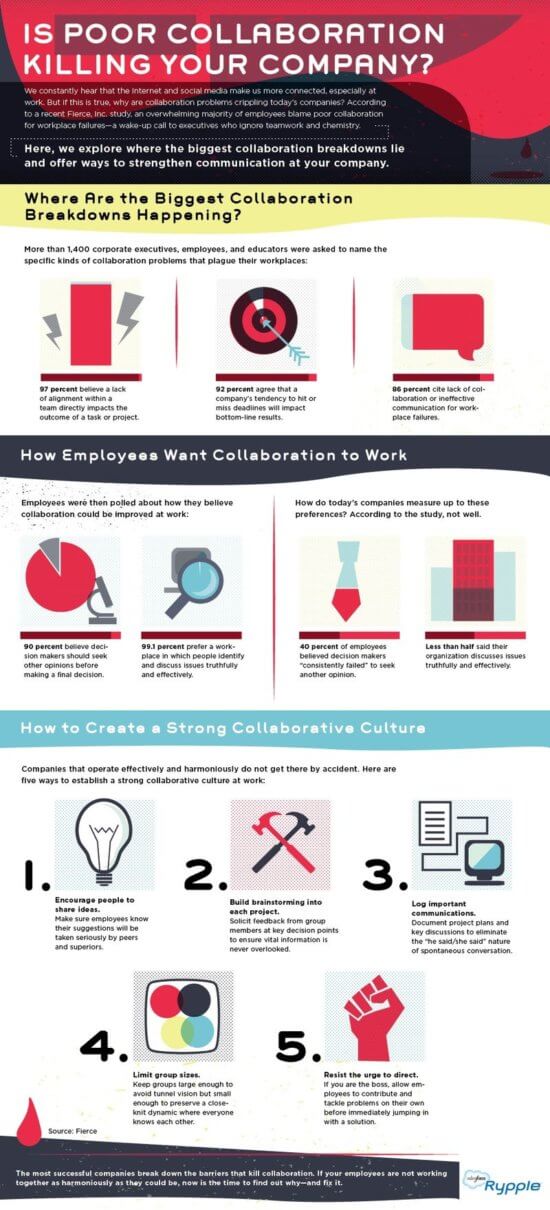 Beyond relationships with co-workers, marketers also need to learn how to relate to your leads. After all, saying the wrong words or taking the wrong action could be the difference between a customer and a lost prospect.
2. Content creation and copywriting skills
One of the most important elements of marketing is creating content. Because you use content on your website to provide information to visitors, on social media to connect with your audience, and on emails to nurture your leads.
Now, many marketers have to learn how to research and create the right type of content that will convert your audience to qualified leads. Apart from the written content, marketers also have to create images, videos, and other forms of content.
For example, 54% of your audience expects videos, according to HubSpot. As a result of this, marketers need to learn basic design skills to create visual content.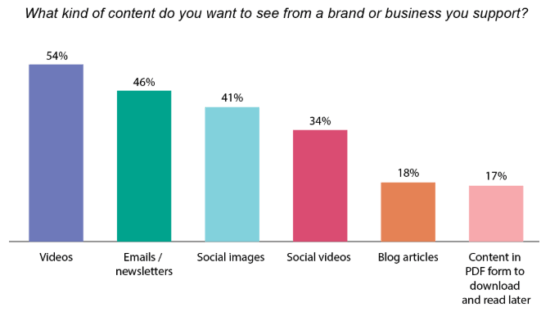 Furthermore, learning copywriting skills will help marketers to sell better on landing pages and sales pages.
3. Search engine optimization (SEO) skills
Google and other search engines have become a vital part of the customer research process. For instance, your potential customers will likely carry out a series of searches before they decide on a product.
Unsurprisingly, BrightEdge found that 51% of all website traffic and 40% of revenue comes from organic traffic. To ensure your website shows up for these important terms, your marketers need to use their SEO skills.
These include keyword research, on-page SEO, link building, and so on. By investing in these skills, you'll increase your product's visibility to searchers.
4. Social media skills
Over the years, social media has become one of the most popular platforms for interactions. Apart from interacting with friends, users also interact with businesses.
For instance, GlobalWebIndex revealed that 54% of social browsers use social media to research products.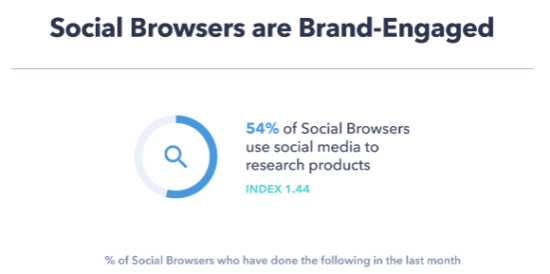 Some popular social media channels for businesses today are:
● Facebook
● Instagram
● Pinterest
● Twitter
● LinkedIn
● Snapchat
Having said that, different channels have different audience demographics and best practices. First of all, your business has to decide on the best social media channels to get results.
Where are you likely to reach your potential customers? Then, marketers need to understand how to engage with their audience on each platform.
5. Digital advertising skills
If you want to reach your prospects faster, target your ideal audience, and increase revenue, you need to use digital advertising. For instance, Google data shows that small businesses get nearly 4X higher revenue growth, when they use digital tools such as online advertising and data analytics, compared to those that don't use them.
Some platforms for digital advertising include:
● Google
● Facebook
● Ad networks
● Instagram
● Twitter
● Pinterest
However, different platforms require different strategies and tactics. Otherwise, you'll be wasting your ad budget. For each advertising platform, marketers need to learn how to set their budget, target the right audience, track results, perform tests, and more.
6. Outreach skills
Whether online or offline, one of the main tasks of a marketer is outreach.
If you're marketing your business online, you'll have to do outreach for:
● Lead nurturing
● Guest posting
● Link building
Being able to interact with people who have little knowledge of your business takes great skill. That's why some marketers get better results from outreach than others.
To put your marketers in the best position possible, you have to invest in training them for better outreach.
7. Time and project management
It's easy for marketers to spend a lot of time achieving little. Because there are always distractions at the workplace.
Luckily, time and project management will help your marketers get the best productivity possible from their time. To manage their time effectively, marketers can learn skills such as:
● Goal setting
● Goal tracking
● Breaking down goals for short periods
● Creating reports about executed tasks
These skills (and other time management skills) help marketers focus on their daily tasks. As a result, this improves their chances of reaching their short-term and long-term goals for your business.
8. Marketing automation and CRM software skills
Marketers waste a lot of time during the week doing manual repetitive work. For example, HubSpot data revealed that marketers spend a third of their time doing repetitive tasks.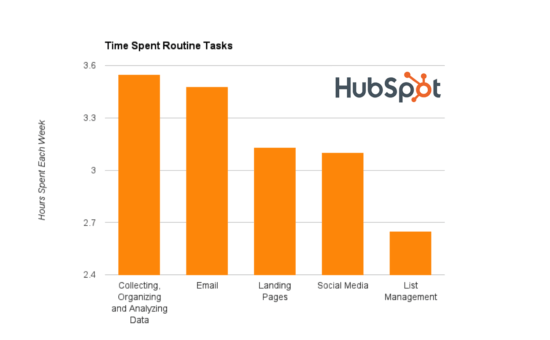 Apart from that, marketing and sales departments usually have information silos that can make both departments less effective at attracting leads and closing sales.
To solve this problem, many businesses have invested in marketing automation and CRM tools. But it goes beyond that. Marketers need to know how to use these tools to get optimum benefits. That's why they need training on how to use marketing automation and CRM tools.
With this, they'll learn how to automate common repetitive tasks, interact more effectively with prospects, set up important alerts, and collaborate better with the sales department.
9. Web and marketing analytics
Today, marketers need to deal with so many numbers. These include numbers from your business website and their marketing campaigns.
In light of this, marketers need to find the right numbers that are most important to their campaigns. Likewise, marketers need to understand their prospects through these numbers.
Another advantage is that these numbers provide insights to launch new marketing experiments. However, marketers need web and marketing analytics skills to understand numbers and draw out the underlying meaning.
As a result of training, they'll know how to use tools to find the right numbers for analyzing their campaigns.
10. ROI measurement skills
Unfortunately, businesses find it difficult to understand the impact of marketing. That's why 93% of CMOs believe they're under more pressure to deliver measurable ROI.
How do you tie the efforts of your marketers to your business growth? ROI measurement.
Usually, marketers execute campaigns for goals such as brand awareness, lead acquisition, or customer acquisition. Also, they need to learn how to track the right metrics to judge their campaign performance.
Beyond that, they have to understand the value of these metrics to your business.
For instance, what's the value of:
● A visit during a brand awareness campaign?
● A lead during a lead acquisition campaign?
● A new customer over their lifetime?
Businesses have to invest in these skills so that they can easily know how effective marketing has been to their business.
Conclusion
Marketing is a vital requirement for business growth. But marketers are far from superhumans. They need to learn new skills to ensure they're relevant to your business success.
When you invest in these marketing skills, marketers will improve their work and ultimately get better results for your business.