What needs to go into a marketing action plan to respond to a recession?
This is a post I didn't expect to write a week ago, even a few days ago, or even ever, in a lifetime of seeking to help businesses improve their digital marketing and helping marketers improve their skills.
On Monday, I gave what is likely to be my last face-to-face workshop on marketing for who knows how long. Most weeks I will talk with a team in a company or a group of companies and enjoy giving ideas and recommendations on the latest trends in marketing. But with my upcoming in-person engagements rightfully cancelled, I'm turning my attention online.
At the start of the week, we saw global brands like Apple, Nike and Starbucks closing stores around the world and posting Coronavirus advisories to their websites and social networks. I have published this recession marketing action plan guide to help marketers take their next steps.
The huge pressure on marketing budgets, campaigns, and marketers
A survey of more than 2,200 marketers conducted by Econsultancy and Marketing Week published in mid-March, revealed that the majority believe the Coronavirus had already heavily impacted marketing activities for the first half of 2020. Among marketers working at brands with a revenue of more than £50 million per year, 55% of those in the UK and 57% of those in North America say that product or service launches are delayed or under review.
Your marketing action plan
Anyway, you will be painfully aware of this already, so let's get to it, take a look at low-cost inbound marketing techniques that we can consider to remain effective in the recession.
I've structured these ideas for you to review using the 'plan' part of our RACE marketing planning system. RACE is designed to be relevant to most businesses for who digital multichannel communications are important, including both businesses that sell online and those that use digital channels to create awareness and brand preference which encourages people to work offline. It's not designed for these times (what is?), but it does give a structure to consider ideas.
We'll look at different ideas across the customer lifecycle shown below: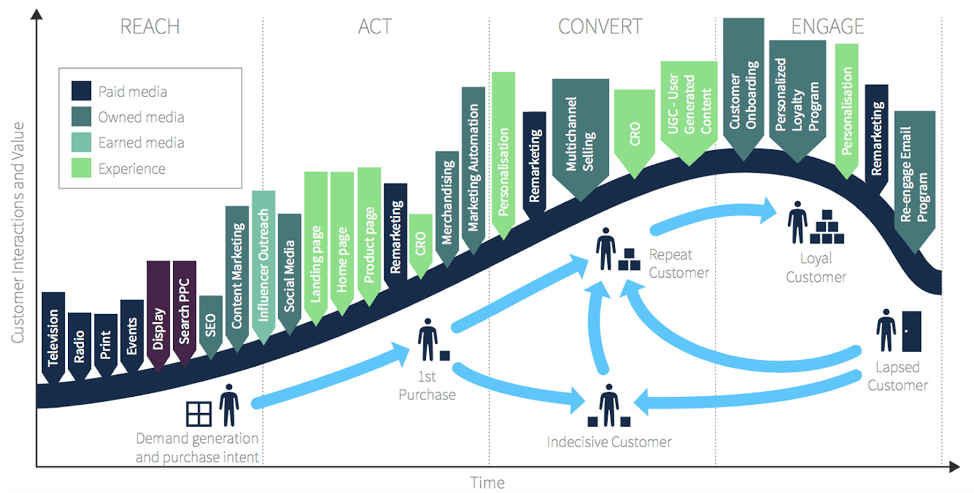 I was prompted to write this article and the accompanying guide since I was talking earlier in the week to a group of small business owners and marketers in the tourism and hospitality sector in the south of England.
Tourism destinations and their accommodation, entertainment and venues, will obviously be one of the hardest-hit sectors in the current market. In some industries, like aviation, it's unfortunately inevitable that some staff may need to be put on unpaid leave and marketing campaigns curtailed. But for others, where there is still reduced consumer demand, new approaches can be considered.
Does this sound overdramatic? Maybe it's because I'm writing about this sector, who are in a battle for survival (their words). But as always, I wanted to offer to help as I can.
About these data-driven tools and techniques
In this article, I'll outline some practical steps based on my experience of how free, i.e. no cost or low digital marketing can help businesses gain engagement, leads and sales – since it's clear there will be pressure on budgets of all types.
We created Smart Insights to help share marketing best practices. Two key pillars of our approach are to encourage marketers to use a more planned approach to their marketing and to harness the power of analysis to test, learn and refine your approach – it's why we're called Smart Insights.
Both of these techniques have the benefit that they're free, all that's needed is a change of mindset and changing your allocation of time through planning to focus more time on planning, testing and improving.
We know from our research that many businesses and particularly smaller businesses don't tend to plan. It's arguably less necessary, but now short, focused plans are more important than ever. If this is your situation, it's really a change of mindset
Plan – defining your marketing strategy and action plans
Technique 1. Create action plans to prioritize your resources. Our Managing digital marketing in 2020 research shows that many businesses don't naturally plan.
This chart shows that around half of companies don't have a dedicated digital marketing strategy and this was similar for the businesses in the workshop. Many didn't have any formal marketing plan.
In any recession, a plan becomes even more important since you will have to revise your forecasts and really prioritize the most effective techniques. Larger businesses may develop business continuity plans, but for smaller businesses, having more flexible actionable plans are important. In this article, I'm going to cover a lot of practical ideas and hopefully, they will prompt some ideas with you that you can test, but they need to be scheduled in.
In the workshop, I talked about our recommended 90-day planning technique which will help you plan and monitor all the tests you select across RACE. For example, in one quarter you may test your home page effectiveness, in another, update your navigation.
Technique 2. Sort your analytics! You can't start your analysis and data-driven marketing without this. By sort, I mean customize your analytics so you can tell whether interactions with your website are really generating value for the business and you. In the workshop we talked about setting up the right types of goals and putting values against them, which is more challenging when you're not selling online, but perfectly possible. By defining value for your goals you will then be able to much better understand the effectiveness of your content in achieving goals (though Page Value) and the effectiveness of your media investments (through Goal value per visit).
For example, Google's Demo account date shows how Page Value provides a good way of comparing different page types to see how they support conversion – here they vary quite widely. You can work on pages that are less effective.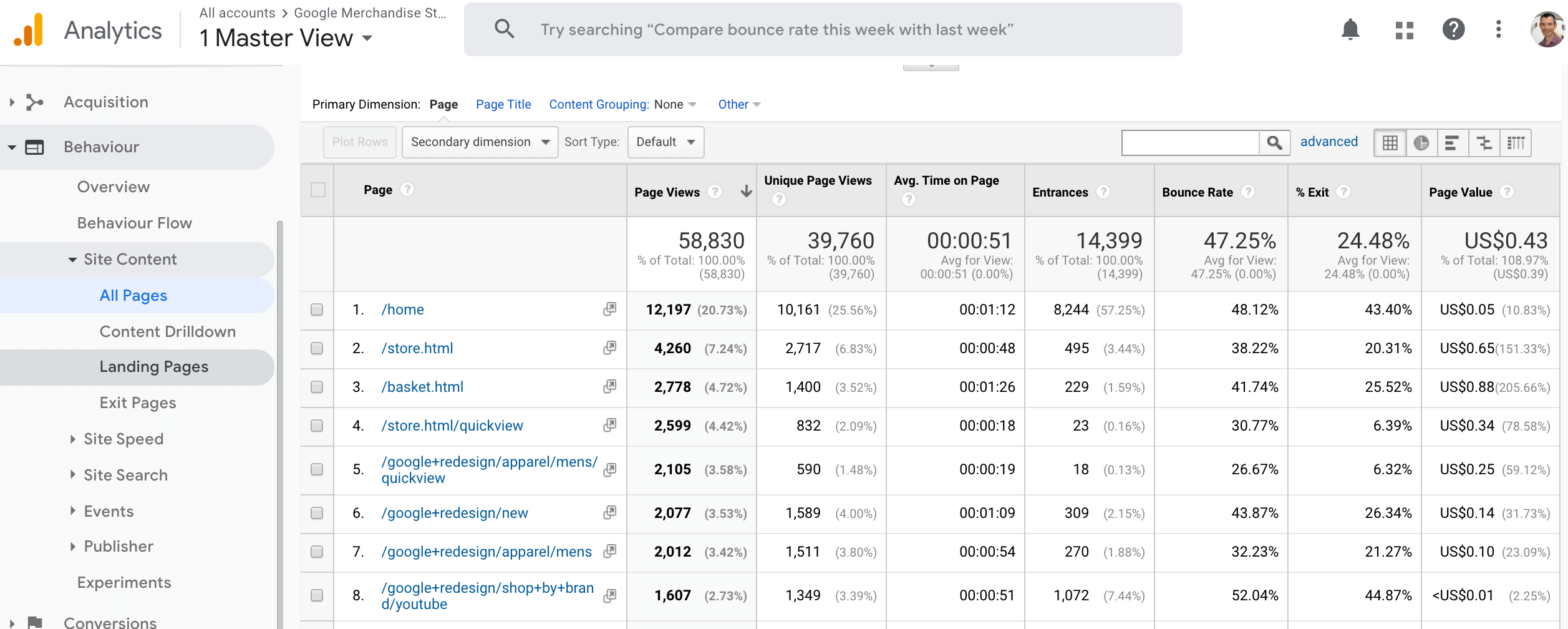 We also discussed the need to use Google Tag Manager, concluding that it's not essential for small businesses, but valuable if you are going to set up more complex goals and remarketing lists.
3. Get the balance between campaign and always-on activities right. In smaller businesses, there is a natural tendency to focus on campaign activities to generate awareness and demand. Thinking longer-term and moving from campaign to always-on marketing activities that support the long-term growth of the brand makes sense in the face of declining budgets.
Writing in Marketing Week, Mark Ritson writes, in his article, Marketing in the time of Covid-19, advises that:
"If there is one major marketing challenging now facing most big brands it is what to do with their newly slashed marketing budget. If you've just lost half of it, the temptation is to dump it all into shorter-term performance marketing and sales promotions.

That would be an error. No amount of hot deals and clever sales activation can stimulate a market that is currently terrified, locked inside their homes and unsure of their future.

Confronted with a 50% cut in marketing budgets, the smarter play is to actually focus more of it on the longer-term brand-building mission. Performance marketing is going to underperform in the current market conditions".
To succeed in digital marketing also means tapping into existing demand as people search for your types of services or review alternative providers in listings. Gaining good ratings and visibility in Trip Advisor is important in the tourism sector, of course. Always-on also involves using automated marketing activities for email marketing and retargeting, which we'll come back to.
Use tools like Google Trends, Keyword planner and Google Search console to see the latest changes in behaviour.
4. Review the gaps in your always-on marketing. The visual above shows ALL the activities you could potentially deploy to integrate your paid, owned and earned media activities. Very often there are gaps in what could be used, as this example shows. Perhaps  you could improve your middle or bottom of funnel content, or you could improve your email welcomes, we'll return to these also.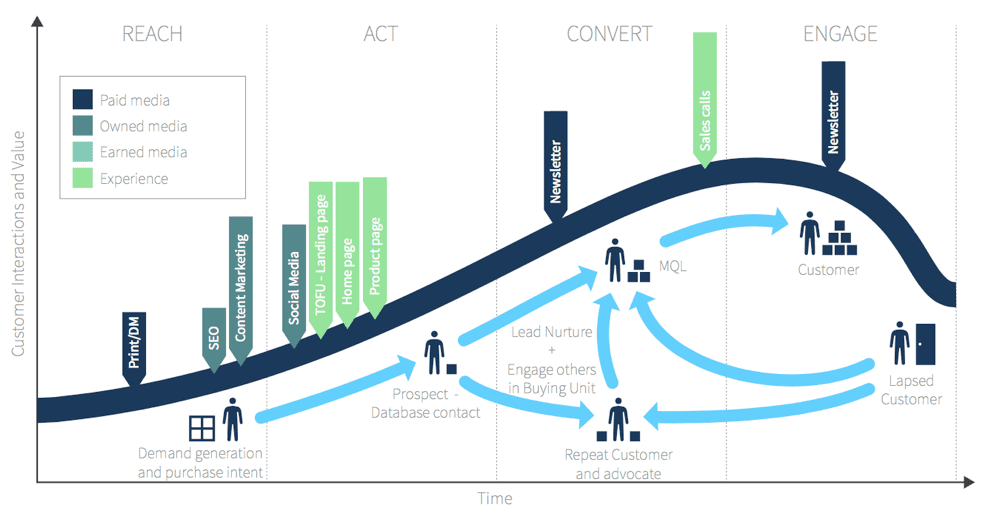 5. Review your STP. Segmentation stands for Segmentation, Targeting, Positioning. it's well-known as being at the heart of focusing your marketing appeal on key audiences you're targeting. You can read more in our free marketing models download.
In times of recessions, the balance between different audiences and markets may change. An obvious example in destination marketing, is that there will be more local companies.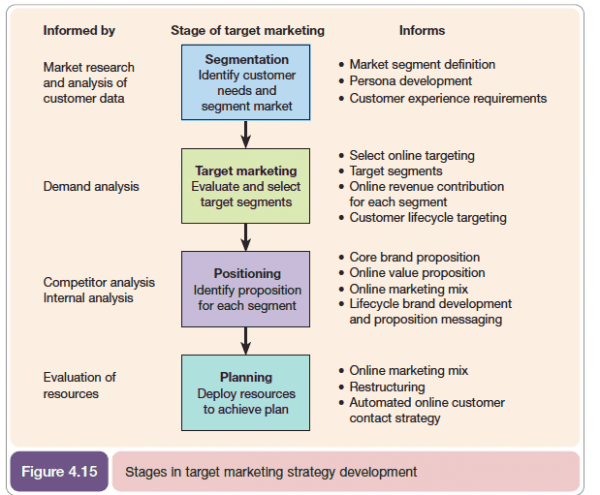 6. Refine your personas. Effective marketing should always start with the customer and understanding customer preferences and perceptions – and how they change through time. Personas are a great way to share your understanding of customers. So put more time into creating effective persona – our persona template gives a framework for the essential information in the 'perfect persona'. Including content mapping is an essential way to make your personas more actionable as we'll show with the example in the 'ACT' section.
7. Positioning – re-examine the strengths of your brand. Introducing research about how companies use digital media and technology, Philip Alford who invited me to speak for businesses who were members of the local tourism association, starting the day by stressing that you have to start with your brand and how the customer perceives it alongside other businesses.
8. Improve your Digital value proposition (DVP). In my books, dating way back to 2000, I recommended marketers review their 'OVP' or Online Value Proposition as part of their strategy. Clearly a website needs to communicate the core brand offering and brand personality, but digital gives great opportunities to add value to an audience and so develop brand preference and support purchase intent.
In the workshop, we looked at how this destination had thought through its DVP, by providing lots of options under it's 'Visit Us', this is often just a single page.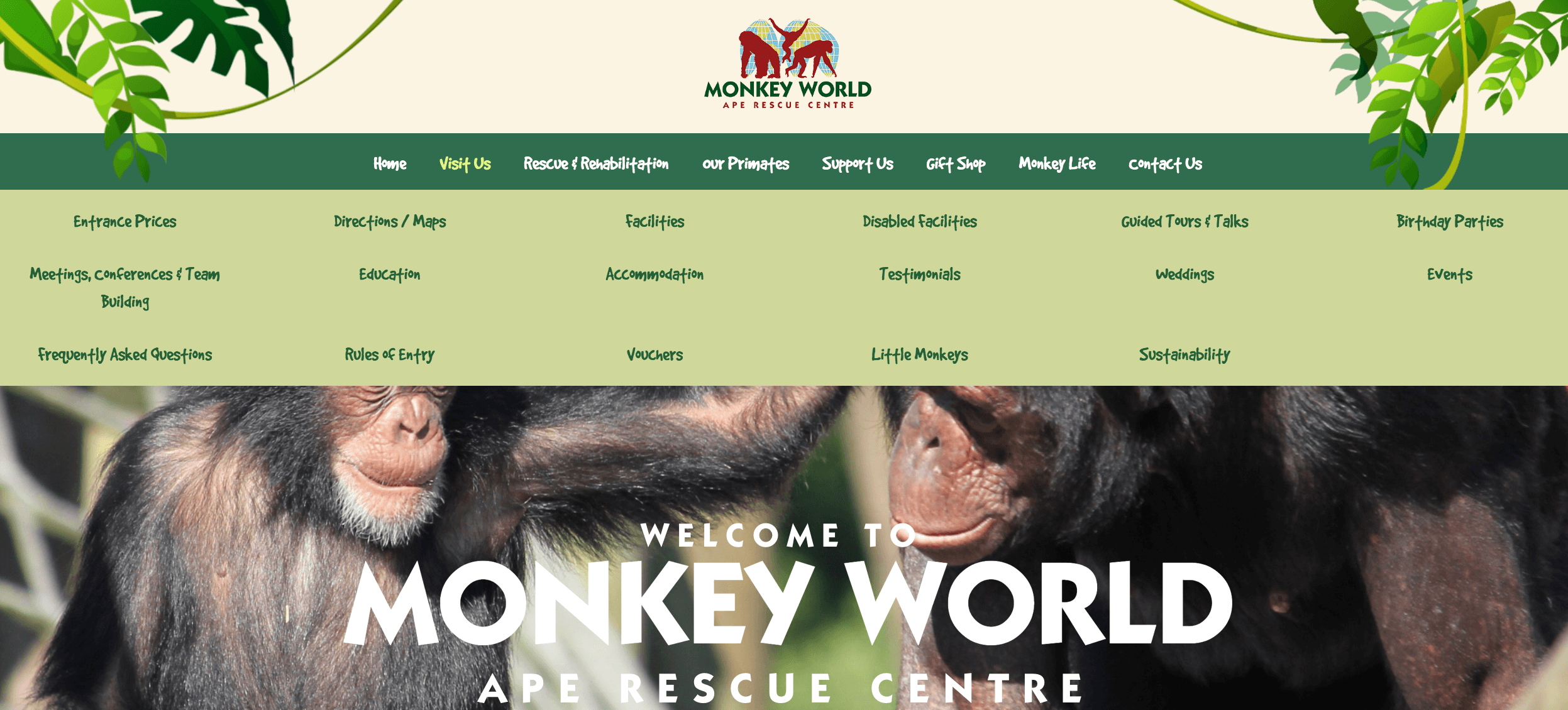 In another example, this wedding venue has multiple pages describing its wedding options. By creating more detailed content and then interlinking it can help the offer become more appealing. Plus it has the benefit of making the site more effective in organic search when people are searching for this content. Simply put, the more content you develop that meets consumers' interests, the more visits and higher conversion you should see.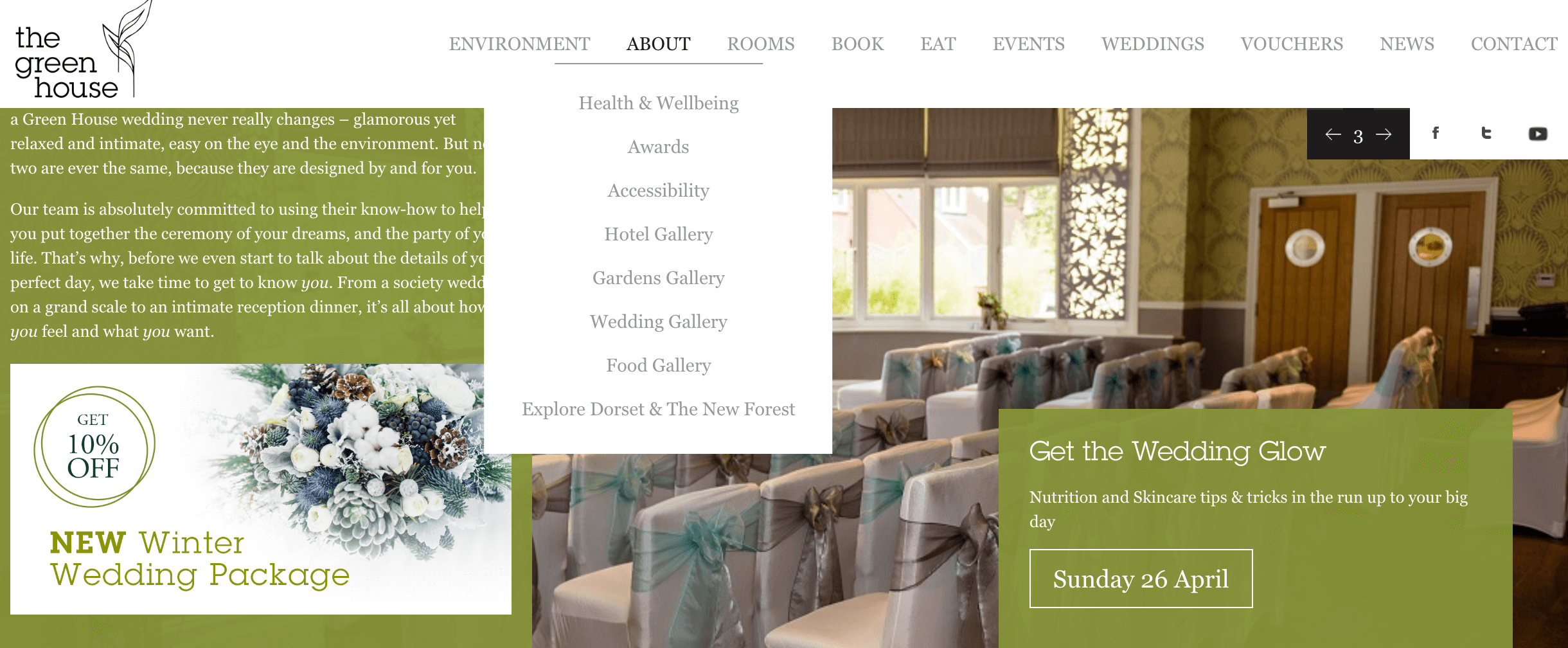 9. Understand changed customer preferences. Personas should be based on research, but they may not reflect changing concerns of the time, so look to use published research or conduct your own research to see how consumer spending power has changed. In retail, a key question is whether the Coronavirus changes purchasing intent – this tracker shows the current intent.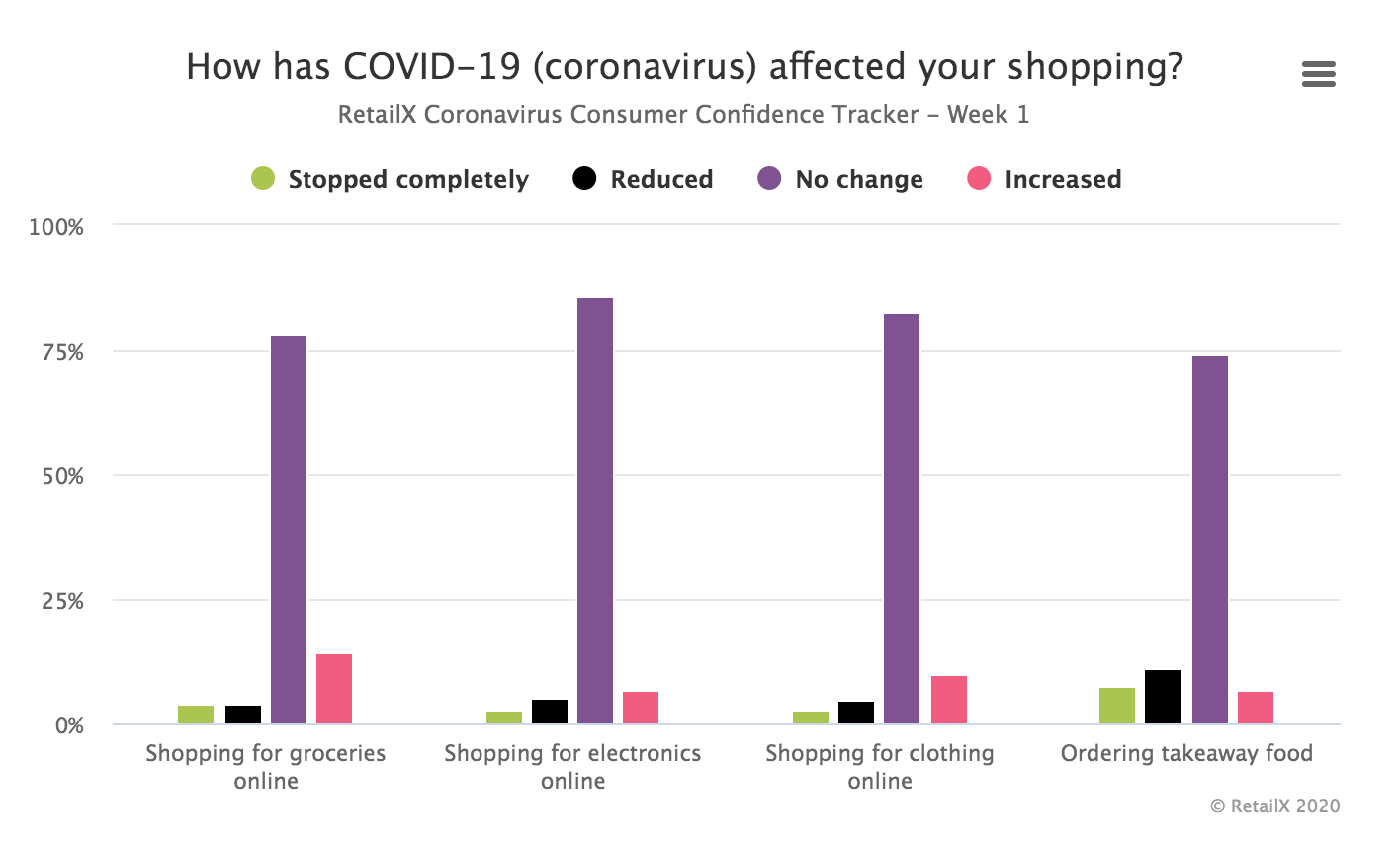 10. Benchmark communications against competitors. A simple, practical tip. Keep a closer eye on your competitors than ever. In the panel, I explained how I keep an eye on our competitors and publishers we follow using Twitter lists which can then be followed as streams in Hootsuite. It's a geeky tip, but Matt, one of the panellists, used exactly this technique in Tweetdeck to track communications for their clubs and restaurants and then compare and improve them relative to competitors.
We also recommend setting up Talkwalker or Mention as simple free brand alerts that is more powerful than the better known Google alerts.
11. Update your brand tone-of-voice. Speaking with a common, appealing voice can be difficult across all of the different channels, so developing a common agreed approach for people writing across. See these brand tone-of-voice examples for quick ways to reconsider your approach.
12. Smarter discounting. This technique can be applied in many sectors that need to be reconsidered during times of recession since consumers have less cash and competitors may offer deeper discounts. We discussed options for testing discounts for tourist attractions and bars and clubs and doing it in a creative way. For example testing 10, 20, even 30% discount, what works best in the customer journey. We noted that it wouldn't work for some price points and some audiences. This is where being creative comes in since.
13. Review your martech stack. The research we discussed looked at what could be included in our martech stack. See our essential digital marketing tools and free guide for examples of types of tools you can need. As one example, I asked how many people were AB testing their website pages. While some people were testing their email creative using AB testing, few had used Google Optimize to test. This is a tool that is relatively simple, so you can get started with limited agency support.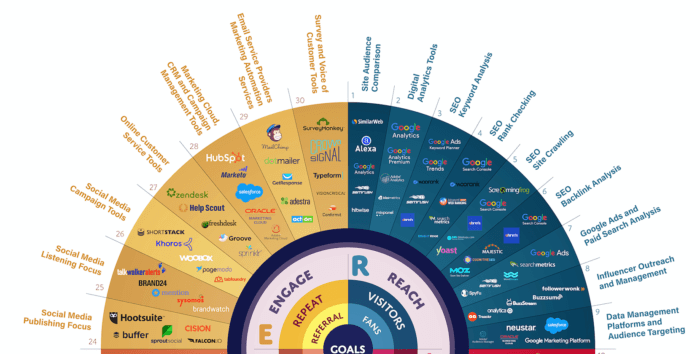 I'd also say that using multiple cloud-based marketing tools can be expensive – some estimates put it at 15 to 25% of the marketing budget. There are potential savings here, either by consolidation to a single marketing cloud solution or stopping using tools you don't use so much.
14. Review your marketing resourcing. Many businesses will be looking at the cost vs benefit of how they use consultants and agencies. Many of the businesses I spoke to, were using consultants as specialists who knew the intricacies of digital and had set them up.
15. Encourage learning. Consider the skills gaps within your team – which are most needed to prioritize. One Business Member we're working with has recently conducted this and have concluded that it's the fundamentals of copywriting and proofing that is the number one.
Smart Insights are all about online learning of digital marketing using relevant examples and plans, not just showing the features of systems. Through this blog, we offer many free resources or you can try our list of free online training marketing courses to improve your digital marketing skills.