Choosing a new (or right) content management system and digital commerce platform sits at the forefront of a company's digital transformation strategy and, ultimately, success
The term "re-platforming" typically is not a simple process of migration from one type of vendor to another – it is typically a chance for a brand to re-imagine their entire digital experience and take a critical look at long-term goals.
Some industry experts say a CMS only lasts a company five years, which should line up perfectly with the ebb and flow of your organization's changing mission objectives and directional shifts. Such a large organizational undertaking as moving to a new platform will come with a cost (in time, money and effort) and focus – why not take complete advantage and have a critical look at what the present goals of your company are?
As an organization, Episerver ends up facilitating many of these future-setting conversations with our customers as they evaluate our technology. "Where is your company going?" is a typical lead into making sure our feature set can empower teams to meet those expectations.
From these experiences, we have become experts at recognizing the agility of our prospects (and current customers) in their ability to influence and make changes internally. We created the Episerver Digital Agility Model to chronicle and methodize these observations that we make and help quantify a company's ability to respond to change. The platform itself cannot work to its fullest potential if the organization does not have the proper agility to plan and execute on its vision.
Let's discuss three simple truths that we typically see in our evaluations – consistencies and red flags that pop up time and again.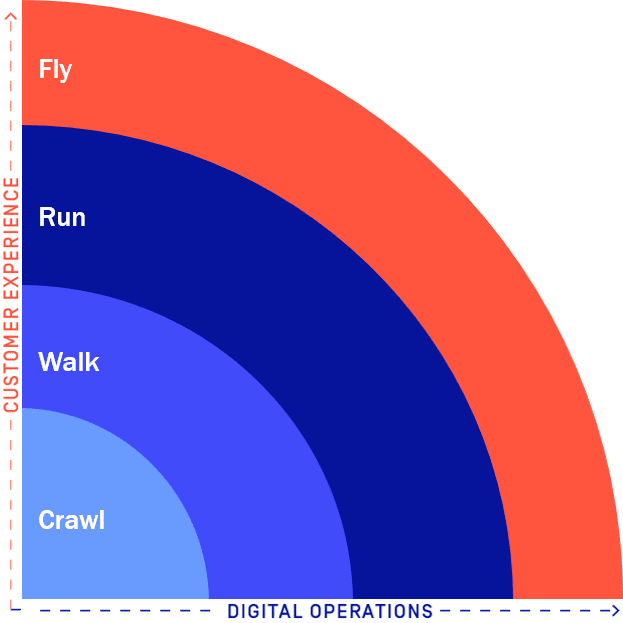 1. No change comes without a critical look
CMS and commerce evaluations become a process in "board room therapy" where companies discuss their understanding of what they must become but detail how they are diverted by internal roadblocks. All too often, companies purchase their platform and implement their site, but never resolve the change management and adoption challenges needed to realize their vision. I typically break down the remedy to this in two ways:
Are you being critical enough of your company and the challenges you must mitigate first before making these changes?
Do you have the right constituents in the room for the discussion? A platform decision by the marketing team will land in the mud if the process is not addressed in other teams like IT and sales who will now adopt the platform into reality.
By vetting a company's current state in the Digital Agility Model evaluation, stakeholders can identify what to invest in and how to get there based on where they currently are.
2. Small wins can be big wins
You know that company you idolize and want to be like? The one your CEO says, "We have to become X?" Well, they didn't get there overnight. CMS and commerce platforms are not the magic switch that changes your company into your idol (though it is a premium tactic and tool to move in that direction). Think of small wins in these ways:
Part of answering "how digitally agile are you" is determining not only where a company is, where they want to go goals-wise, but also the road they will have to travel to get there. I typically find that conversations where my audience sets their sights too high will typically never lead to any innovation. Not because change is a pipedream, but rather they can't see the first and next step in the process if they are looking all the way down the road rather than at what is right in front of them.
Break down your big goals into small ones. Address the low-hanging fruit and watch your company embrace the change emotionally and procedurally. For example, if we are implementing personalization where we have never before, start with simple segmentation. Learn from your first execution in what worked, what you struggled to capture. Most importantly, these simple steps can drive better innovation once you are in the process. Plus – let's face it, it's fun to win. From a morale standpoint, too many people I talk to get discouraged by the status quo. Nothing riles up the troops like seeing something come to fruition, and most importantly succeed. Let's reconvince our teams that change is possible with small, measurable wins.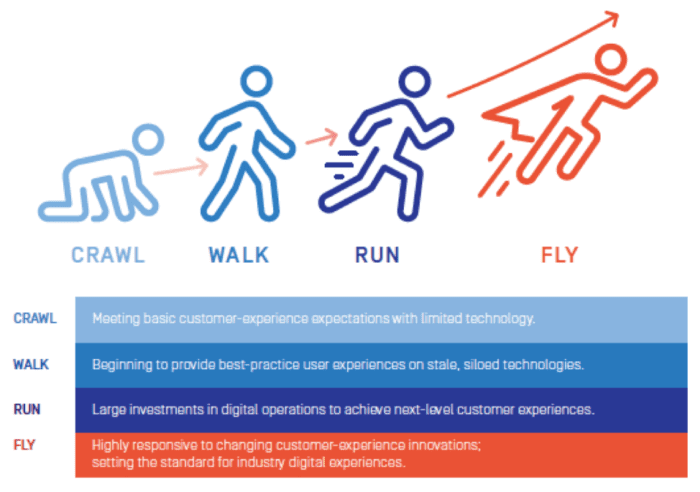 3. You can't grow unless you measure how far you've grown
If you talk to a marketing team, they should be able to tell you their baseline key performance indicators (KPIs). You would be shocked how often these KPIs are too macro and do not reflect the nuances of a business or too micro to reflect organizational goals. A few things to consider:
If you cannot prove that a channel tactic for marketing or a strategy in your company is working, then you are not succeeding with it. What is the point of email marketing if you cannot prove that it drives customers through your purchasing funnel? How can you determine which messaging is working and what is not?
As part of my research, I have found that a typical problem with measurement and attribution is that people equate KPIs with success metrics. It is not enough to see that a company is selling more widgets unless they can accurately prove why they are selling more widgets.
I've also found issues with continuous change for the sake of making changes. What happens if you miss the thing that is actually helping and move away from it?
Measurement is a confirmation of a bigger strategy and should come with a commitment to a cycle of measurement, analysis and adjustment.
Flying Forward
Organizational change comes from maximizing digital agility. We preach a "Crawl, Walk, Run, Fly" concept when it comes to determining the state of organizational growth. What stage are you in with your digital agility? Take the digital agility evaluation.