With no need to invest in inventory, the popularity of digital products is growing enormously
Creating and selling digital products is one of the best ways to monetize a website. Over two billion people are expected to buy digital products in 2020, which indicates huge opportunities for businesses.
With more and more people buying online, many entrepreneurs have started businesses selling digital products. This tough competition has made revenue generation difficult, unless and until you follow powerful strategies.
In this article, we will talk about the top three ways to increase your revenue by selling digital products in 2020.
1. Add a subscription model
A subscription model ensures recurring revenue from month-to-month. This will help you plan and make major business decisions. It's been estimated that 53% of all software revenue will be generated via subscriptions by 2022. What's more, some 70% of business leaders believe subscription models will be the key to future growth and expansion.
E-commerce business leaders such as Amazon have started offering subscription services on physical products such as food and beauty. You can make a subscription model work for your digital products as well. News publications such as The Economist and The Wall Street Journal have been doing it for years.
A subscription model is ideal for two types of business businesses that offer access to content or advanced features. If you create content that educates or entertains your audience or if you offer software as a service (SaaS), you can provide access to advanced content only to premium members (i.e. subscribers).
One of the key factors that influence the success of your subscription model is the price, as it is directly related to acquiring new customers, increasing the revenue generation from existing customers, and reducing your churn rate.
One great example is Naturally Sassy. Saskia "Sassy" Gregson-Williams provides free content about fitness and ballet movements through Instagram, YouTube, and her blog, which has helped her build a large following. She then created an online studio where her subscribers can get video-based lessons.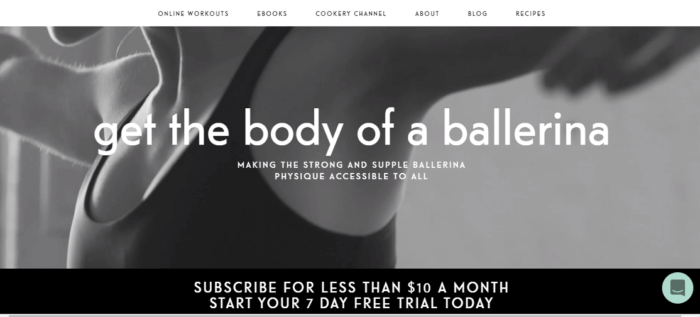 New videos are added every month, so her subscribers get value for their money. The recurring income from the subscription model allows Sassy to create more free content and attract new people.
You can either offer your basic digital products for free and charge people if they wish to upgrade, or offer all your digital products for a fixed price. Both have their advantages. The freemium model helps you attract more people and build a loyal following base, while the latter one ensures a fixed revenue every month.
Depending on what your goals are, you can choose a subscription model. However, it is also important to measure the success of your recurring revenue strategy. It will help you understand what's working and what's not in your subscription model so you can make the necessary changes.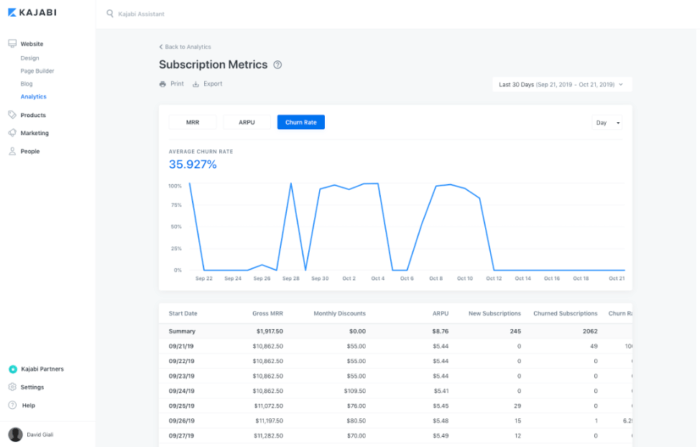 Using a solution like Kajabi, a platform for selling your own online courses can give you a better idea of how your subscriptions are performing over time. You can track monthly recurring revenue to judge the success of new offers and project future growth. Additionally, you can track average revenue per user and churn rate.
These metrics will help you understand if your subscribers are happy with the product they're getting and if you're headed in the right direction or not.
2. Discover what types of engagement lead to the most sales
Sales conversions don't materialize spontaneously – they happen only after an audience member interacts with your various touchpoints over time.
You want your website visitors to read content, submit contact forms, play videos, subscribe to your email newsletter, etc. In the world of analytics, these are tracked as "events," and keeping an eye on these events can help you understand user behavior on your website.
No matter what your objective is, all the pages on your website must be optimized for conversion. Knowing how each event impacts your conversion rate can help you optimize your website accordingly.
For example, let's say your goal is to get people to subscribe to your digital products and your visitors can get to the subscription checkout form from three different web pages. Knowing how many people visit those web pages is a good start, but to truly optimize your funnel, you need to work backward, so you can know what events are taking place that lead up to the sale.
Of course, you can't optimize things you aren't tracking. However, setting up event tracking in Google Analytics is not simple, and it requires repeating the process for each and every event that you want to track. That's where Oribi comes into the picture. It tracks all referrals to your website, and all onsite events, automatically. You just need to define your conversion goals, using the easy interface.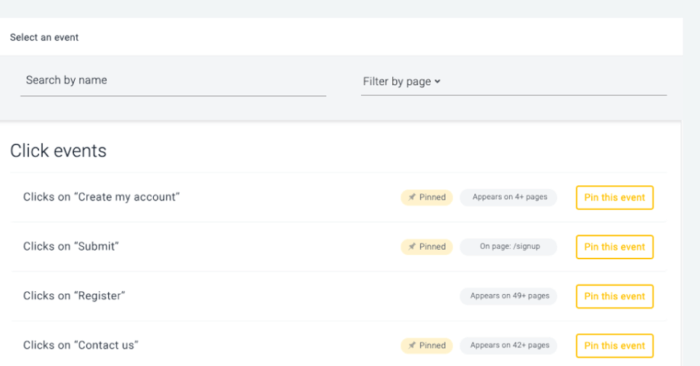 Oribi also allows you to find out why some days convert better than others. You can use this insight to perform more of those tasks and reach your business goals quicker than you otherwise might.

This way you can make sure that the events are aligned with people's intentions. This, in turn, will help you create experiences that help people build trust in your brand and increase the likelihood of conversion.
3. Optimize paths to conversion by tracking individual users
Tracking visitors can help you understand what most people look for as soon as they land on your website. It will also help you track the bounce rate, exit pages, top ten pages, and conversion rate. The benefits of tracking your website traffic cannot be ignored.
Advantages of tracking visitors include:
It allows you to see who is on your website in real-time.
It helps you figure out the channels that send you the majority of your traffic so you can increase your visibility in those areas.
It helps you determine which part of your website people like and which they don't.
It helps you uncover where you lose most of your prospects.
It helps you find out how to optimize your website.
Google Analytics is the most popular analytics tool used by businesses to track visitors, however, it does not allow you to track individual users or flagging of particular IP addresses.
Individual visitor tracking can help you understand how each user uses your website and what each individual is looking for in your website, allowing you to offer personalized products. Tools like Albacross can help a great deal in this context, allowing you to gather intelligence on your visitors and push information on their site visits to your CRM.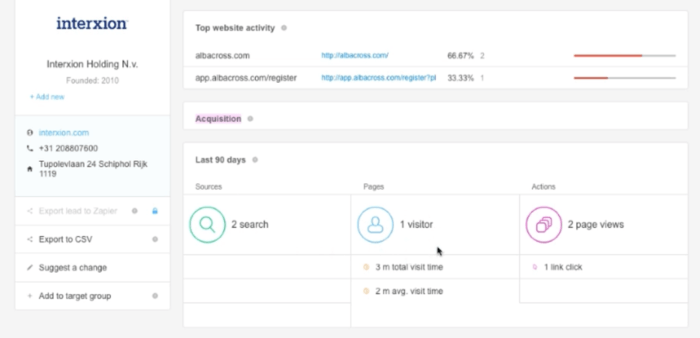 Benefits of individual visitor tracking include:
It helps you figure out why they are on your site (based on their browsing behavior).
It helps you understand their interests, and/or pain points.
It allows you to see where they are in your sales funnel, allowing you to send them personalized offers/recommendations.
Therefore, it is important to use an analytics tool that allows you to track both individual and overall visitors.
Final thoughts
Increasing revenue need not have to be difficult; instead, it should be one of the easy tasks of every digital business. Adding a subscription model where users pay every month to get access to the premium content can provide you with recurring money every month. Also, you need to track and optimize the right web pages/events to convert more people.