Google Alerts is no longer enough. You need software that will go beyond blogs and news websites to monitor everything that's going on with your brand.
When it launched, Google Alerts was a revolutionary service. For the first time, Google made content monitoring available to anybody. Whether you were a business owner or a Britney Spears fan (that's a 2000s reference, right?) you'd get notifications every time someone mentions the keyphrase you put in the GA search bar, an option that was previously only available to huge corporations.
However, monitoring the Internet in 2003 was much easier: Facebook was still a college-based startup, Twitter didn't even exist yet, and the social interactions were happening mostly around blogs. If you wanted to find out what people were saying about your brand, personal blogs were the place to be, or rather, monitor.
Nowadays, we live in a completely different Internet era where the hottest stories break on social media. For businesses, it means that monitoring Google Alerts is no longer enough. You need software that will go beyond blogs and news websites to monitor everything that's going on with your brand.
Fortunately, there are tools that are much more powerful than Google Alerts, both in terms of sources covered and functionality. They allow you to make social media monitoring more precise and analyze the results for you.
The market of social media is incredibly diverse ranging in prices and capabilities. In this article, I will talk about five tools that represent various options on the social media monitoring software market.
1. Awario
A reasonably priced solution for a robust social listening strategy.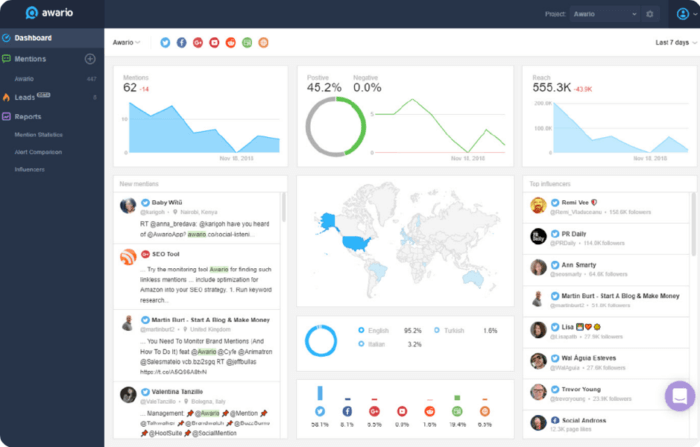 Let's start with Awario, a tool that offers the best of both worlds. It enables users to interact with individual mentions as well as provides them with elaborate analytics – at a reasonable price too!
While setting up a social listening alert, Awario offers several filters to make your search precise: you can specify the location, language, and sources of mentions (Awario monitors Facebook, Instagram, Twitter, YouTube, Reddit, blogs, news sites and the web). You can also switch to Boolean search option for even more precision.
Since Awario does real-time monitoring and crawls historical data, relevant social posts will start coming in immediately. Individual mentions are available in Mentions Feed, where you can interact with them right from the app without having to open another tab, like them, retweet, reply, and even follow the author. That can come in handy for community management and social customer support. You can sort and organize mentions in different ways and filter them to see, for example, only negative mentions.
To make sure you don't miss important mentions, you can set Awario to send daily reports to any email or connect your Slack workspace to receive mentions in real-time.
If you want to learn more about how your keywords are used, you can go to Mention Statistics report. This dashboard analyzes social listening data to provide you with valuable insights such as:
Location of the mentions.
Language of mentions.
The sentiment of mentions (positive, negative, or neutral).
Distribution of mentions among social networks.
Words associated with your keywords, and others.
You can compare several alerts' statistics with the help of Alert Comparison report, which is convenient for competitor monitoring, for example, to find out your share of voice on the market. Besides, there's a separate dashboard for identifying influencers for each platform Awario monitors. All the reports can be downloaded and shared.
One feature that makes Awario stand out is Awario Leads. It's a unique model that enables you to look for sales prospects on social media. It uses a predictive language algorithm and a short description of your products or services to find people who ask for recommendations or complain about your competitors.
Pricing
A free 14-day trial is available. Awario offers three plans that vary in capabilities. The Starter plan will cost you $29/month, Pro $89, and Enterprise $299. You can also design a custom plan based on your needs and budget.
2. Social Searcher
A free tool to find brand mentions instantly.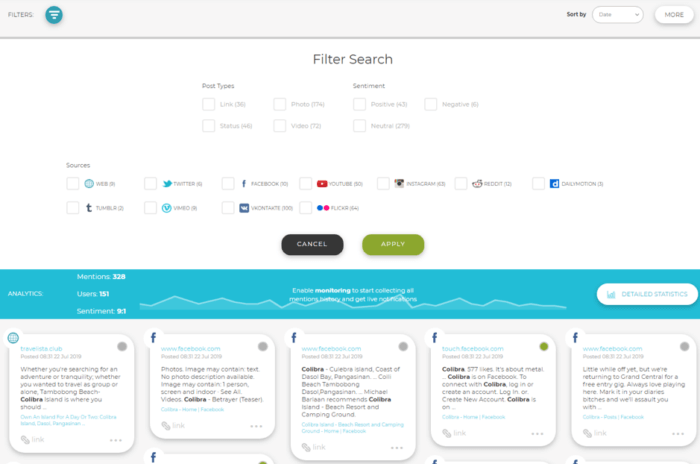 Arguably, Google Alerts' main appeal is that it's free. If there's no room for investments in a social listening tool in your budget yet, Social Searcher is a great choice. It could be described as Google Alerts 2.0 — it won't just alert you every time your keyword is mentioned on the Internet, it will also provide some stats on your mentions.
Setting up the search is extremely simple, you just need to put in your keyword(s). The found mentions are sorted by date or popularity. You can also add Minus keywords, which will help you eliminate social posts with these keywords. You can filter mentions by source and type (link, video, etc). The same filters can be used during the search setup.
Depending on the platform, Social Searcher can find social posts that are more than five years old. It monitors Twitter, Facebook, YouTube, Instagram, Reddit, Dailymotion, Tumblr, Vimeo, Vkontakte, and Flickr. All the mentions can be exported as a CSV file.
For a free tool, it gives you tons of social listening insights. It breaks down your sentiment ratio by each platform, shows you the most active users mentioning your keyword(s), popular links and phrases, and so on. It also shows you post distribution by weekday and by the hour, which can be helpful for identifying "rush hours" for your keywords.
The tool will send you daily emails with your mentions.
Pricing
Social Searcher is a freemium tool, so some capabilities will only be available in paid plans. The free plan provides you with 100 real-time searches a day and two email alerts. Paid plans, which range from €3,49 to €19,49 a month, include monitoring and saved posts that will allow you to save data and access it whenever you want. You can test out the paid plans for 14 days for free.
3. Mention
A tried and true app for agencies.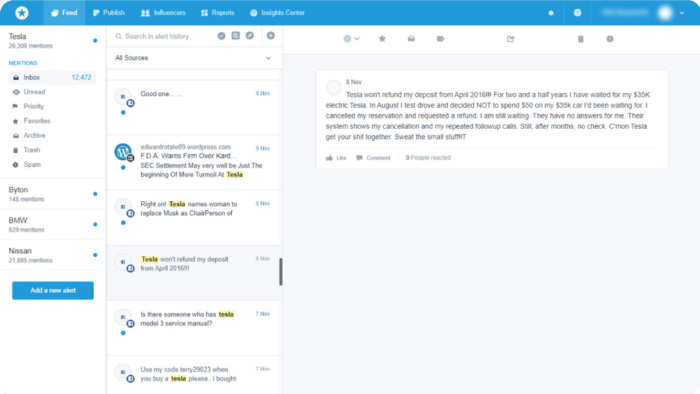 Mention has been around since 2012 and made a name for itself as an affordable tool for agencies focused on real-time monitoring.
The settings are quite flexible: you can select location, language, and source of mentions, as well as Restricted keywords. Mention is another tool that provides a Boolean search mode, so you can create an intricate search query. You can monitor Facebook, Twitter, Instagram, YouTube, Reddit, and websites.
The tool finds relevant social posts from the last 24 hours and collects them on your dashboard. From there, you can start interacting with mentions: sort, filter, and search the social posts. You can also group them to simplify your workflow. If a mention complies with your search setting but is not relevant for you (think apple fruit vs Apple the company), you can mark it as spam and Mention will eventually learn to exclude similar posts.
You can also repost and reply to the social posts directly from Mention's dashboard or integrate Buffer to schedule reposts for the future. New mentions are sent by email or Slack, and you can choose how often you'd like to receive these alerts. If you often find yourself working out of office, you'll appreciate Mention's mobile app.
One of the main strengths of the tool is the Insights center. It's a separate dashboard for analyzing your social listening data and presenting it to others. Here you can see how your sentiment ratio, reach, and the number of mentions progress over time, as well as access demographic insights. Besides that, you can use the Competitive Dashboard to compare several alerts and the Influencer Dashboard to find prominent voices in your industry.
To share this data with your colleagues and stakeholders, Mentions enables you to create customizable reports. You can select which metrics and data points you want to include based on the tactics and goals you aim to emphasize.
Another useful feature Mention offers is API access. With it, you can build Mentions capabilities into your own tool or, for example, integrate their reports into your website.
Pricing
Mention also uses a freemium business model similarly to Social Searcher. Without payment, you can get one alert, 250 mentions and connect one social account. Then you have two tiers: Solo for $29 a month where you get two alerts, two accounts and 3,000 mentions and Starter for $99 (five alerts, five accounts, 5,000 mentions, and three users). You can design a custom Enterprise plan which gives access to Boolean search, API, unlimited users and so on and starts at $600 per month. A free trial is available.
4. Keyhole
All your social media analytics in one place.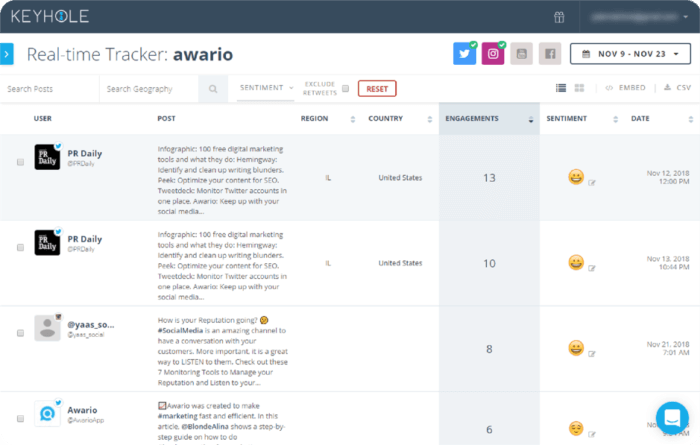 Keyhole is a perfect choice if you decide to double down on one social media channel, specifically, the big three. The thing is, Keyhole's monitoring is limited to Instagram, Twitter, Facebook, YouTube, forums, blogs and websites, but what it lacks in the number of platforms monitored, it makes up for in the analytics. Not only does the tool dissect social listening data, but it also analyzes your own social media accounts.
The company offers two tools: BrandIQ, which is designated for small businesses and Keyhole Advanced Suite for Enterprise-level marketing teams and agencies. The latter offers more advanced analytics and unlimited data export, but the idea behind them is the same.
While Keyhole's strong point is analytics, you can still search and interact with social posts. Keyhole is also often described as an influencer marketing tool since it provides a list of users with the highest post engagements. You can sort them by followers, impressions, and exposure (reach) and search through the list specifying their location, words in their bio, number of posts that include your keywords and so on.
Social listening analytics are quite detailed: you can see mentions' sentiment, gender, location down to a specific state, whether a post is original or a repost, most popular phrases, links, and hashtags mentioned with your keywords. The Twitter historical data is available on request.
Regarding the account analytics, Keyhole is able to give you insights on your most popular posts, most engaged followers, the best time to post and more based on your Instagram Insights and Twitter analytics.
Like other tools, Keyhole sends you daily or weekly emails with new mentions. The tool also implements machine learning to alert you if:
There is a sudden or unpredicted spike in the number of mentions.
New influential users join the conversation.
A post containing your keywords starts to go viral.
You can also integrate Keyhole's social listening data through their API.
Pricing
BrandIQ has three monthly price tiers: Solo for $29 with three keywords, three accounts, and 5,000 mentions; Three's a Party for $59 with nine keywords and accounts, 10,000 mentions and Sentiment Analysis; and Advanced which starts at $199 and is customizable. Keyhole Advanced Suite also starts at $199. A free seven-day trial is available.
5. Talkwalker
Deep dive into detailed social listening data.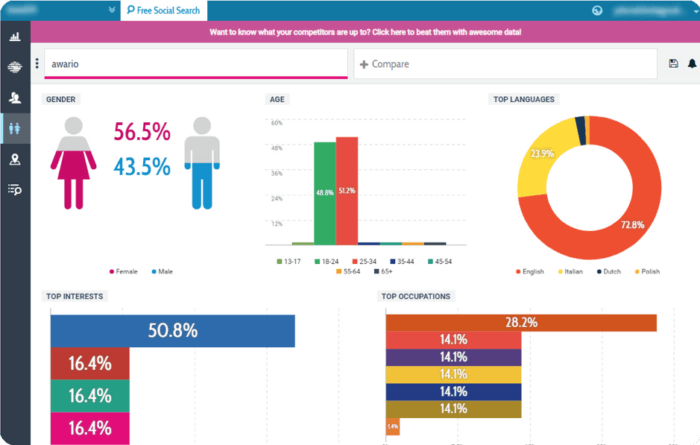 While the tools listed above try to balance two social listening activities: interacting with individual mentions and processing social listening data for market research and business insights, Talkwalker heavily prioritizes the latter.
It's an Enterprise-level tool that provides companies and agencies with extremely detailed analytics. It allows you to group several alerts to analyze them together, compare alerts or groups among each other, find influencers. The analytics dashboards are fully customizable: you can choose how you want to present data and which data points to give priority to.
The insights Talkwalker is able to provide include sentiment analysis, mention map with countries and regions of mentions, the language of mentions, gender of the authors, main topics and themes for your keywords and more.
You can also add any public social media page to get insights from it including your best performing posts, follower growth, and audience activity. This could be very helpful for competitor monitoring.
Talkwalker offers image and video recognition to find your logo in media files and AI Engine which uses machine learning to make your search results more relevant.
There's also a direct alternative to Google Alerts conveniently named Talkwalker Alerts. It's a free tool that finds mentions of your keywords on Twitter and the web and sends them to your email. You can choose the language of mentions, how often you want to receive emails, and whether you want to see all the results or the best ones (with the highest reach).
Pricing
Talkwalker offers three plans, but only one of them has a set price. The Basic plan costs $9,600 yearly, which roughly amounts to $800 a month. You can also pay for image and video recognition, historical data access and AI engine as add-ons.
This list gradually goes from affordable to Enterprise-level tools and demonstrates that there's something for everyone on the market. With Google Alerts becoming less and less accurate, it's high time to make a switch!