There are many factors that can affect your strategy and new research is always churning up findings that you can make use of
We've written a lot on why you need a social media strategy and have given plenty of insights into how to create one, so you should be well versed on the benefits of a good social plan.
However, there are many factors that can affect your strategy and new research is always churning up findings that you can make use of – as well as methods that you should stop using in order to see the best results.
Just as with any marketing strategy, your plan for social media should be fluid, taking into account any new research, technology or platforms that come about. Sticking with a strategy that was put in place months ago and doesn't reflect updated best practice can mean you don't see the results or ROI you're after.
With this in mind, here are some recent statistics that could inform your social media strategy and help your brand see the best possible results.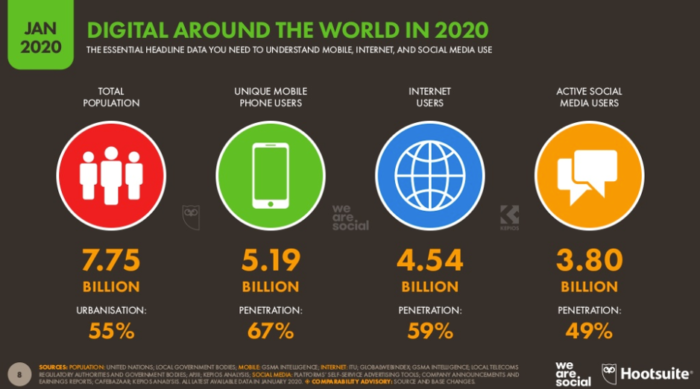 49% of the global population are active social media users
Just under half the world (49%) is now active on social media, meaning 3.80 billion people use social media platforms every month. This is a 9.2% increase, or an extra 321 million people, compared to January 2019, representing a large rise.
When you consider the fact that 4.54 billion people are on the internet (with a penetration rate of 59%), it goes to show how big an influence social media can have on individuals.
Looking at social media use by location reveals that active users in every part of the world are increasing. For example, although only 16% of Africa are active social media users, from April 2019 to January 2020, this represents a 12% (23 million individuals) increase.
In January 2020, the Americas had a social media penetration rate of 67%, which is a 6% rise compared to April last year, while Asia-Pacific saw a 9.8% increase meaning 50% of the region now actively use social media. Although Europe only saw a 4.4% increase in the same period, this now means that it has a 55% penetration rate.
The largest increase in active social media users was seen in the Middle East, which saw a 14% rise from April 2019 to January 2020 taking penetration in the region up to 48%.
Over 35% of people have reduced their social media use
Despite the number of active social media users growing over the last year, 35.7% of people in the UK have admitted to reducing the amount of time they spend on social media.
Millennials (those born between 1981 and 1996) are more likely to reduce the time spend on social media networks, with over half saying this is the case.
This trend is largely due to the feeling that social media is leaving people feeling overloaded, which 29% of survey respondents said was the case. Other reasons for cutting back on social media included addition/time-wasting (27.2%), a lack of trust (26.7%), privacy/data concerns (21.4%), mental health and wellbeing (21.1%) and digital detox (14.4%).
While people are cutting back on the amount of time they spend on social media, they are more likely to simply remove an app than get rid of their account completely, which means there is a chance of them returning. Some 30.6% said they remove an app compared to 9.6% who said they delete accounts.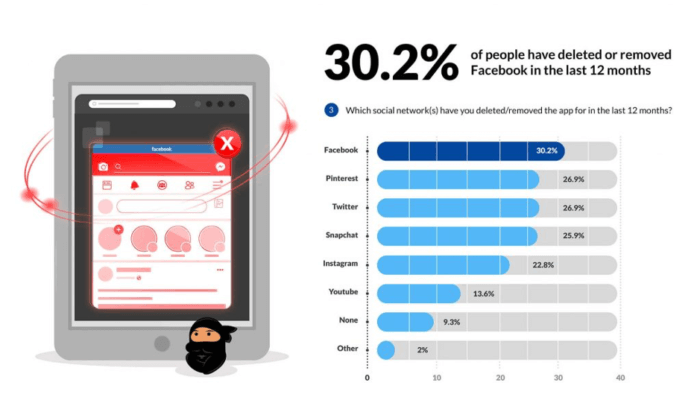 In terms of what social media platforms people are saying they get rid of, 30.2% said they had either deleted their Facebook account or removed the app, suggesting that Facebook's decline could continue in 2020.
45% of marketers are satisfied with the lead volume from social media
Social media can do more than raise awareness of your brand, it can also convert people into leads. In fact, 45% of marketers are 'satisfied' with the volume of leads they are getting from social media, with 38% being somewhat satisfied and 7% being extremely satisfied.
However, an acceptable number of leads does not necessarily mean that those leads are of high quality. In fact, 37% said they are dissatisfied with the quality of leads they get from social media platforms, compared to the 35% who are satisfied with their lead quality.
This suggests that marketers need to do more on social media to qualify the leads they are bringing to their site from platforms – such as by providing social proof, posting user-generated content and working with influencers. This could ultimately help social media marketing strategies deliver better ROI.
31% of brands are set to increase their spend on TikTok in 2020
TikTok has seen an almost meteoric rise in terms of use, with the platform achieving 500 million active users across the globe in 2019. This hasn't gone unnoticed by marketers and now just a third (33%) are planning on increasing their marketing budget on the channel in 2020.
Although 52% currently aren't spending money on TikTok, this is also likely to change as the platform goes from strength to strength. The increase in the popularity and spending on TikTok seems to be coming at the expense of Snapchat, which is expected to see net budgets decrease by 6%, with only 12% of marketers saying they are increasing spending on the platform.
However, it is worth noting that – as with all other social media platforms – TikTok may not be the right fit for your business. As the platform primarily has a younger audience, B2B and those brands with an older target audience may not get great ROI from TikTok.
It's worth noting that Instagram is set to see the most investment of social media platforms in 2020, with 68% of marketers reporting that they are going to increase spending on the network. YouTube is up next with 64% looking to add more to their budget for the platform.
79% of Facebook users only access the platform via a mobile phone
Brands have been talking about becoming mobile-first for several years, but it seems that when it comes to social media, this is a requirement. Even when social media platforms have desktop sites, people are more likely to visit the platforms via smartphones, a sign of the increase in mobile connectivity.
Some 79% of Facebook users only access the social network on their phones, with just 19% using the platform on both phones and computers. When looking at the type of mobile device people use to go on Facebook, 80.8% are on Android and 14.2% are on an iOS device.
When you combine these findings with the fact that many platforms are only fully accessible via mobile apps, marketers need to ensure that they are looking at the mobile experience when developing their social media strategy.
This means content that grabs attention, such as images, as well as content that is easy to view on smartphones, including vertical videos. Similarly, marketers also need to ensure that wherever they are sending people from social media, it is also fully mobile-optimized in order to get the best results.