A step-by-step guide to producing a plan that will attract, engage and delight customers
Building a strong brand, attracting new prospects and retaining customers requires a strong integrated marketing strategy. This will use a combination of both outbound (push) and inbound (pull) marketing. For some businesses, such as start-ups, small local companies and even larger B2B companies with limited ad spend, outbound marketing can be expensive and risky. However, inbound marketing can be more accessible and focuses on building demand by giving people compelling reasons to come to you.
The term 'inbound marketing' originated in 2006, coined by Hubspot to explain how marketers can attract interested prospects using content marketing, social media and SEO. According to Hubspot:
"Inbound marketing is about creating valuable experiences that have a positive impact on people and your business."
Hubspot's framework distills inbound marketing into three components.
The need for a strategy
Whilst Hubspot's inbound marketing framework provides a helpful indication of the type of tactics and activities to consider, marketers looking to execute inbound marketing well need a strategy.
There are many definitions of marketing strategy but I like this one from Ben Breen:
"Strategy is the combination of things you need to do to hit one or more objectives, limited by time and resources. It's what you set out to do to achieve some desired outcome with constrained resources over a specific timeframe."
Within this post, I'll outline seven elements that go into making an inbound marketing strategy that will attract, engage and delight customers.
The seven elements
Within Ben Breen's definition above, you'll notice that the start of the second sentence reads "it's what you set out to do to achieve some desired outcome…". For the purpose of this post, we'll assume that the outcome or objective is to increase Marketing Qualified Leads (MQLs) by 25% over the next 12 months.
1. Understand your audience
A Marketing Qualified Lead (MQL) is considered to be more likely to convert into a customer compared to other leads. This qualification is based on an agreed definition and criteria, including the type of web pages someone has visited, what they've downloaded and how they've engaged with content.
Because MQLs set a high benchmark, it's crucial to target the right audience. Different people respond to content in different ways, so defining who we're targeting will enable us to tailor our content plans accordingly.
Key actions:
Meet with fellow marketers and sales colleagues to reach a consensus on the target audience.
Agree with the team the criteria required to qualify as a quality lead (MQL).
Bring your audience to life with a detailed persona. Use examples and stories to describe your target audience, what interests and motivates them, the media they consume and where they live online.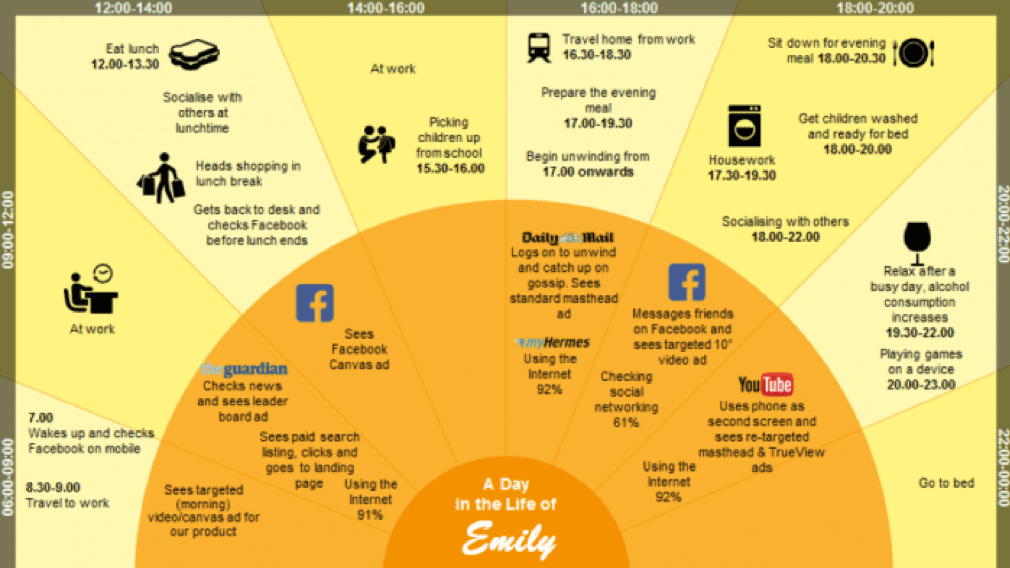 Resources:
2. Funnel analysis
The sales funnel is a model most marketers will be familiar with. We know that each stage corresponds with different need states, from initial exposure and discovery through to conversion and loyalty.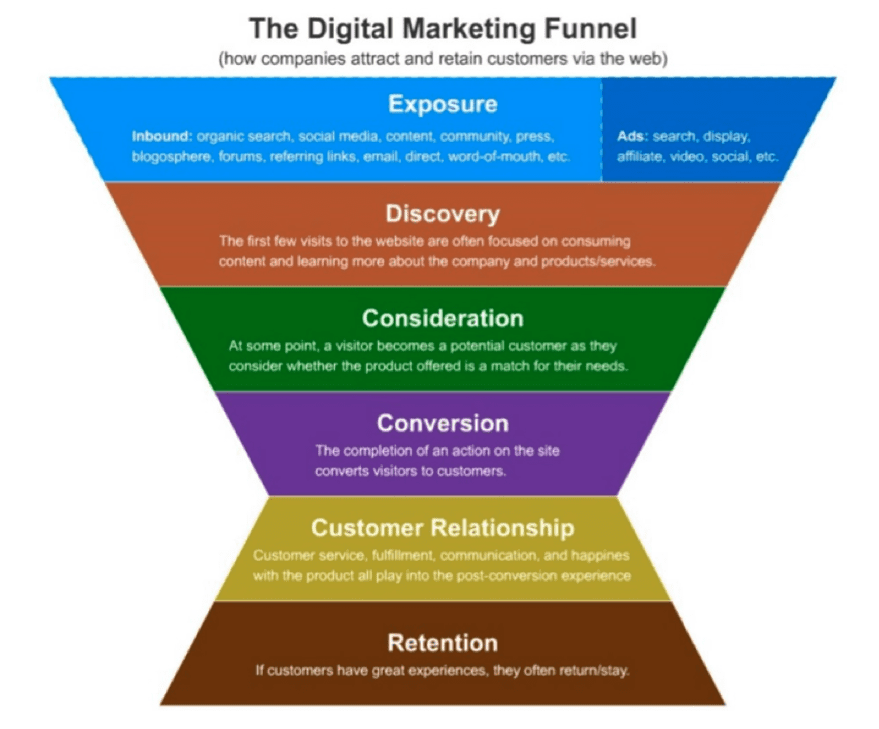 However, every company is different and it's therefore important to assess how the funnel works for your organization. How do prospects and customers engage with your brand and what does this mean for each stage of the funnel?
Although we know broadly what content is associated with each stage of the marketing funnel, speak to sales colleagues and customers to get their perspective. What content is working to build awareness? Are there any specific tools or guides that are resonating in the middle to lower (Act and Convert) stages?
One useful tool is the Behaviour Flow analysis in Google Analytics. While this won't give you the full picture, it may provide an idea as to how visitors are engaging with content and web pages at different stages. You may find that there is a big drop-off at some point, an indication that content on that particular page is not working and needs to be reviewed.
Key actions:
Meet with colleagues to define what we mean by top, middle and bottom of funnel content.
Speak to customers to understand what is/isn't working. This can be done face-to-face (e.g. interviews, focus groups) or via online surveys.
Review web analytics and evaluate how users are engaging with content at various different stages on the way to specific conversion points.
Resources:
3. Content audit
A large part of developing an inbound strategy involves reviewing and auditing what you're already doing. Only by knowing where you currently are can you plot a way forward.
A content audit is a comprehensive review of how digital content is being used from a content marketing perspective to drive reach, engagement and interest. The main benefits include:
Evaluate content quality and effectiveness
Identify content gaps
Improve user experience
Enhance search engine optimization
Enhance content efficiency
Content audits can take hours, days or weeks, so tailor a version that suits your priorities and time frames. I would recommend the content audit be broken into distinct categories:
Reach: Organic and paid visibility
Architecture: Channel design, structure and functionality
Content: Process and assets
Integration: The connection between online and offline touchpoints
Measurement: Digital objectives, metrics and performance
Key actions:
Set a timeframe before conducting the content audit. This will help manage expectations as to what level of detail you will go in to.
Put parameters in place regarding the channels you'll review. For example, some brands may have hundreds of different social accounts so agree in advance what you will/ will not review.
Catalogue your content using agreed categories. SEMRush recommends:
Customer journey stage (RACE)
Content type (blog post, manual, product description, landing page)
Content format (text only, images/video present, within/without call to action)
Word count
Date of publication or last modification
Resources:
4. Campaign audit
While a content audit looks at how content is being used across different channels, a campaign audit looks more holistically at how campaigns have performed and what insights can be used to inform our inbound marketing strategy.
An understanding of how previous campaigns have performed will provide you with insight into what content, creative and messaging works. Part of the inbound strategy process is about making decisions as to what should be considered for future campaigns in respect to your objectives and target audience.
You may have conducted post-campaign analyses following the conclusion of past campaigns. If not, there's still an opportunity to look back over the results with the goal of understanding:
What elements of the campaign stood out/ performed below expectations?
How did the campaign perform versus objectives?
How did the target audience respond to the campaign?
What lessons/ insights can be used for future campaigns?
Was there any feedback from colleagues and stakeholders?
Key actions:
Review the campaign's strategy and objectives.
Evaluate your creative approach? Did you connect with the target audience? Were there elements that were on/off brand?
Break down results by channel to identify relevant insights for the inbound strategy:
Search
Social
Website
Email

See how people reacted to the campaign. Look at reactions via each platform or using social listening tools.
Resources:
5. Define your value proposition
The previous four stages will offer a comprehensive situational analysis. You will have a good idea of:
Your target audience and their primary pain points and need states.
How the marketing funnel applies to your brand.
What volume and type of content you have in place across paid, owned and earned channels.
How previous campaigns have performed and what lessons can be taken on board for future campaigns.
With this information, the next step is to define your value proposition. Your value proposition should be a clear statement that describes the benefit of what you offer, how you solve your customers' needs and what distinguishes you from the competition.
Your value proposition should be unique and inform the messaging used as part of the inbound strategy across customer touchpoints, including website, search, social and email.
To define your value proposition, take your campaign insights and evaluate these against the following:
Points of Parity (POPs) – Features you offer that are important to your prospects that you also share with your competitors. Talking about what you can do better than your competitors is not unique
Points of Difference (PODs) – Features that are important to your prospects and not available from your competitors. These are totally unique and are what help you to stand out from the crowd
Points of Irrelevance (POIs) – Features that may be really interesting and different but that nobody wants (perhaps discovered via testing). These should be removed.
Key actions:
Ensure you obtain a 3600 view of the brand when defining your value proposition. Internal and external stakeholders can provide valuable insights.
Conduct competitor research to benchmark how similar brands are positioning their products/services.
Look more broadly at how inbound marketing is being used to pull prospects in based on different value propositions.
Resources:
6. Go To Market plan
Once you have defined your value proposition and what you want to communicate, the next step is to create a Go-To-Market plan that brings to life how you will communicate with target prospects and customers.
There are two steps to this stage:
1. The content calendar
This will break down content themes, ideas and titles into an organized calendar of activity. Before you start brainstorming ideas, answer the following questions:
What are we trying to achieve and how does this align with core business goals/objectives/targets?
What stories do we want to tell and how can we make them relevant to our target audience?
What is our target customer profile and what types of content to they respond best to?
Answers to these questions will help guide you as you draft ideas and once you've completed your brainstorm, organize ideas into a calendar of activity.
James Gurd advocates keeping things simple. Work on a quarterly basis and build out the content plan month-by-month.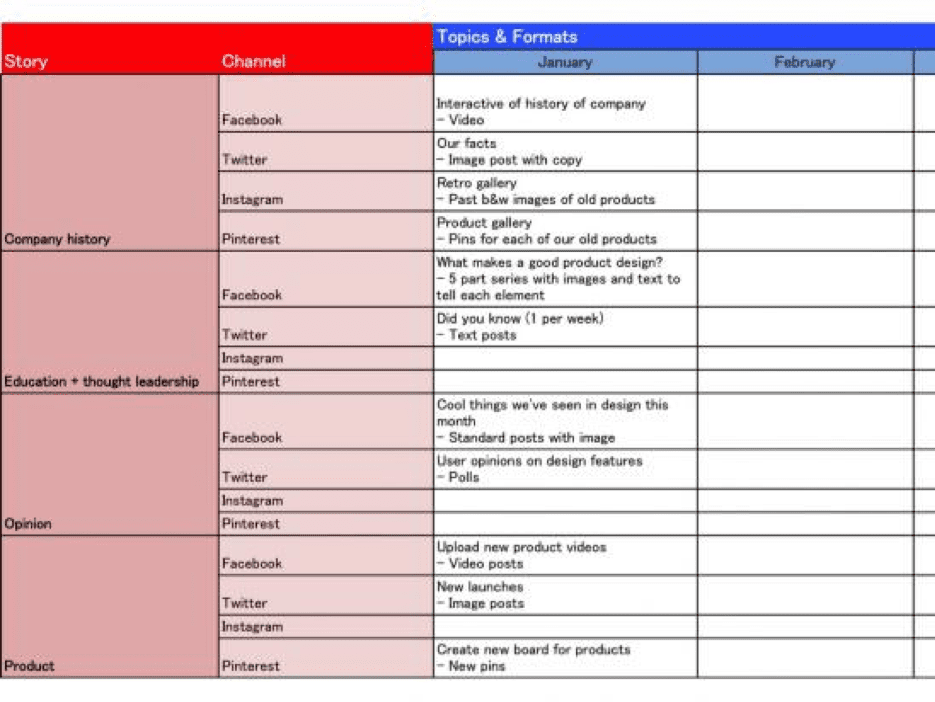 Map channel-level content activities back to high-level content stories so there's a clear link with the overall content plan.
2. The promotional plan
Now that you know what content you want to publish, the next step is to create a promotional plan. Content without amplification will not find its way to the right audiences. The days of 'build it and they will come' have long gone, especially on social.
The promotional plan should, therefore, build on the content calendar and outline specifically how each channel (paid or earned) will be used to promote content, at what point in the campaign and for what period of time.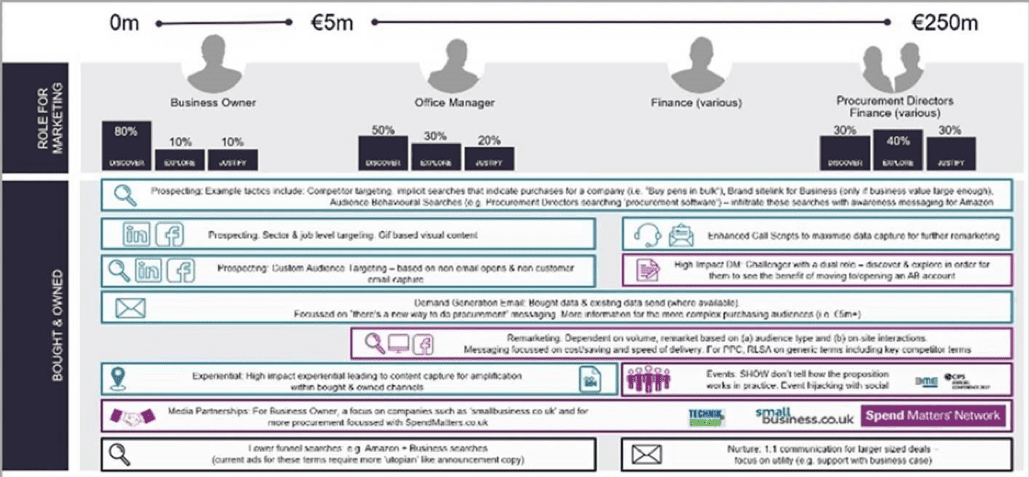 Key actions:
Brainstorm topics, content formats and channels with your team. Start at a high-level before zooming into more detailed suggestions.
Always keep your objective, target audience and proposition in mind when generating ideas.
Test & learn. Factor in opportunities to trial new formats and content types within the Go-To-Market plan.
Resources:
7. Measurement framework
The final stage in the inbound strategy is to define your approach to measurement and analytics. It's important to agree on this early on so you know in advance how you will measure activity, report on performance and gather insight to make optimizations.
One recommended approach is to align measurement with the RACE model. The diagram below shows the relevant key performance indicators (KPIs) that should be used at each stage:
Here's an example of our recommended measures in a summary of RACE KPIs that could form a dashboard. The best dashboards show not only volume and how they change through time but also the quality of visits and the value generated.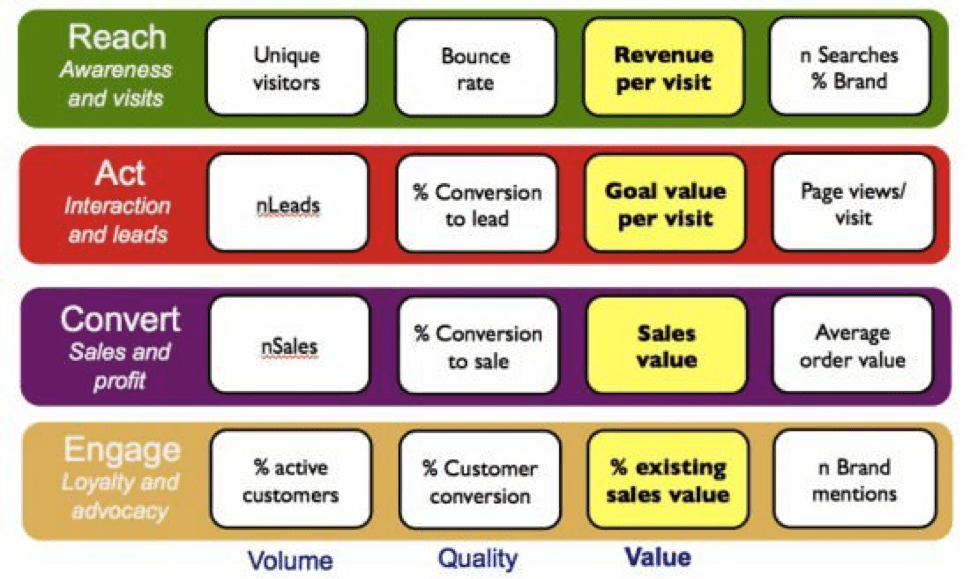 Many of these KPIs can be created from Google Analytics although it needs to be customized for each business to record goal value or revenue per visit. For other measures, such as social mentions, data will need to be gathered from other tools.
Key actions:
Review your current measurement practices. How are they currently working? Are you generating actionable insight?
Tailor the measurement framework based on your objectives, proposition and Go-To-Market plan
Resources: