As a marketer, getting better jobs will be a target at one point in your career. Of course, a great job could mean different things to different people
To some, a better job means better pay. To some, it's better flexibility at work. To some, it's the ability to take on challenging work.
Whatever a better job means to you, it's vital to stand out to get those jobs. In some ways, being able to land great jobs shows your level of expertise.
Having said that, what are the tactics that can make you stand out to potential employers? What will give you an edge when a great client needs a marketer?
In this blog post, discover 7 tactics that can help you stand out as a marketer and get better jobs:
1. Focus on a niche
Every type of business on earth needs a marketer. After all, every business needs to promote their products or services to their ideal audience.
Considering that, being a jack of all trade can still be a bad move for you as a marketer. Think about it, if you need to market a product in the tech industry, will you go for a marketing expert in the tech industry or one who works in every niche imaginable?
Frankly, businesses with the biggest resources want a marketer with a lot of experience in their industry. Focusing on a niche helps you to develop expertise in that industry. Consequently, this gives you an edge when attracting clients in that industry.
2. Optimize your website
Before a client decides to give you a job, one place they'll check out is your website. Without exaggerating, you can be a great marketer and still lose a job because of a poor website.
Put simply, you have to make your website mobile-responsive, fast, and well-designed. Then, you have to add important pages a potential employer might look at.
These include:
Homepage: Here's where you have the first impression on a visitor. Easily, you can show your unique selling proposition and tell visitors what to expect on your page.
About: Here, you can tell a personal story about you that relates to your marketing career. More importantly, your "About" page should be about the benefits your visitors and potential clients can get from you. Here's an example from Marcus Sheridan: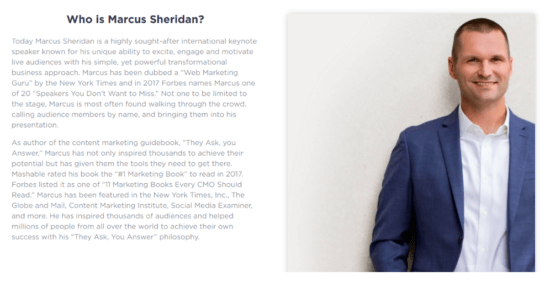 Blog: As a marketer, one evidence of your knowledge in the industry is the content on your blog. Potential employers can see how you approach different marketing issues.
Portfolio: Who have you worked for? What interesting projects have you worked on? Have you achieved some milestones in the marketing field? On this page, an employer can judge if your experience suits their needs.
Testimonials: Social proof is a great tool in marketing. Likewise, it's a great tool to promote yourself as a marketer. On this page, current clients can talk about the results you've achieved for them and the problems you've solved. Here's an example from my very own testimonials page:

Through your website, you can position yourself as a marketing expert and convince clients that you're the best candidate for the job.
3. Improve your presence on LinkedIn
As a social media channel for professionals, LinkedIn is a gold mine for marketers. Considering that you'll be interacting with businesses, most of your contacts are on LinkedIn.
However, just creating a LinkedIn profile is insufficient. You have to optimize it for potential employers who visit. In a way, your LinkedIn profile can be your portfolio.
Important tips to keep in mind while optimizing your LinkedIn profile include:
Using a professional profile and cover picture
Writing a detailed "About" section showcasing solutions you can provide to clients
Writing a LinkedIn article to show your expertise
Adding relevant marketing skills
Encouraging recommendations from clients
Through these optimizations, it's easy to showcase your skills and reputation as a marketer.
Beyond optimizing your LinkedIn profile, this is also a platform to connect with other marketers and potential clients. One way to exploit LinkedIn is to share your expertise through LinkedIn posts. For instance, John Lincoln regularly shares marketing videos on LinkedIn.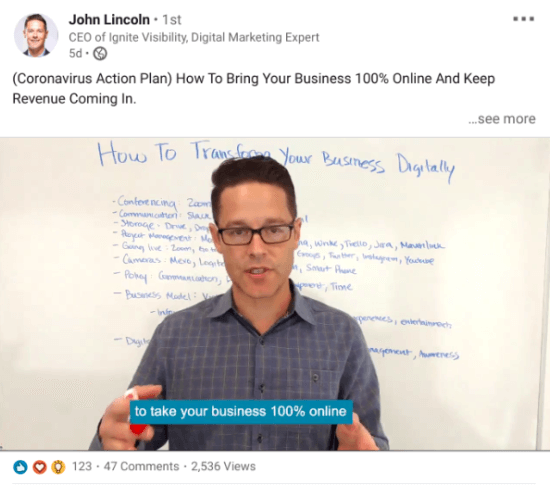 4. Be a great storyteller
To convince prospects to buy a product, you need to tell a great story of how their lives will be better with it. Likewise, you need your storytelling skills to stand out to potential employers.
Two great ways to be a great storyteller are:
Unique selling proposition
This is your elevator pitch. Even though what most marketers do is similar, why should a client pick you ahead of other marketers? What can you offer on top of the general marketing skills to stand out? Check out Ann Handley's page: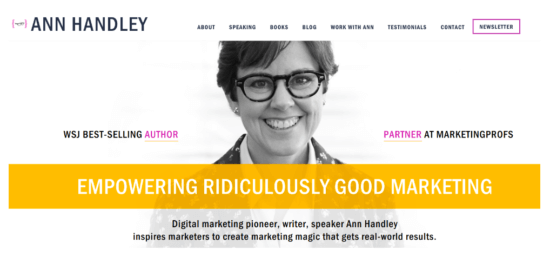 About
Apart from your about page, there's a short "About" section on your website pages and after your guest posts. Here, you can give a short pitch that will make a potential client take notice.
See an example from one of my guest posts: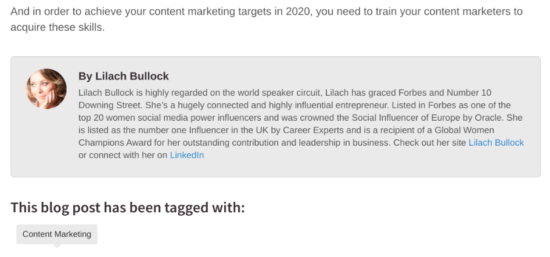 5. Create great content on your website
In the internet age, content has become a vital aspect of standing out to your audience and prospects. Before you even engage in marketing campaigns, the first sign people want to see is how good your website content is.
Therefore, you need to run a functional marketing blog on your website. Here, you can tackle important marketing topics and provide value to your audience.
Another advantage of great content is that it can drive more traffic to your website. For instance, you can rank higher on search engines for valuable keywords and attract potential clients to your website.
An example of a marketer who produces great content is Brian Dean at Backlinko: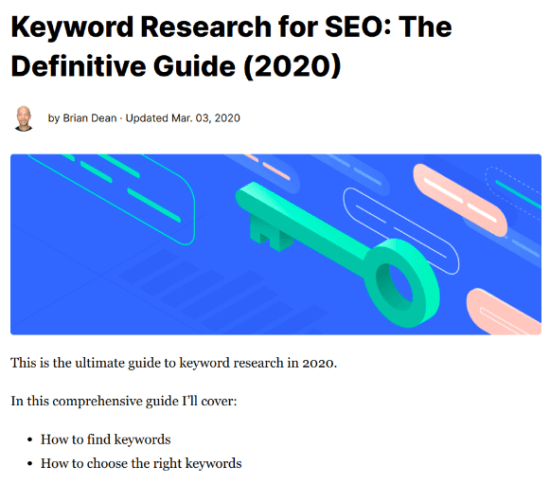 6. Guest blog on authority websites
To reach a wider audience, you have to create content for bigger authority websites. After all, there's a limit to your blog's reach.
However, to get the best results from guest blogging, it's better to blog for marketing blogs. These blogs are in the marketing niche and are likely to have your ideal audience.
As a result, your great content can convince some of them to check out your website and become customers down the line. For instance, Neil Patel blogs on some big marketing blogs such as Forbes, HubSpot, Search Engine Journal, and Marketing Land.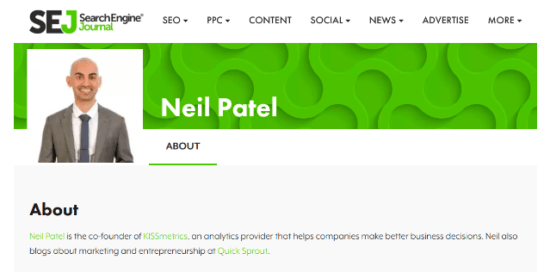 7. Build strong relationships with industry professionals
To stand out, you need to be a recognized marketing expert. Unfortunately, you can't achieve this without connecting with other marketing professionals.
Two ways you can build relationships with other experts in the marketing field include:
Outreach to industry influencers: One way to reach out to an expert is through their social media posts. Dropping insightful comments on their posts can help build a relationship. Also, you can send an outreach email if there's a reason to talk to them. Here's an email outreach template from Brian Dean: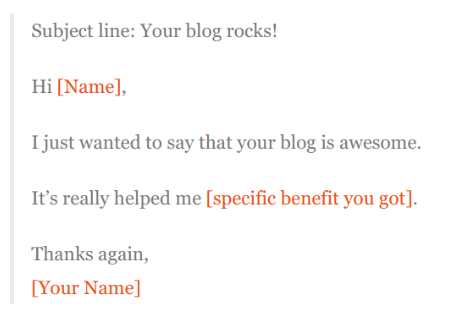 Attend industry events: Attending or speaking at industry events is an occasion to meet other experts and increase reach. Some popular marketing conferences include the Social media marketing world, search marketing expo (SMX), Inbound, MozCon, Dreamforce, etc. Here's an attendee to the Inbound 19 conference: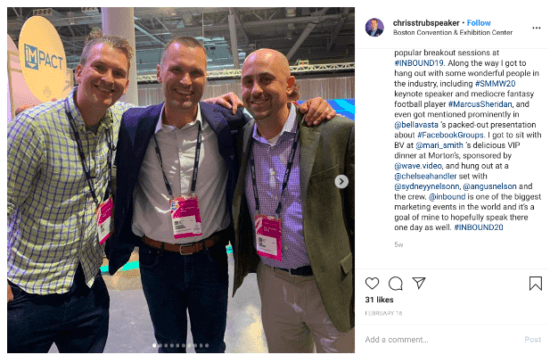 By connecting with industry professionals, you'll increase your sphere of influence. Consequently, you'll have access to even more great jobs.   
Conclusion
Considering the number of marketers today, the only way to land better jobs is to stand out as a marketing expert. This way, you can convince potential employers that you're better skilled, better informed and ready to transform their marketing strategy.
Use these 7 tactics and you'll have an edge on other marketers for the best jobs in your niche.