A case study showing how Lucky Voice doubled the size of their email list
Having more people to market to is better, it's a "no brainer". Of course, I don't mean bulking up an email database with poor quality data. I'm talking about more customers and potential customers who want to hear from you. Good quality permission-based data that maintains your delivery reputation and converts into revenue.
Lucky Voice shared with me nine list growth strategies that worked for them. They've also been good enough to share some numbers that showed how the tactics worked.  Plus, as a bonus, they shared a couple of strategies that didn't work. The insight from what doesn't work is just as insightful as to knowing what does, so read on to find out what was learnt from success and failure.
In case you don't know Lucky Voice, they provide online Karaoke experiences and Karaoke bars. With Lucky Voice attributing 30% of their revenue to email it was clear a major objective was to grow their list. In 12 months the list was more than doubled to over 100,000 customers.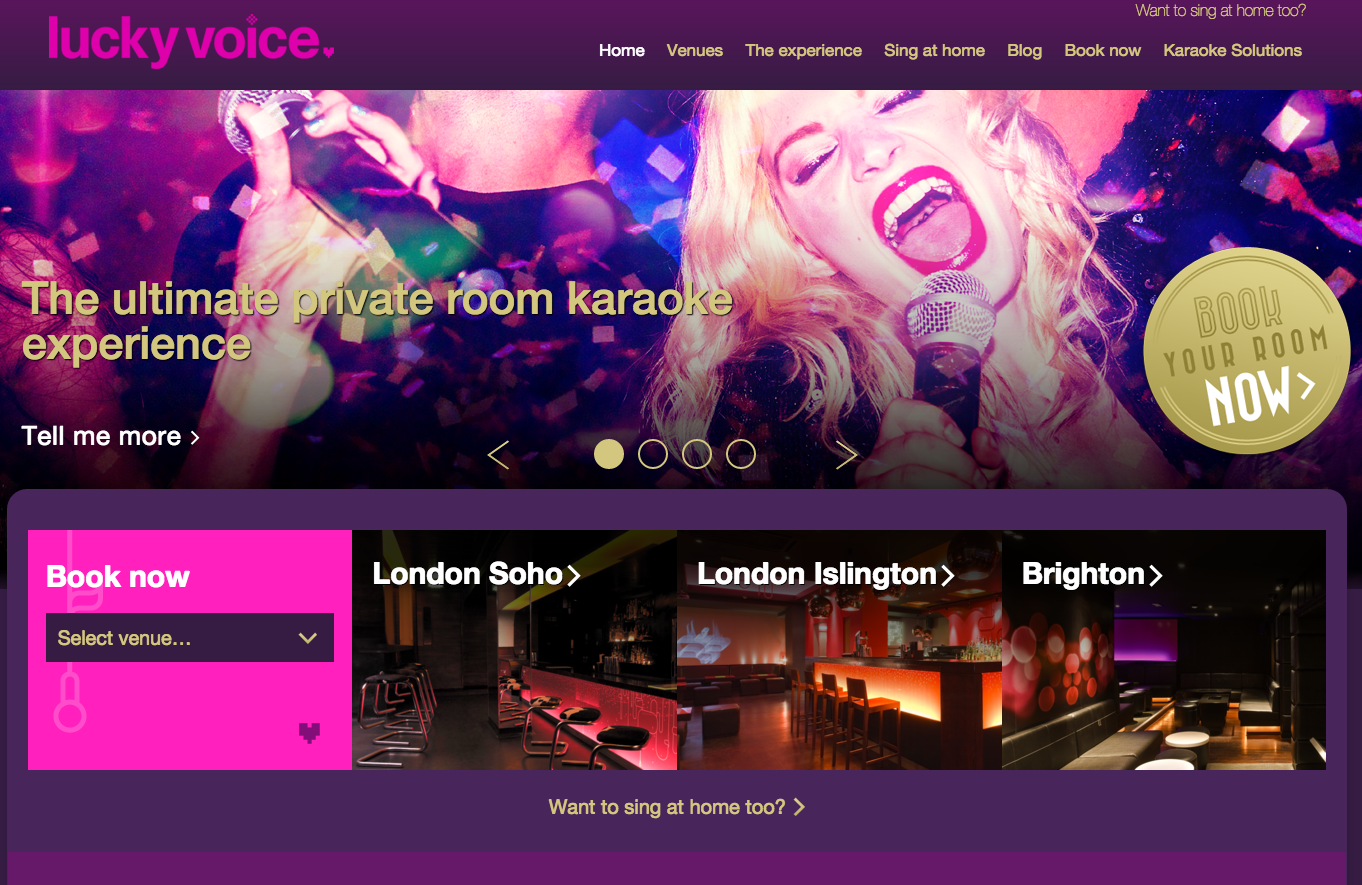 The nine list growth methods that worked well were:
Incentivizing the home page sign-up – which increased sign-ups by 92%
Adding Facebook Social Connect sign in, increased sign-ups 40%
Using online competitions, with appropriate prizes for the target audience
Incentivize customers who booked to recommend to friends
Promotion through X-Factor partnership
Adding incentivized email sign-up to Facebook
Facebook App to vote for best customer Karaoke pic, with integrated email collection
Quiz events at Lucky Voice venues with raffle entry in exchange for email addresses
Cross-selling between venue and online databases
The best method was through the X-Factor partnership, which given the reach of X-Factor is perhaps not so surprising. Wait though, all is not lost if you don't have some good partnerships to leverage. Half of the growth came through improving the way email permission was promoted and obtained on their own website. Meaning the first place to look for list growth is probably close to home for you. The pie chart below gives a full breakdown of the relative success of each strategy.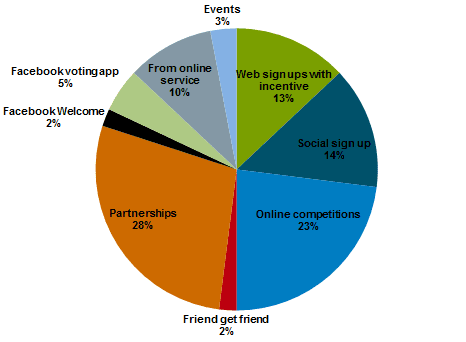 The click and open rates from the new subscribers were strong and showed the acquisition sources were generating receptive customers, not dead weight.  No quality problem with the new data.
So what of the methods that didn't work? Given Karaoke is a popular activity for Birthday parties that means a group booking, with most of the party-goers unknown, finding ways to collect an email address in the Karaoke bar seems the obvious choice.
Lucky Voice offered free shots and data collection consoles at the reception but the take up was low and the data quality was poor. Once in the bar customers were too busy enjoying themselves to spend time handing over data and sometimes they were clearly troubling to remember their email address… you can guess the cause of that.
How about after the party through incentivized feedback surveys? Discounts and free cocktails were offered to complete post-party surveys. Again the take up was small.
The major lesson was the timing of customer engagement and emotion. Prior to a night out customers were interested and had a buzz about going out. During the event, they were occupied enjoying themselves – and afterward, well it's the past and has no buzz, the buzz is for the next thing planned at that point.
In summary:
Keep asking for an email address, in lots of ways and in many places.
Consider the times and places in which your customers are emotionally engaged with you and find ways to take advantage of that moment.
Acknowledgments: my thanks to Dan Pilkington of Lucky Voice and to Emailvision for providing the data for this post.