A marketing operations model integrates people, process and technology across the ecosystem, enabling the marketing organization to deliver the right message.
I've been working in the Marketing Operations field for almost 15 years now, helping CMOs build operating models to allow their teams, agencies, and martech vendors to work in a coordinated way, leveraging technology and data, complying with policies, and operating within efficient and effective standards.
The motivation for implementing these marketing operating models is simple and best stated by Michael Porter: "While Strategy is the differentiator for creating competitive advantage, operational efficiency is a prerequisite".
Indeed, such a model integrates people, process and technology across the ecosystem, enabling the marketing organization to deliver the right message to the intended audience in a multi-channel world. It provides a common framework to deliver the marketing vision and strategy, by breaking down the silos – across departments, functions, business units and geographies.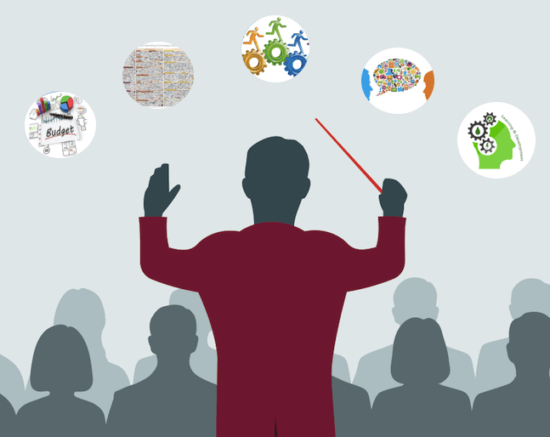 To achieve the necessary alignment across people, process and technology, key ingredients must be present:
Clear communication of the objectives and benefits of the model.
An environment where all stakeholders across and outside the organization are joined up.
Changes in behaviour to progress from the status quo to a more efficient and effective modus operandi.
Based on the various projects I have personally worked with, and based on the many use cases that are available across the marketing industry, these models exist and there is enough proof that they work well. However, they are not as widespread as you might expect them to be.
The weakness in existing marketing operations models
I was quite surprised recently by a few marketing operations leaders stating that they only focus on rolling out and supporting MarTech platforms, and managing data flows and processes. They further indicated that they do not take on the responsibility of defining marketing processes, policies or change management programs. Why is that? Surely the term "operations" in marketing operations is not purely about the tech stack, right?
As I explain in my eBook Marketing Operations Strategy: Improving the effectiveness of your multichannel marketing programs, and as you can find out by doing a quick online search on the term "marketing operations", it is defined as the function that coordinates People, Process, and Technology, to enable efficient and effective marketing.
Based on these definitions, while they are clearly expected to support and maintain the MarTech stack and the data flows and processes, marketing operations teams are also responsible for developing and managing the processes and policies to ensure smooth operation of strategic planning, financial management, marketing performance measurement, marketing infrastructure, marketing and sales alignment, and overall marketing excellence.
In addition, marketing operations teams are responsible for managing learning and development programs to their marketing colleagues, educating them not only on how to use the tools but also on the operating model that has been put in place to optimize performance.
In a nutshell, marketing operations is about providing structure to the marketing organization to deliver programs efficiently, effectively, and within policy. Such alignment requires changes in behaviour, not a very easy remit to deliver on, but an absolutely necessary one.
When the marketing operations team limits its deliverables to rolling out and maintaining the MarTech stack, and they shy away from improving the ways of working and managing change, they end up missing out on the opportunity to optimize the use of the stack. Which is one of the reasons CMOs are often disappointed with their decision to adopt one platform over another.
However, their disappointment is misplaced: while they blame the platform itself, the lack of optimization is often because the team missed out on the opportunity to go through the tough exercise of auditing their processes, identifying areas of improvement and putting in place a plan to change the ways of working.
Market research and trends in the field of marketing operations
These observations are supported by Gartner's latest report: The Annual CMO Spend Survey 2019-2020 Research where CMOs have reported that they struggle to effectively manage their marketing technology stack. Almost a quarter (24%) of respondents said that marketing technology strategy, adoption, and use is one of their top three weaknesses in their company's ability to drive customer acquisition or loyalty. More than 25% blamed weaknesses in their martech strategy on insufficient budget, resources or capabilities.
Fixing the issues around marketing operations are top of mind for CMOs and a key focus in the next 18 months. According to the same research from Gartner, while competitive insights and analytics are the two most important capabilities supporting the delivery of marketing strategies, marketing operations is on the rise with 30% of CMOs identifying this area as vital in supporting their strategy.
Most Vital Capabilities Supporting Marketing Strategy
In addition, CMOs estimate that they will spend 12.6% of the marketing budget on Marketing Operations, well ahead of brand strategy/brand building, or sales support/enablement.
Marketing program/operation area spend breakdown
The evolving scope of marketing operations
Gartner's research clearly shows the importance of marketing operations: planned expenditure areas for 2020 indicate that the function will grow beyond the traditional responsibilities of budgeting, planning and MarTech stack management, to also include skills and capabilities development, ways of working and stakeholder management across a comprehensive ecosystem that will bring together internal teams from across the business as well as external vendors and partners.
This is quite an expansion of the Marketing Operations remit, and the transition to a new operating model may prove challenging to achieve, both in terms of the existing team's readiness to drive such change, as well as changing the hearts and minds across the ecosystem.
Indeed, the new responsibilities that marketing operations has to take on, require people to change behaviour, how they work, and how they interact with each other, with the ultimate objective of creating an environment that is more transparent and accountable. And how do people react when faced with such changes? They object and refuse to adopt the new practices.
So what's the solution?
How to build a best-in-class marketing operations function
It's important to acknowledge upfront that developing and implementing a successful marketing operating model is an effort that will involve stakeholders across the marketing ecosystem, including colleagues within the business, as well as agencies, martech vendors and other partners.
While the marketing operations team may own the framework, they need to collaborate with various stakeholders to define, develop and implement it. However, when introducing change at scale, issues are bound to arise.
To mitigate such issues, there are some well-known and basic best practices that I would advise the CMO and their marketing operations lead to adopt:
As a starting point, be clear on what you want to achieve and get the necessary executive backing
Define your vision, objectives and success metrics.
Get senior executive support to drive transformation – top down support is essential to drive the vision across all levels: while Marketing leadership is a pre-requisite to drive the change, you should also get executive leadership buy-in of other key stakeholders in the marketing process, including Sales, IT, Finance, Procurement, Legal, etc.
Be clear on roles and responsibilities during the change phase and beyond, when the model is fully operational.
Communication is a key ingredient to ensure continuing support
Define your internal communications strategy early on so stakeholders at all levels are kept informed of progress.
Foster a sense of community and knowledge sharing (e.g. success stories) to keep stakeholders engaged.
Manage expectations along the way… success may come in small wins rather than a big bang.
Create an environment of transparency and accountability
Report on progress on a regular basis and an agreed frequency both to the executive team, the change team, key stakeholders and the rest of the organization.
Be honest when things go wrong.
Run post-mortem analysis at major milestones and at the end of the program to learn from mistakes and avoid repeating them at the next stage.
It's about collaboration, not hierarchy
Engage with and involve stakeholders across the organization.
Use social tools to create a sense of community across all stakeholders.
Mix-up and cross-pollinate colleagues across internal teams and external vendors and agencies. For example, get IT and Marketing leads to share an office to get a better appreciation of the challenges they each face and how they can better support each other.
Upskilling and continuous learning are essential
One core skill the Marketing Operations team will need is to be not only tech enablers but also change agents so make sure the existing resources can take on the challenge of defining and implementing the new framework; where they lack skills, identify opportunities to improve their capabilities.
Upskill the wider marketing team, and other contributors to the marketing process.
Share best practices so colleagues continuously learn and develop.
There are only a handful of recommendations to help CMOs get started on the organizational transformation journey. There are more detailed guidelines in my eBook Marketing Operations Strategy: Improving the effectiveness of your multichannel marketing programs which I hope you will find helpful.