Adverts have 'positive impact' on society, LinkedIn hits new records, Google announces new chatbot development and Facebook sees income slow
Although last year saw confidence in advertising take a tumble, it seems as though the UK public believes that adverts can have a positive impact on society.
In positive news for LinkedIn, the platform has reported a new record in terms of total members, as well as huge increases in engagement.
The news isn't as positive for Facebook though, as it has seen net income fall following a number of privacy scandals.
Finally, Google has announced that it is working on a new chatbot system that better matches and understands human speech, which could transform the chatbot industry.
We've got all the information on each of these news stories below.
---
UK public positive about effect advertising can have on society
Despite the fact that 2019 saw confidence in advertising reach an all-time low of 25%, new research has revealed that people are more positive about the impact that advertising can have. A study by the Advertising Association (AA) and Credos found that 46% of adults believe that advertising has a positive impact on society.
The research also found that 36% of people are neutral, saying that the influence of advertising was neither positive or negative while 18% said that it had a negative impact. Further to this, 42% said that advertising could help to improve the world, suggesting that the right messaging can help people change their behaviours.
Interestingly, the data from the survey shows that advertising actually accounts for 40% of the positive factors that influence public perception. Just under half (45%) of people believe that advertising can make a positive impact by bringing good causes to the public's attention, with 31% saying advertising encourages people to make changes.
When it comes to what the public wants from advertising, 63% want brands to cover more about mental health and 59% want adverts around environmental issues. A further 58% said domestic violence is a topic they want ads to tackle and 52% said the same about homelessness and poverty.
Karen Fraser, Director of Credos, said: "One of the most striking findings of our research is that people in the UK are relatively positive about the impact of advertising on society. In fact, they estimate the positive effects of advertising on society. In fact, they estimate the positive effects of advertising on society almost three times as much as the negative.
"Consumers are connected to industry professionals in that they want to see more of the companies and their advertising on important social issues. While this has been happening for some time and advertising is raising awareness, consumer demand appears to be increasing. We can do better business by responding effectively."
---

LinkedIn reports record levels of engagement
LinkedIn saw record levels of engagement during the last quarter of 2019 as the social media platform continued to extend its reach globally. In the latest FY20 Q2 report from Microsoft, the company revealed that sessions on the platform grew by 25% as LinkedIn revenue increased by 24%.
Microsoft said: "LinkedIn continues to create economic opportunity for every member of the global workforce – every seven seconds someone is hired on LinkedIn. We saw record levels of member engagement this quarter. Marketing Solutions remains our fastest growing business as marketers leverage enhanced tools and LinkedIn Pages to connect with our nearly 675 million members."
LinkedIn has also achieved a new milestone in terms of the number of members it has. In November, it announced that it had reached 660 million members, however it seems to have added another 15 million within the last three months, setting a new record.
However, it's wort noting that total members isn't on par with active members, the figures for which are sure to be much lower. Despite this, the growth in signups and engagement is impressive and shows that LinkedIn is going from strength to strength.
---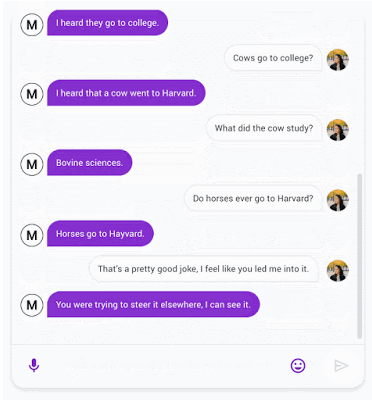 Google developing advanced chatbot model
Google is working on a new chatbot system in a bid to offer better understanding of patterns of conversation in order to improve engagement. While chatbot systems have come a long way, they are not being used by consumers across services like Facebook Messenger, with one possible issue being that the bots themselves are not as engaging as they could be.
To combat this, Google is currently developing Meena, a 2.6 billion parameter end-to-end trained neural conversational model. According to Google, Meena is able to conduct for specific and sensible conversations than chatbots that are currently available.
These improvements are being reflected through 'Sensibleness and Specificity Average' (SSA), which is a new human evaluation metric Google proposes for open-domain chatbots. This metric captures attributes for human conversation that are basic but important.
Meena is designed as an end-to-end neural conversation model that learns and so is able to respond sensibly to the context of a conversation. According to Google, the Meena is rising to a common human level, essentially meaning it is outclassing all other chatbot offerings. This means that it could aid with the adoption of the technology, as well as with consumer engagement
The Meena model isn't being made available just yet as it is still working on its development. However, when it is made available, it could be transformative.
---

Facebook reports slow income growth following privacy concerns
Facebook's latest reports show that while it managed to reach 2.5 billion users in Q4 of 2019 – a 2% increase on Q3's 2.45 billion – it is experiencing a slowdown in terms of profit growth.
The social platform's net income was only $7.3 billion, which is just a 7% year-on-year increase. When you compare the 61% growth it saw during 2018, it seems as if recent scandals are impacting Facebook's wallet.
Net income was dramatically affected by an increase in expenses, which rose 51% to $46 billion, with the platform attempting to deal with a number of privacy issues throughout the year. Facebook has said that it had to invest in staff in order to address privacy concerns, with company headcount increasing by 27% year-on-year. It now has 44,942 staff members, 1,000 of which are engineers working on resolving privacy issues.
After-hours trading saw Facebook shares fall by more than 7% following the earnings announcement. However, the company has remained close to its previous share price high despite investors' confidence failing.