As a supercell coalesced near northeast Nebraska on a hot and muggy June day in 2014, Gene Willers asked a technician working at his bank in Pilger if it was possible to lock the bank vault from the inside.
It was not.
"That's when I kind of made up my mind I was going to have to stay out and … lock them in," recalled Willers, who was market president at the Pilger branch of Midwest Bank the day an F4 tornado slammed into town. 
While the technician and bank employees stayed safe inside the vault, Willers took shelter in the bank's basement as the tornado, and its twin, destroyed about three-fourths of the homes in the town of 400 people, along with the business district, a school and a church.
In 2019, weather events and climate-related disasters caused more than $45 billion in damage in the United States. Throughout the Midwest, communities felt the pain and endured the financial hardship caused by extensive flooding and severe storms; 2019 was a top-five year for tornadoes.
Natural disasters are nothing new, but climate scientists are predicting more extreme weather events, which will continue to affect entire geographic areas. And while it's not realistic to think that all losses can be prevented, architects and engineers can design a bank with features that can limit losses from flooding, fire, snow, lightning and tornadoes — and keep employees safe.
"From an architectural standpoint, I think [design] can minimize loss," said Adam Holmes, owner of Vanman Architects and Builders, which works throughout the Upper Midwest. "Buildings are able to withstand more now than what they used to maybe 30 years ago." 
That's in part because of changing ideas about what should be standard in design, but also because of changes in building codes, including those revised to protect against natural disasters.
"There are a lot of code requirements that have been made basically because of history," Holmes said. "I'm sure the codes will continue to change as things change with weather and everything else."
Wind's damaging power
In areas where tornadoes are known to occur, it's better to build a steel structure with moment-frame connections that allow for movement. That means when a wind load hits, the steel will flex a little and come back, said Sean Raboin, a partner at Twin Cities-based HTG Architects.
"Tornadoes are just such an anomaly. You can't really stop a tornado from destroying a building if it goes right through your building," Raboin said. Having areas that are below grade are critical for human protection, he said. 
Scott Shiffermiller, architect/senior associate for DLR Group, which has offices in several U.S. cities, including in several Midwestern states, said he also considers tornadoes when designing in the Midwest. 
"We are putting in a tornado shelter or a safe room, some place to go in the event of a major storm like that," Shiffermiller said. 
When the bank in Pilger was rebuilt, management decided to forgo both a basement and a walk-in safe, which Willers characterized as "just not necessary, especially in a branch location."
Instead, they installed safes and built a safe room in the middle of the bank for the employees. Made of concrete and reinforced steel, it has a cap of those same materials, as well as a steel door that can be locked from the inside. Midwest Bank has built safe rooms in two other buildings since. 
The new building in Pilger was constructed to withstand heavy force. Though there are companies that offer pre-built structures for small bank branches, "we felt we needed something a little sturdier," Willers said.
Protecting against rushing water
If 2019 seemed like a catastrophic year for weather, it was. The National Oceanic and Atmospheric Administration reported 14 weather and climate disaster events in the United States that were so great losses exceeded $1 billion each. The $45 billion total cost exceeded the 40-year annual average, with the combined cost of flooding from the Missouri, Arkansas and Mississippi rivers exceeding $20 billion alone, NOAA reported. The contiguous United States also experienced 1,500 confirmed tornadoes.
By the end of June, the New York Times reported, at least 11 states had sought federal disaster funds.
Two years prior, in July 2017, rainstorms flooded the Fox River, which flows from Green Bay into Wisconsin's Lake Winnebago. Water seeped into every crevice of what was then the Fox River State Bank, located one half-block south of where the Fox River and White River converge in Burlington.
Days later, recalled Jeff Schmid, the recovery crew found dirty river water about 21 inches deep had damaged files, furniture, flooring and drywall. Water had flooded into the bank vault, damaging the cash, which news reports at the time estimated at six figures. 
"It forced us to do some rethinking about how we were doing operations," Schmid said, who was chief operating officer for the bank, which has since been acquired. (Schmid is now director of compliance and management services for FIPCO, a subsidiary of the Wisconsin Bankers Association.)
Those changes included no longer having paper files. They bought desks that could be raised to standing level — a higher surface in case of future flooding. In the new bank, express boxes replaced traditional safe deposit boxes, and they were all raised at least two feet off the floor. They raised the vault a foot, as well. 
"If there's another threat of a flood — because the building is still where it's at, it's in the 100-year flood zone — these are precautionary steps that have now been taken," Schmid said. 
Disaster planning was key to their recovery, he said. If a full-scale mock disaster isn't possible, Schmid encouraged banks to do a tabletop disaster exercise to practice for all likely potential disasters.
One of the best defenses against flooding is, of course, location. 
"We're always paying attention to make sure that if it's a new building, that we're setting it at an elevation that's high enough that there's a nice, positive flow of the soil away from the building, so when it does rain the water's running away from the building," said Vanman's Holmes.
MiraDRAIN, a plastic barrier, can be installed against a foundation wall to wick away water. Dimples in the fabric with a fabric layer outside hold back the dirt. "It's like a large Plinko board on the wall," Holmes said. "The water hits that MiraDRAIN, and it will run all the way to the footing level where you've got a drain tile that will take the water away from the building. 
"That used to be a specialty item," Holmes added. "Now it's become more mainstream, a regular detail in our drawings." 
Vanman also installs a lot of water infiltration systems in or under parking lots, Holmes said. The systems help with drainage from run off.
When a bank requests a basement and they know water tables will be high, TurnKey Associates adds extra drainage and pumps, said Scott Voigt, president and CEO of the Waterloo, Iowa-based firm. Drain tile or sump pumps can help release the extra water in flood-prone areas, Voigt added.
Oversized footings can keep a building from floating, said Raboin, from HTG Architects.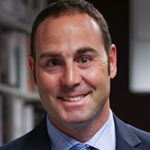 "You get so much water and anything can become buoyant, so you have to contradict that buoyancy by having enough weight so the building doesn't tilt or slant and it stays structurally sound," said Raboin. "You have to look at larger, oversize footings (called mat footings), and you have to raise that building up higher to allow that water to basically go under the building." 
Fire, snow and lightning cause major problems
Materials and planning are both key when facing natural disasters.
In areas with high winds, heavier shingles are used. An underlayment beneath the shingles that's also heavier adds wind resistance. So can designing the roof to account for wind, Holmes said. 
In Minnesota, architects consider the location of the drive-up window and the bank's doors to ensure they don't open on the northwest side of the building where the wind blows in. 
To mitigate damage from lightning strikes, a series of antennas on a roof are connected to each other through a system that carries the charge to the ground, said Shiffermiller from DLR Group. 
Larger beams provide strength for heavier snow loads. "Our basic design has actually increased for snow load over the last few years," Holmes said. "They've upped the weight requirements."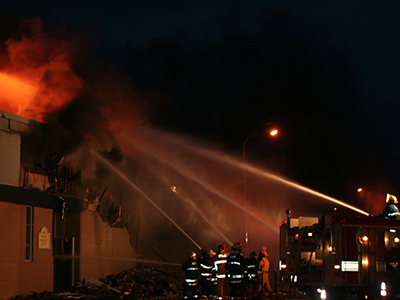 Emergency backup generators are an asset in areas that are prone to losing power to keep lights, computers and heating systems going, said Voigt of TurnKey Associates. They install transfer switches in an equipment room that senses the power loss, he said. Meanwhile, the generator also senses the power loss and begins running, immediately transferring the power to keep the building going. When the power comes back on, the reverse happens. "Customers don't miss a beat if they lose power," Voigt said. 
When building in areas where there are fire hazards or risk of wildfire, materials such as a flame-retardant roof and exterior stone and masonry are good choices. It may make sense to keep the building clear of natural burning materials, such as trees. 
A good sprinkler system can slow a fire long enough for first responders to arrive. With a modern fire sprinkler system, "if there was a fire in any one part of the building, the nearest sprinkler head would be triggered," said DLR's Shiffermiller.  
A 2012 fire at TSB Bank in Titonka, Iowa, at first seemed minor but destroyed much of the bank. Bank Chief Technology Officer and Executive Vice President Aaron Boyken, who is also a volunteer firefighter, responded to the scene at 2:30 a.m. It took about a quarter of a million gallons of water and an excavator to fight the fire and save nearby buildings. 
"In order to get to the fire, they had to pull off the roof," Boyken said. "By the next morning there was not a lot left standing." 
After seeing how much standing water there was inside the bank after the fire, the bank placed the server room and secure file rooms six inches higher than the other areas in their new building. Made out of a block structure inside the building, a waterproof membrane on the top is designed to allow water to run off and not seep inside. 
Also in the new building, emergency turn-off switches were placed close to an entrance and there's exterior access near the server room, in case of future emergencies. 
"It's not something you plan on wanting to go through," Boyken said, "but I think we did a pretty good job of getting back up and running."