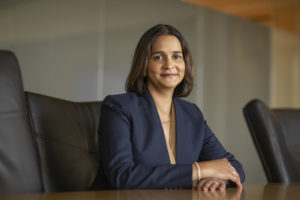 Harini Upadhyaya is joining the leadership team at Bremer Bank in St. Paul, Minn., as chief technology and transformation officer.
In the role, Upadhyaya will bring her 22 years of experience to bear on increasing innovation in internal and external processes at the $15 billion bank. 
Prior to joining Bremer on June 15, she was vice president of applications and analytics at ECMC Group, a nonprofit that focuses on college access, financial literacy and reducing student debt. 
"Harini is uniquely qualified to lead Bremer in this effort. Her proven track record as an operational and IT strategic leader, as well as her energy and collaborative style, will help us drive this work as we position Bremer for ongoing growth," said Jeanne Crain, Bremer's president and CEO. "I am thrilled to welcome Harini to the Bremer team."
Upadhyaya has a bachelor's degree in electrical engineering from Andhra University in India, a master's degree in software engineering from the University of St. Thomas, St. Paul, and an MBA from the University of Massachusetts-Amherst.
"I am excited to begin this work as Bremer doubles down on leading with ingenuity and creativity," Upadhyaya said. "It is clear that Bremer has an innovative mindset and is strategically addressing the changing needs of its customers and the marketplace. Leveraging these strengths will be important as we build a robust environment of sustainable growth."
Bremer, which has a presence in North Dakota, Minnesota and Wisconsin, has also made several recent hires to improve diversity, equity and inclusion efforts.