Every social media platform is different, which means there are different rules you should keep in mind when creating social media posts
When it comes to social media marketing, it is important to be aware of the differences between the main platforms. Each social media platform – Facebook, Twitter and Instagram – has certain traits that make it unique. This means that on each of them, there are different winning approaches to use when it comes to writing posts.
According to a social media content study that looked at more than 100 million posts by Socialinsider and Planable, writing the best content depends on the specific traits of the platform.
While it may be quite easy to post the same content on all of these three platforms – especially if you're short on time – you need to remember that each of them is different. This means that the audience on each platform requires a different approach. a basic example of this is that Instagram is more visual while Twitter is more interactive.
In this article, we'll dive deep into the main differences between these three platforms and give you actionable social media content tips to help you create top-performing posts on each platform. When I say winning posts, I mean posts that have a high engagement rate and convert your audience, therefore helping you to achieve your overall marketing goals.
Let's start by looking at the main differences between Facebook, Twitter, and Instagram.
1. Adjust your message based on the social media platform targeted
Every single social platform has its own style. Its users react to a certain type of post. While most companies take a post and share it on all three platforms at once, we strongly recommend that you fine-tune every post so it complies with the rules of engagement on each network.
Twitter is the platform where brands interact the most. They post around 195 posts per month. On Facebook, that number goes down to 60, while Instagram is the last one, with 25 posts per month.
However, out of the three, Instagram is the most engaging platform. The average engagement per post is 2.26%, more than ten times higher than Facebook's and 30 times higher than Twitter.
If you go by this, you should be posting more on Instagram and less on Twitter. Of course, this means creating more images and videos because Instagram is first and foremost all about visual content.
Let's take a closer look at some practical things to do in order to adjust your message for each social media platform:
Facebook
On this large social media platform, you can use a wide variety of techniques. The best thing you can do is to test them until you find the winning combination for your audience. Just remember that testing is a continuous process, especially as Facebook is constantly changing its algorithms.
Generally speaking, the best posting practices on Facebook include: using visuals in every post, using less than two hashtags, using positive sentiments, using exclamation marks and asking your audience a question to stir their interest from time to time.
Note that most of these best practices do not work on Twitter and Instagram. For example, you should not ask questions on these two platforms, and you should definitely use more than just two hashtags.
In terms of post length, Facebook allows you to go up to 120 words without worries. You can also include humor here and there, as well as creating virtual conversations to stir up the interest of your audience.
On Facebook, just like on Twitter and Instagram, you should use as many emojis as possible. The study reveals that adding over 20 emojis maximizes your engagement rate.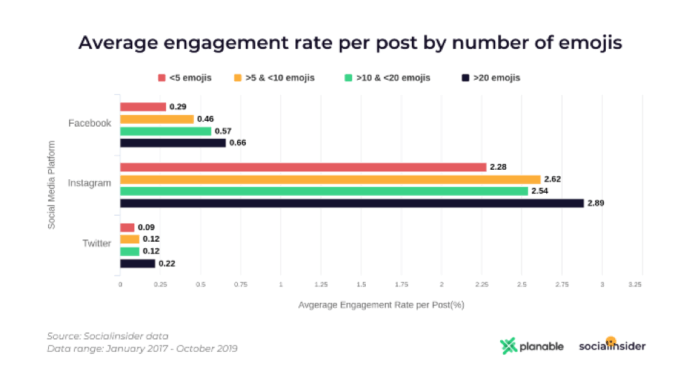 Twitter
The rules change when it comes to Twitter. To start with, you can only use a maximum of 140 characters per post. This can create some issues, especially if you are used to creating longer posts or if you need to share a lot of information.
Your tweets need to be short and sweet. Because you won't have the space to address multiple topics or treat several subjects, you should only address a topic at once. You should shoot for a maximum of 130 characters, so you have extra room for the link.
Another great practice is to tag at least ten people on your Twitter posts. While we don't recommend you tag people at random, you should tag business partners or loyal customers who have a good relationship with you. Be smart and make the most out of this feature.
Because you don't have a lot of space in your Twitter posts, you should make sure that you use the hashtags wisely. Use a couple of hashtags in the text and also three or four at the end. Mix hashtags between your ideas but make sure they do not distract the user.
Instagram
On Instagram, focusing on creating an outstanding caption is a must if you truly want to be successful. Instagram is the most engaging platform, according to Social Insider. That's why you need to make sure you get posting on Instagram right.
To be successful, ensure that you divide long captions into easy-to-read sections. People love shorter captions so they can digest the information more easily. Also, add a lot of emojis and hashtags. You can add up to 30 hashtags on each post, so make the most out of it.
If you'd like to learn more about how to write winning posts on Instagram, you should check out this article.
2. Post videos on Twitter and albums/carousels on Facebook and Instagram
Posting videos on Twitter works amazingly well. The same goes for using albums and carousels on Facebook and Instagram.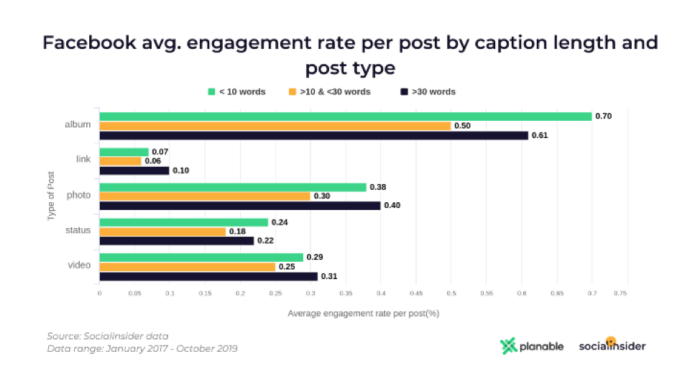 However, on Facebook, when you choose to post single images, you need to write more words. So more words for single-images post and fewer words for image albums.
Because Twitter is a platform where people engage a lot with others, and also because most people access Twitter on their mobiles, they are eager to watch videos and retweet them at the press of a button. Tweets with videos are six times more retweeted than tweets with photos and three times more than gifs.
Moreover, native Twitter videos seem to be more appreciated by consumers, who want to enjoy a streamlined experience and not leave the platform.
You can also capitalize on Twitter's live video feature to create live conversations with your audience and stream key events in your brand.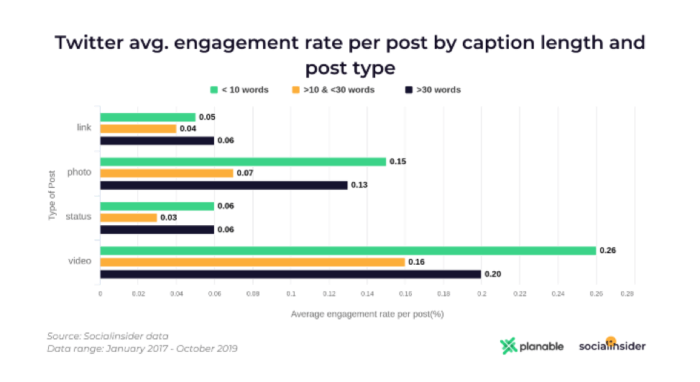 On the other hand, Facebook and Instagram are perfect for using carousels and image albums. On these platforms, posting carousels that have short captions of under ten words brings you the highest engagement rate. Albums with short captions that are shared can bring you outstanding engagement rates.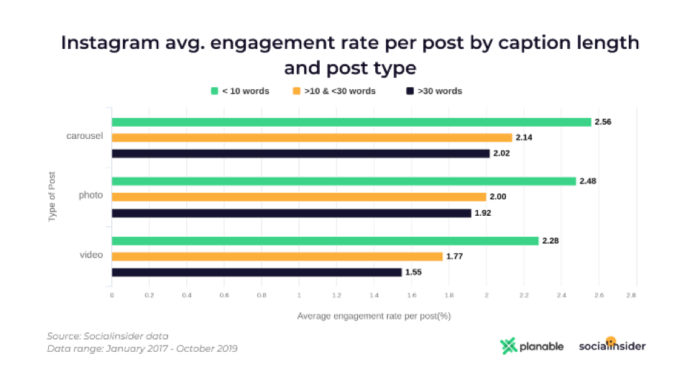 3. Take into account the power of engagement on each platform
To really take your social media marketing presence to the next level, you also need to know exactly how to keep your audience engaged. For that, the study released by Social Insider comes with some key facts related to the engagement of each platform.
Instagram is by far the most engaging platform of the three, but the downside is that you cannot add any links in the post. What you can do is add images, contests and a lot of emojis to make up for the lack of shareable links.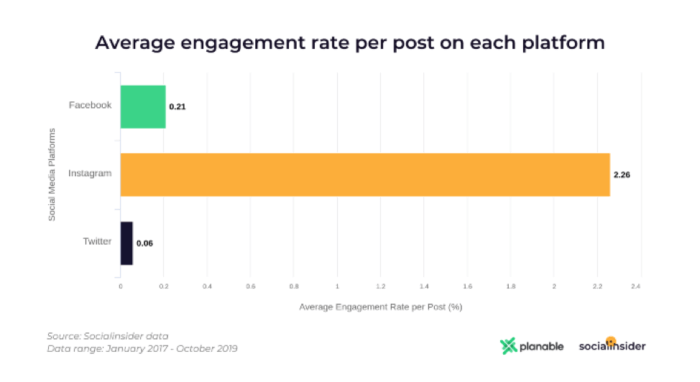 You should also create a lot of giveaways and contest posts. Giveaways work amazingly well on Instagram, Facebook, and Twitter. DIY posts work best on Instagram and Twitter, while contests work mainly on Facebook. When it comes to tutorials, no platform actually loves them. So you should probably stay away from creating tutorials or guides.
Lastly, promos work best on Facebook and not so good on Instagram and Twitter. However, if you have a promo, you should mix it with giveaways when posting it on Instagram and Twitter to make it work.
You need to be careful what types of post you create on each one of these platforms. On Facebook, you should focus on using giveaways, promos, and contests. Twitter and Instagram work the best with DIY posts and giveaways.
4. Adjust your holiday campaigns
When publishing Christmas posts, Facebook is by far the winner. Unfortunately, Twitter is not a good choice for Christmas posts and offers.
The social media experts from Social Insider have studied over 3.9 million Facebook posts, 800K posts on Instagram and one million posts on Twitter that contain holiday words and offers. Based on their choice of common Christmas words, they found out that the Christmas tree emoji spikes the highest engagement rates.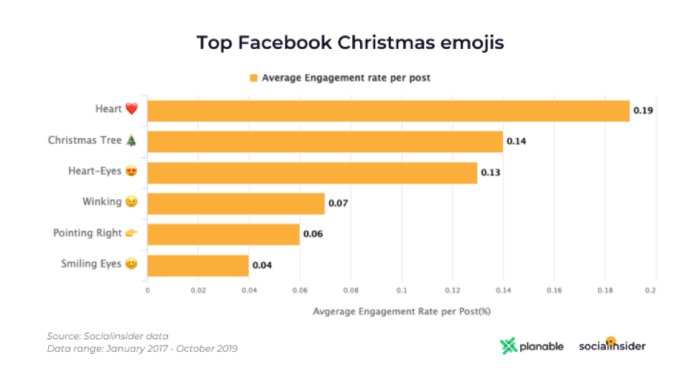 The heart emoji combined with the heart-eye and party popper is also at the top on Facebook. On the other hand, Instagram emojis that rock are camera with flash, camera, and heart. Ultimately, Twitter is similar to Facebook, with the top emojis being heart, Christmas tree, and heart-eyes.
Final thoughts
While there is no definitive winning formula for writing social media posts – after all, what works for your brand might not work for someone else's – there are plenty of tips you can pull from this research. However, to fully understand what will get the best results for you, you need to test, test some more and test again in order to shape your social media marketing strategy.
Teodora Lozan is a content writer and SaaS Marketer for Socialinsider, a social media analytics tool with a strong focus on benchmarking. She writes about the ins and outs of social media, helping brands get the best results out of their marketing efforts. You can follow her on Twitter or connect on LinkedIn.