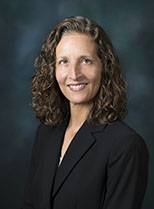 The Conference of State Bank Supervisors has hired Karen Lawson as a policy senior vice president.  
Lawson, who started July 26, is coordinating CSBS public policy and advocacy work among the legislative, regulatory and bank/nonbank supervisory processes areas. She is closely working with CSBS data and research teams to facilitate advanced data analytics in support of state bank regulators for supervisory oversight and CSBS advocacy. CSBS is the national organization of state bank regulators, supervising a majority of U.S. banks and a variety of non-depository financial services.
"Karen brings tremendous experience regulating a robust bank and nonbank financial services market in Michigan that will be valuable to state regulators across the country. I'm looking forward to her joining our team," said CSBS President and CEO John Ryan.
Prior to joining CSBS, Lawson held multiple senior positions in Michigan, including on the CSBS board, chair of the Regulatory Committee, District II and Community Bank Steering Group; and worked on the Data Analytics Task Force and Working Group, the Finance, Compensation & Benefits Committee and the Audit Committee. She was also active with the Federal Financial Institutions Examinations Council as a member and chair of the State Liaison Committee representing state regulators on the council. 
Jim Cooper, CSBS executive vice president for policy and supervision, said Lawson brings much experience in state regulation and national policy and possesses "great knowledge" of the organization. He noted federal rules and regulations, and how those impact the state regulatory environment, are continuing top priorities under her leadership. Cooper commended Lawson for the positive relationships he said she had with trade organizations during her career.  
"She just brings a lot of experience," he noted.