Increasing competition across all industries means that customer experience is more important than ever if you want to stand out for the right reasons
Customer experience (CX) is more important than ever. With competition increasing, the digital world making it easier to make purchases and consumers less likely to be swayed by brand loyalty, CX can make all the difference between a conversion and a lost customer.
This is why businesses need to look at and improve the customer experience they offer in line with current consumer expectations. Failing to do so could leave you well behind your competitors, even if your product is more advanced.
To better help you understand what CX in 2020 looks like, we've gathered some recent statistics from customer experience research. These stats should help you benchmark your performance, better understand current consumer expectations, bear in mind where CX is going in the future and stay one step ahead of your competitors.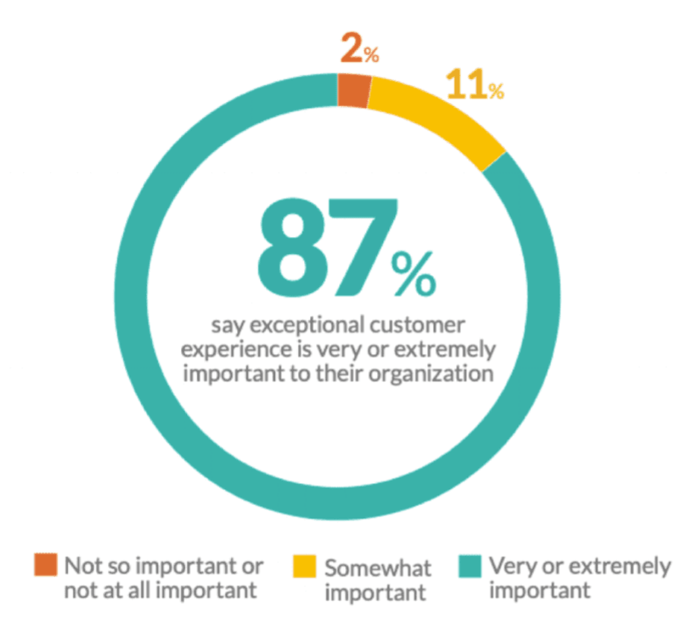 87% of CX, marketing and analytics professionals say CX is important
With customer experience being a key part of converting customers and bringing them back, it's probably no surprise that 87% of marketing, CX and analytics professionals say that customer experience is very or extremely important to their business.
However, despite the benefits good customer experience provides, there is still 11% who say it is only somewhat important and 2% who say it is not important to their organization at all.
What makes it even more surprising that it is not important to some recipients is the fact that 61.5% understand that poor CX can lose customers, 52.5% say a big risk is a damaged brand reputation, and 43.3% are aware that it can mean they lose repeat business. Essentially, businesses need to be prioritizing customer experience in order to mitigate any potential risks to their business and their average customer lifetime value.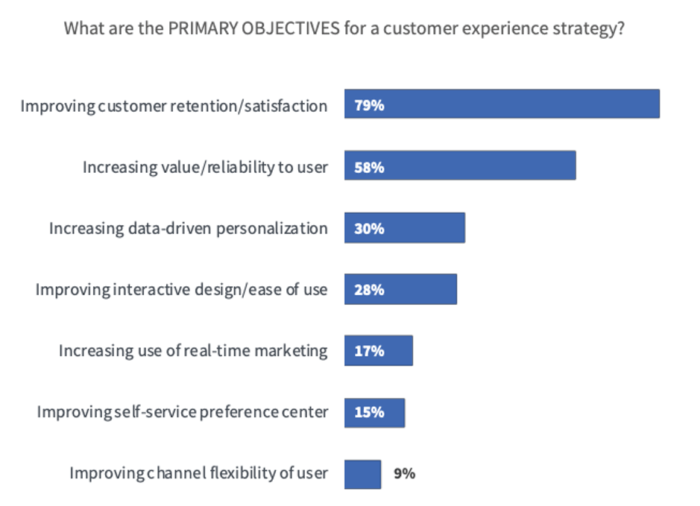 79% of marketers say the aim of a CX strategy is to improve retention
As with any aspect of marketing, you'll get the best results from the work you do on customer experience if you have a strategy in place.
Of those marketing professionals who have developed a strategy, 79% say that their primary objective for it is to improve customer retention/satisfaction. This means that the vast majority understand the benefits that CX can have on their bottom line.
However, CX strategies are about more than just ROI, as 58% also say they want to increase value/reliability to users while 30% want to increase data-driven personalization with their strategies. While these aspects can improve conversion, they are ultimately customer-focused, which is what your CX strategy needs to be in order to be successful.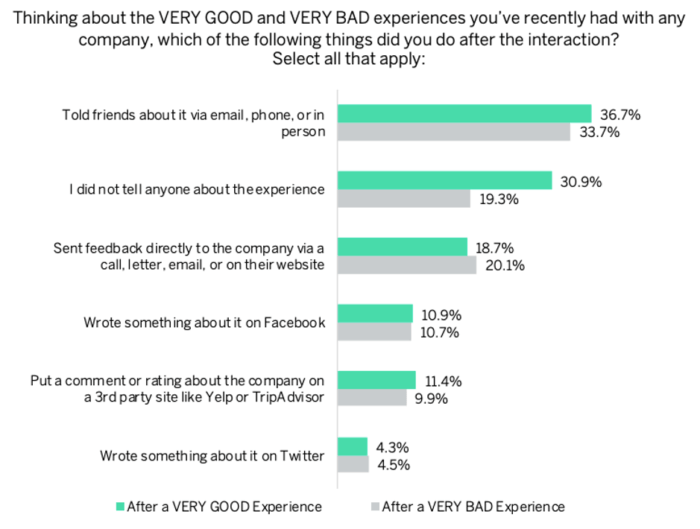 33% of consumers tell people about a bad experience with a brand
While the fact that consumers are so connected can be positive for companies, as you are able to market to them across different platforms, it also comes with its downsides. This connectivity means that customers are now more likely to share the experiences they have had with brands – both good and bad.
Just over a third (33.7%) of consumers tell friends and family about the experience afterward either in person, via email o on the phone. While more people (36.7%) share their good experiences in this way, it is arguably the negative experiences that people keep talking about.
On top of this, 10.7% of consumers will write about a bad experience on Facebook, 4.5% will complain via Twitter and 9.9% will post a rating or comment on a third-party website. Only 19.3% will complain directly to the company, meaning that it is possible customers who are more likely to hear about the issues someone has had than the company.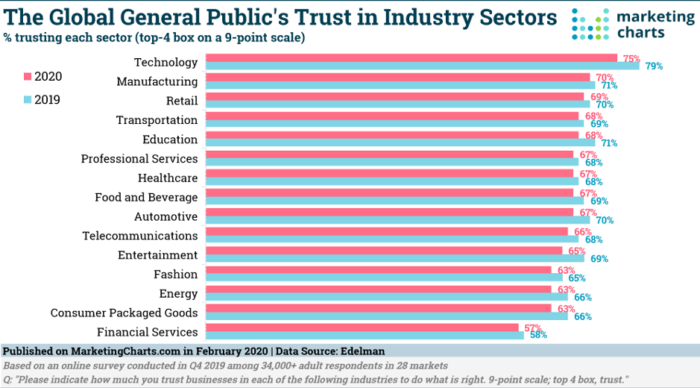 Consumer trust is declining across industries
One thing that is making customer experience more important than ever is the fact that consumer trust is declining across all industries. With growing distrust around issues like data, brands need to do what they can to ensure that CX at every touchpoint is delivering in order to build trust with their customers.
All industries that are analyzed for the Elderman Trust Barometer show a decline in consumer trust in 2020 compared to 2019. Although the technology sector is still the most trusted at 75%, this is a decline from 2019's 79%. The entertainment sector has also seen a noticeable decline in trust levels, falling by 4% in 2020 compared to 2019.
With this trend affecting all sectors and industries, CX is more important than ever, meaning brands need to address their strategies in 2020 to avoid the loss of consumer trust affecting them.

Customer experience and marketing are becoming more aligned
When looking at priorities for organizations in the year ahead, a clear alignment between marketing and customer experience is apparent. Strategy, processes, and technology are working together across marketing and CX in order to deliver greater personalization and improved journey management.
This is shown by the act that 32% of mainstream organizations are prioritizing social media engagement and analytics, suggesting that they are doing more to talk to consumers on the platforms they use. On top of this, a further 28% said that targeting and personalization are priorities for the year, as well as customer journey management (27%).
However, less than a quarter (24%) are prioritizing customer data management, which is key to delivering great CX and accurate personalization.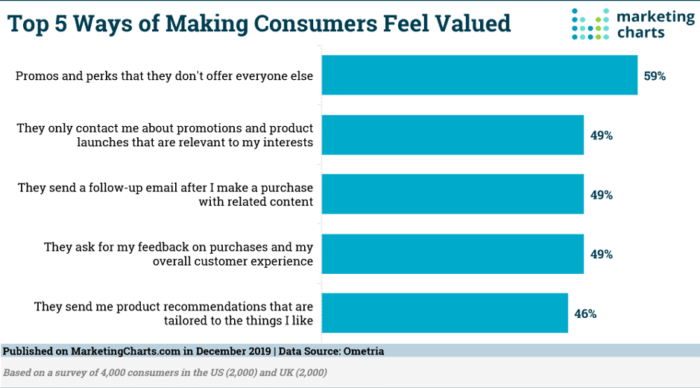 Making customers feel valued is important to CX
Offering good CX to customers who have already purchased ensures they feel valued by your brand. This can result in repeat custom and increase your average customer lifetime value, as well as create brand advocates – which is harder to achieve now.
So, what do customers want from brands? According to an Ometria report, 59% of consumers want brands to offer them promotions and perks that they don't offer everyone else. While general offers can help encourage engagement and further conversion, personalization delivers a better experience and will keep consumers engaged for longer.
Other ways to make consumers feel valued include only contacting them about promotions or products that are relevant (49%), sending relevant content after a purchase (49%), asking for customer feedback (49%) and sending relevant product recommendations (46%). This shows that personalization is a huge part of good CX in 2020.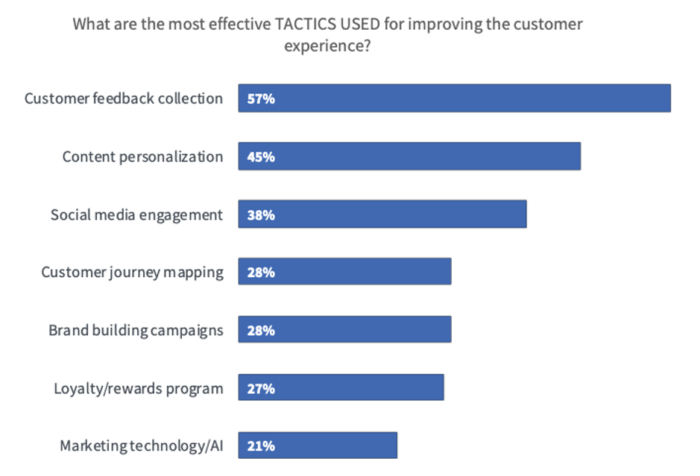 Customer feedback collection is the most effective tactic for improving CX
Bearing all of the above customer experience statistics in mind, exactly how can you go about improving the CX your organization offers. Realistically, there is no template for the perfect CX strategy as every business is different. This is why you need to go right to the source.
Some 57% of marketing professionals say that the best tactic for improving customer experience is collecting customer feedback. Asking customers to complete surveys and rate their experience provides you with valuable insights that are based entirely on your brand and the current experience you offer.
This information can be used to benchmark your performance, highlight what you do well and show you what areas need to be improved. On top of this, you can use the data to better personalize the experiences you provide, which is helpful as 45% say that content personalization is also an effective tactic.
Putting the customer first in this way ensures you are taking the right steps and can ultimately ensure you deliver stronger ROI.