Chart of the Week: 87% of marketing, CX and analytics professionals say good CX is important but only 24% are performing highly at delivering it
Offering a good customer experience (CX) can increase conversion, create return customers and turn consumers into brand advocates, all of which benefit your brand. It's no surprise then that 87% of CX, marketing and analytics professionals say that customer experience is very or extremely important to their organization.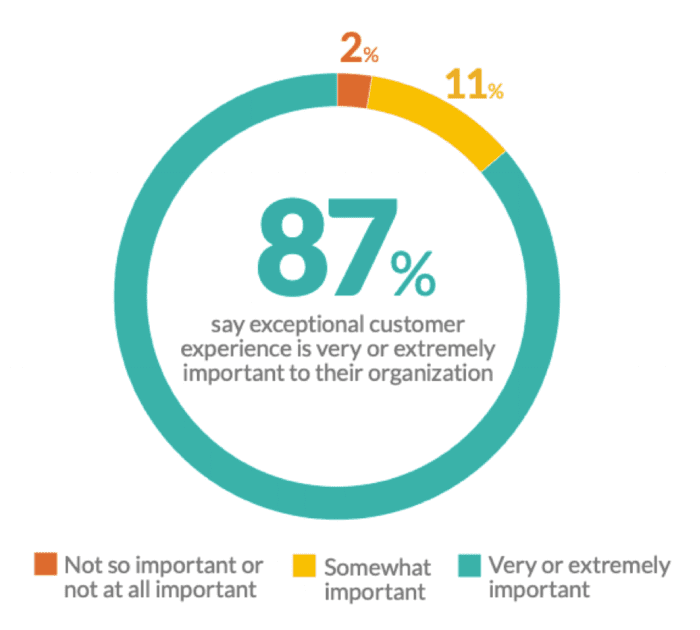 According to Pointillist's new research, only 2% of respondents said that it is not important (with 11% saying it is somewhat important), highlighting the need to make CX a focus of your business and marketing plans over the next 12 months.
The impact of poor CX
Brands also seem to have a good understanding of the negative impact a poor customer experience can have on a company. According to respondents, loss of customers is the top risk as a consequence of poor CX, with 61.5% selecting this option.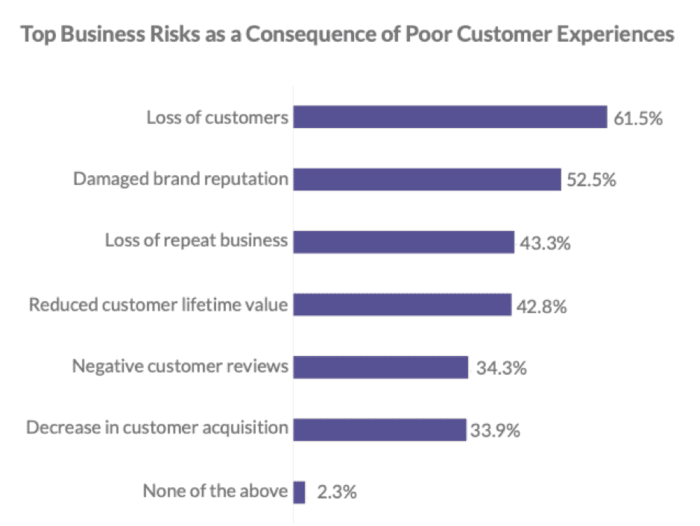 Over half (52.5%) of respondents also said that damage to brand reputation was also a big risk, while 43.3% highlighted the impacted bad customer service can have in terms of losing repeat business. Other risks included reduced customer lifetime value (42.8%), negative customer reviews (34.3%) and a decrease in customer acquisition (33.9%).
How are companies performing?
Although brands have a reasonable understanding of how bad CX can impact a company, very few respondents say that their company performs well at delivering good customer service.
Half (50%) of those surveyed said that they were somewhat satisfied with their organizations CX performance and the outcomes gained from its investments in customer experience. Just a quarter (24%) said they were extremely satisfied, meaning that very few companies could be classed as high performers in this area.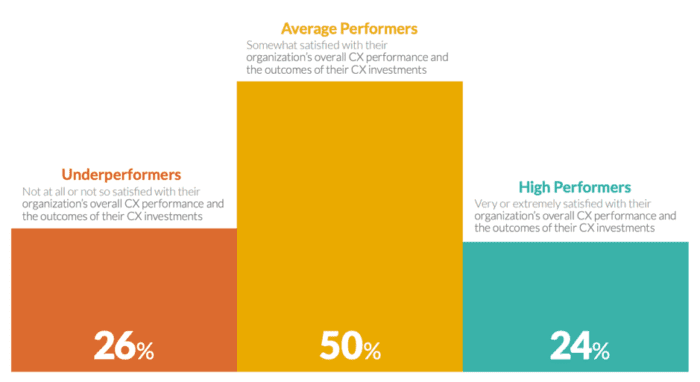 Of those surveyed, 26% said that their organizations were underperforming when it comes to CX and they were not satisfied with the overall performance or the outcome of CX investments. This suggests that while many companies recognise the negative impact CX can have, a reasonable number are still failing to implement initiatives to improve the customer experience in order to mitigate these effects.
A successful approach
When looking at the approaches that lead to the best results, it seems that a journey-based approach is the best option. Just over half (50.1%) of respondents said that a journey-based strategy is extremely important to their organization's overall success. A further 29.5% said that it was very important.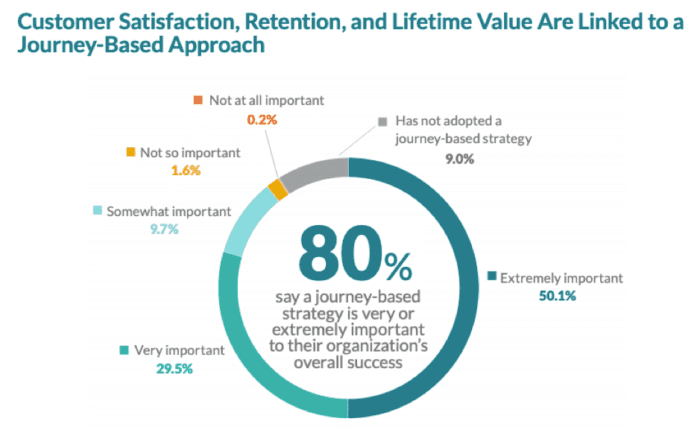 Only 1.6% said that it is not so important with a small 0.2% saying a journey-based approach is not at all important. A further 9% have yet to adopt this strategy, although these results suggest that it is one they may wish to consider in order to improve the customer experience they offer.
In terms of the benefits offered by a journey-based approach, respondents cite customer satisfaction (95%), customer retention and churn (90%), customer lifetime value (90%), upsell, cross-sell and repeat purchases (86%), cost-to-serve customers (76%). This all suggests that this approach can have a good impact in a number of ways.
High performers integrate data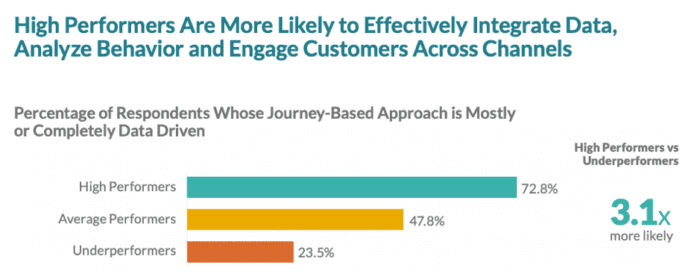 Those customer experience teams who class themselves as being high performing are more likely to take a data-driven approach to CX, with 72.8% having a journey-based approach that is mostly or completely data-driven.
In fact, they are around nine times more likely than average or underperforming teams to analyze multiple customer interactions across all channels. On top of this, 56.1% of high-performing teams integrate data across all sources to create a unified view of customers' journeys, compared to just 19.3% of low or average-performing teams.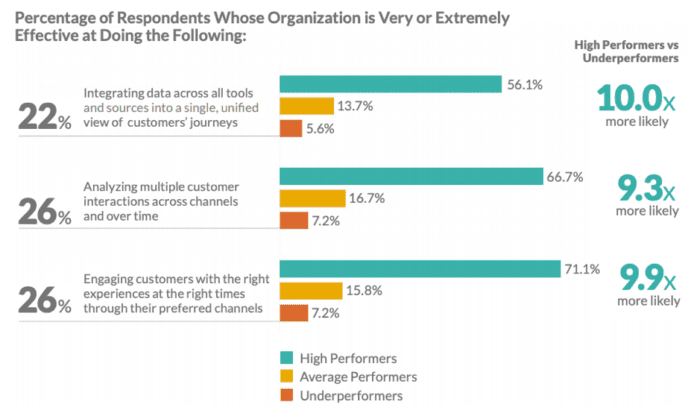 On top of this, high performers are almost ten times (9.9 times) more likely to engage customers with the right experiences at the right time through those customers' preferred channels.
High performing teams have more data sources
All of this is made possible through the collection and analysis of data from multiple sources. On average, high performing teams collect data from 4.5 sources in order to optimize cross-channel customer journeys. In comparison, average performers use 4.1 data sources and underperformers just 3.3.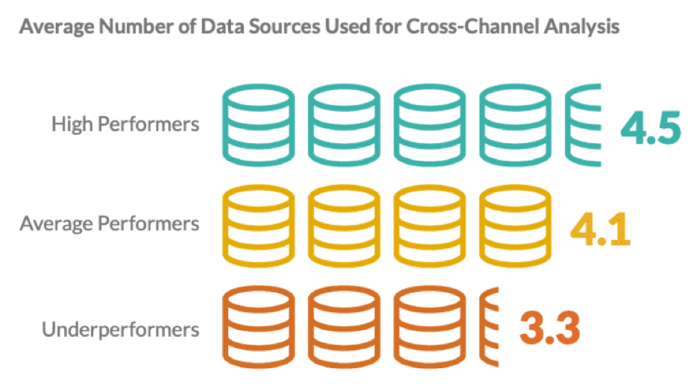 The research also reveals that high performing CX teams are more likely to have a very or extremely mature CX measurement program in place. Some 68.9% of high performers say this is the case, whereas just 10.7% of average performers and 1% of underperformers say the same.

This means that high-performing teams are seeing a number of other benefits, which help them to deliver superior customer experiences. Over half (53.8%) are satisfied with their organization's ability to rapidly generate actionable customer insights. This means they are 16.4% more likely to be happy with this than average or underperforming teams are.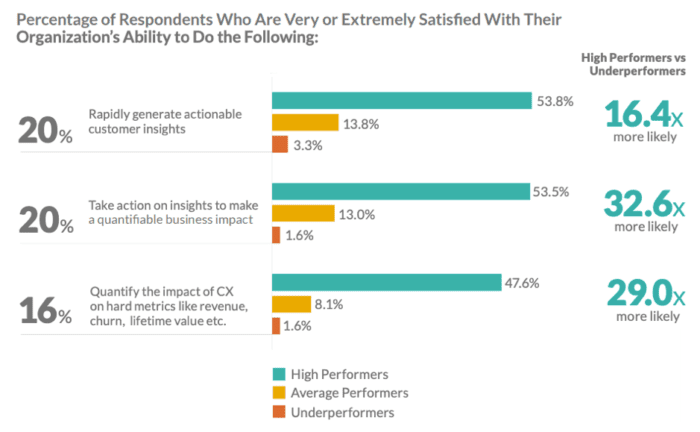 They are also 32.6 times more likely to be happy with their company's ability to take action on insights to make a quantifiable business impact and 29 times more likely to be satisfied with the ability of their business to quantify the impact of CX on hard metrics (such as revenue, lifetime value, etc.).
Businesses are not quantifying impact of CX
Despite the benefits being delivered by effective CX strategies, organizations are not managing to quantify how customer experience is impacting the business overall. The research found that there is a distinct lack of links being made between CX initiatives and business KPIs.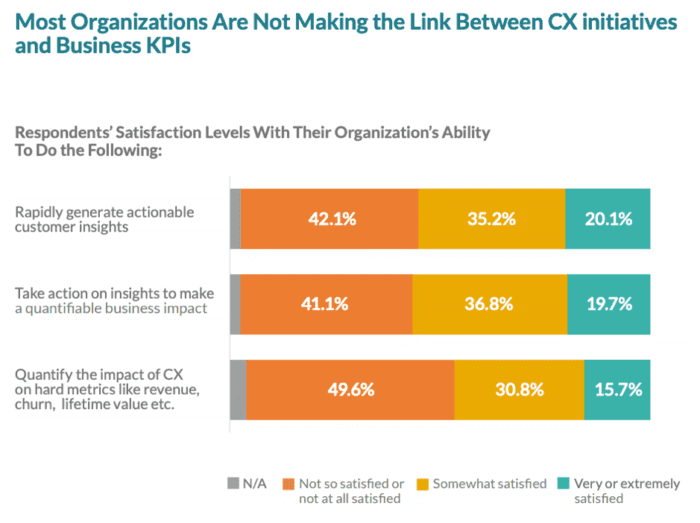 In fact, 42.1% of those surveyed said they are not satisfied with their organization's ability to generate actionable customer insights. Just under half (49.6%) said they are not happy with how their business quantifies the impact of customer experience on hard metrics.
Quantifying ROI
In addition to these issues, CX teams are also struggling to quantify the ROI of customer experience initiatives and take action based on insights. The failure to quantify return on investment means that many teams aren't able to justify budget or resource increases, which can mean they are unable to execute CX initiatives. This is the main obstacle when it comes to resolving problems with CX.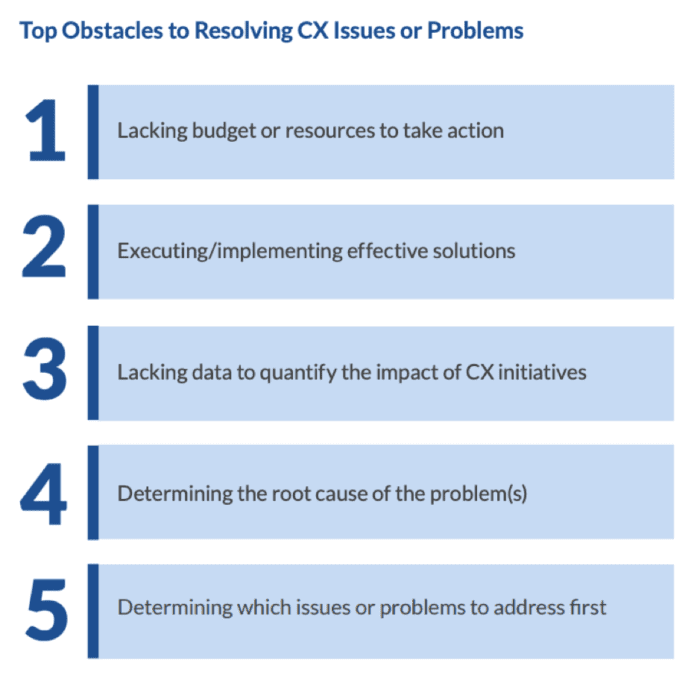 According to the research, many CX teams are also struggling to both identify and prioritize opportunities that could have a high impact on improving customer experience. This is the third challenge, coming in just after the execution or implementation of effective CX solutions.
Final thoughts
Despite the fact that customer experience is seen as being vital for organizations, a large number of businesses are failing to deliver on it. Those that are delivering good CX are doing so because they have the data to back up their decisions and create the best possible customer journey.
Making use of and integrating data from as many channels as possible will help to ensure you're delivering the experience that customers want and expect. As a result, your company is less likely to see high customer churn and will likely experience an increase in customer lifetime value.