Five ways marketers can benefit from continuing professional development
As marketers we can sometimes become insulated from the world around us. But when we poke our heads above the parapet, it's surprising what we can learn from others. I've always been interested in how other people approach their jobs, and a couple of recent conversations with friends opened my eyes to the way engineers, IT consultants and doctors approach their professions.
Unlike engineering, or professional services such as accountancy, the marketing profession doesn't put the same emphasis on continued professional development (CPD) and chartership. I've been a Chartered Marketer for over 10 years but I've never been asked about it by anyone, including colleagues, hiring managers or agencies. Whilst experience and aptitude is crucial, I also believe it's important to have strong, up-to-date knowledge and understanding so we can practice our craft as marketers with confidence.
The Chartered Institute of Marketing (CIM) has done a brilliant job of promoting the benefits of CPD, and as a member I will continue to evangelize the benefits of a professionally trained, skilled marketing profession. However, I still believe there's work to do, and therefore the more we practice what we preach, the higher the standards we'll have across our profession.
What is CPD?
According to the Chartered Institute of Marketing, continuing professional development can be defined as:
"The proactive maintenance and extension of professional knowledge, skills and personal qualities required to drive responsible practice throughout working life."
I think it's also helpful to look at how others define CPD. Here is the Institution of Engineering and Technology's (IET) definition:
"CPD is how you keep up to date with current practice; it drives you to improve your skills and progress into new roles, and helps keep you employable throughout your working life."
Both of these definitions are similar yet offer a slightly different perspective. Here are some of the keywords and phrases that jump out at me:
Proactive maintenance
Drive responsible practice
Skills and personal qualities
Keep up to date with current practices
Progress to new roles
It's clear that CPD is a win-win, benefiting both the individual and the wider professional community through improved standards and skills.
Why is continuous learning important in marketing?
The world of marketing is moving at pace. The blend of traditional and digital channels, an increased focus on data and the emergence of AI are just some of the different elements marketers have to contend with today.
Last year's Business Skills Census 2019 report from the DMA's Institute of Data and Marketing asked marketers to identify the skills and challenges facing their organizations. today, as well as their importance in the future. The report is just one example of the huge variety of skills brands expect from marketers in today's increasingly competitive business environment: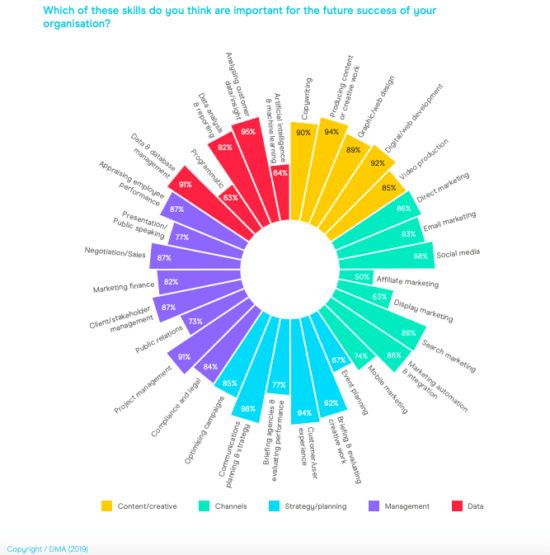 In order to keep pace and succeed, marketers need to focus not only on improving their current skills, but complementary and future skills, too. For example, whilst a good brand manager will have a solid grasp of brand strategy, creative and media, they also need to have a solid understanding of data and digital to connect the dots.
Five key benefits of continued professional development
I've outlined above some of the reasons why I believe CPD is important for marketers. But what are the specific benefits?
Improve your skills and competencies
The first and most obvious benefit is that by continuously developing your knowledge you will improve your marketing skills and competencies. Whether that's through on-the-job training, external training courses, guides or conferences, every extra hour spent learning will make you a better marketer.
Enhance your confidence
Marketers who develop both core and complementary skills will have greater overall knowledge of the marketing mix, which in my experience has led to greater levels of confidence, especially when interacting with colleagues and clients operating in different specialisms.
From an early stage in my career, I have followed the T-Shaped Marketer approach to my professional development. Whilst there are other alternatives to this model, I've found it useful because it keeps me from becoming too myopic in my thinking and to take a more generalist approach to my work: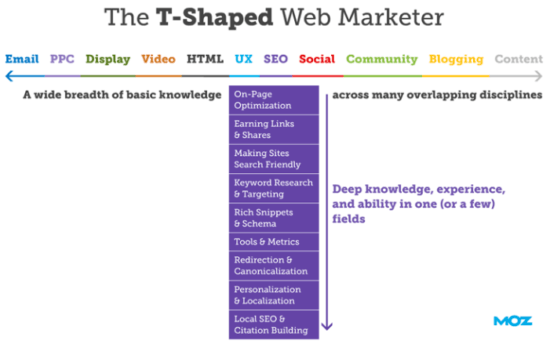 Open up career opportunities
Marketers who are dedicated to ongoing learning and development will give themselves a better opportunity to progress, either within their current field of expertise or elsewhere. CPD can give you an 'edge' and to stand out from the competition when going for different roles.
It's also worth noting the financial benefits of continuing professional development. Research from the CPD Standards Office found that for anyone hoping to get promoted, or wanting to specialize in a different area, demonstrating their learning agility can make a substantive difference. In real terms, this means that CPD contributes to achieving higher salaries.
Inspire curiosity
Curiosity is a trait that we will all be familiar with, especially those with small children. When we're younger, we're naturally curious about the world around us, spreading our attention far and wide. This diminishes as we grow older and narrow our attention to more specific things.
Research has shown that curiosity is vital to an organization's performance and therefore an attribute we should cultivate as marketers. Whilst CPD can be focused on a narrow set of skills, it can also be used to inspire us to look more widely, both inside and outside of the marketing sphere.
Boost empathy and understanding
Related closely to many of the points above, CPD can also help boost empathy, understanding and collaboration across different teams and disciplines.
When I started my career, I specialized in what was then referred to as 'earned media', a combination of SEO, social media and content marketing. However, I soon realized that in order to be successful, I had to develop my knowledge of PR (so I could work with media relations teams to generate links for content), paid media (to generate greater reach for social content) and design (to support the creation of interesting, valuable content).
Building my knowledge in these areas not only strengthened my own skills, but enabled me to have more informative, productive discussions with colleagues, leading to greater collaboration and better outcomes.
Conclusion
Professions that practice and promote continuing professional development (CPD) help to foster a knowledgeable, skilled and confident workforce. Marketing is no exception, and it's important for marketers to ensure they have up-to-date knowledge and skills to keeup with the pace of change we continue to experience.
Many of the benefits of CPD have advantages for both employees and employers. From improved skills and competencies to enhanced curiosity and confidence, marketing professionals who are committed to on-going learning and development will help drive their careers forward whilst improving the bottom line for businesses through better results and outcomes.