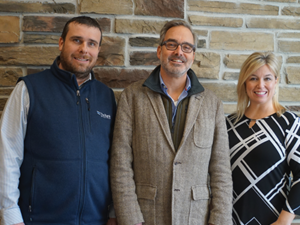 Interest for Others is an online giving network for banks, with 100 percent of donations given to local charities. Bill Dolan, the founder of the initiative, had the idea in 2013 when he looked at the interest he had earned on one of his checking accounts — $3.43. 
Initially, he considered the amount insignificant.
The longer the little number lingered in his mind, he wondered what could be done with all that other small-change interest loitering in other peoples' bank accounts. He realized that if 10 percent of the interest in all deposit accounts were aggregated in a year, it would amount to close to $3 billion. 
Dolan shared his earworm idea with John Babcock, president and CEO of The Bank of Elk River, over dinner. Sure enough, Babcock heard the appeal. The bank cultivated the idea until it was ready to launch at the Minnesota bank in October 2019.
"Our founding premise is that by aggregating many small donations, the total amount of charitable giving can be increased," Dolan said in a 2018 interview. It was a modern idea of online giving, and required innovation when it came to application.
Dolan's original vision of compiling interest income was adapted by the five-year process of implementation. In practice, Interest for Others allows customers the option to share their earned interest, with a minimum $5 donation, but also to give a bit more, or set up a recurring donation. 
The hard part at the onset, Babcock said, was figuring out how to mechanically implement the idea from a systems standpoint. In more than five years from the idea's inception, the platform went through multiple iterations. "We realized early on that we didn't have the horsepower alone just for what it was going to take from behind the scenes," Babcock said.
 To make this the most viable route for customers, it had to be accessible and safe. "It's got to be secure. It's got to be easy. It's gotta be understandable," said Babcock. "And to translate this simple idea into something that works is pretty complicated."
The bank's partnership with the initiative's platform revealed that the process won't look the same at every bank Interest for Others partners with. "What took so much time is that we realized that we could take the time and spend the money and build a system that works at The Bank of Elk River," Babcock explained, "but to replicate that at the next bank down the road, they'd be starting from scratch." 
"They needed a bank to kind of bounce these ideas off of and brainstorm how to make this as turnkey as possible for the next banks that want to get involved," said Bill LaVigne, chief operating officer at the bank.
The marketing and online formula was the most nuanced to concoct. The simplest avenue, however, turned out to be the most turnkey. The Bank of Elk River advertises IFO in its front lobby, on social media, and on its website, with a link that takes customers directly to the charity platform's website — no need to sign in twice.
The partnership between the bank and Interest for Others evolved to essentially rely on marketing. "And what we love about the partnership is truly that 100 percent of the donations go directly to the charities," said Julia Schreifels, director of marketing and assistant vice president. "And, with Interest for Others, you can really target local charities."
"We're the ones who jumped in first and said, we'll make the commitment, we'll take the time," Babcock said. "This is something that we're doing not just because we're all nice people, but because we really do believe in what the mission of Interest for Others is."
Babcock explained that the hours put into the initiative were significant and come without financial payback. "As a community bank, any time we can find a way to differentiate ourselves is a benefit," he said. "And it might not hit on the bottom line." 
The whole idea is to give whatever you can give, Babcock added, which not only targets a new generation of givers, but blends all generations and economic statuses.
When The Bank of Elk River sat down with more than a dozen local charities to share the idea, Sue Hix, a full-time volunteer and past president at Sherburne Wildlife Refuge in Zimmerman, Minn., was among the most enthusiastic.
She tracked quickly with the bank's idea, offering to add it immediately to the refuge's e-newsletter the following week, later adding the initiative's logo with a link to the IFO website.
Hix, who has gray, short-cropped hair, dyed purple at the tips, has worked with Schreifels and LaVigne in the cross-fertilization of community involvement over the years. She spoke knowingly of their dedication and character. The bank has supported the refuge's Be Wild campaign for nature education in youth. LaVigne and his family have volunteered at Sherburne, and when Hix was president at the refuge, LaVigne was recruited to be a board member. Hix knew Schreifels when she worked for the Elk River school district and was part of the leadership that implemented an early childhood nature explorer center. 
Hix has a vision to expand education of the younger generation by bringing the classroom outside. Partnering with local school districts has brought a bulk of volunteers to the refuge, and Hix hopes to continue the expansion of the charity's learning center. "I'm hoping it will sink into the heads of our members that this is a great partnership for us," Hix said. "It's another way to give and it's easy. It doesn't take $100 or $500. With $5, $10 — every little bit counts."
Across the train tracks from the Elk River bank, community members camp outside the CAER food shelf waiting to get their monthly groceries. When they walk through the lobby area and into the storage-room grocery store, they're met with a line of produce — seasonal squash, tomatoes, onions, iceberg lettuce, spinach — accompanied with recipe ideas. 
Interest for Others is a bit like someone advertising for the food shelf, said Heather Kliewer, executive director of CAER. The bank provided the nonprofit with tools it needs to promote the platform: Logos, links, email signatures, etc. "It's easy and convenient," she said. "They've made it seamless."
At CAER, a $1 donation has a $10 purchasing power, so a $5 donation could buy $50 worth of groceries. "So any little amount is very beneficial to us," Kliewer said. "This [platform] could at least open it up to other people who might not be donating anywhere yet."
The initiative also applies a novel giving mentality. The giving effort at the bank no longer has a "tithing" mindset as has been popular with older generations. There's the typical profile of someone who is traditionally likely to give — retired, presumably wealthy, fill in the profession… "Those are easy targets. They expect to get hit on by charities and philanthropic organizations," Babcock said.
But Interest for Others is intended for everyone. The bank values the products and services that cultivate a culture that customers want to participate in. "[Interest for Others] is certainly telling our story, and it's telling people why this bank is different," LaVigne said.