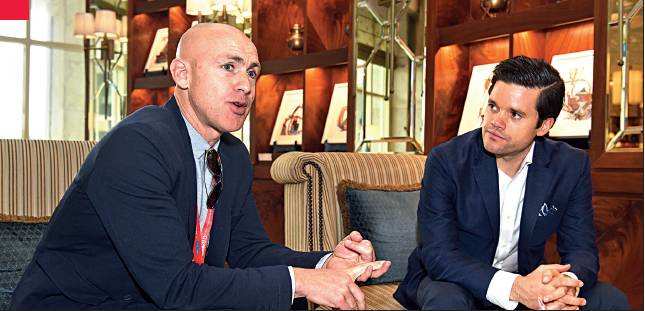 Headspace is looking to localise content to tap into non-English speaking markets like India amid a rush of similar apps, monk-turned-entrepreneur Andy Puddicombe and cofounder Richard Pierson told ET's Samidha Sharma and Biswarup Gooptu in an interview. Launched in 2010, the Los Angeles-based mindfulness and meditation company has more than 2 million paid subscribers, with 600 corporates as its clients. Edited excerpts:
Andy, why did you launch Headspace after 10 years of monkhood?

I was visiting home (London) when I was still a monk and chatting with friends, who were all interested in what I was doing but had no interest in Buddhism and religion. They just wanted to know how to feel less stressed. That got me thinking. I called up my teacher, my Tibetan Lama, and had a conversation on whether I should continue being (a monk) or put on a suit and tie and start a meditation platform. I went back to England, set up a clinic and started doing one to one sessions, which is when I met Richard.
You've largely kept away from external funding. What are your plans for India and elsewhere?

Pierson: We have raised about $140 million in all, but we bootstrapped it for the first five years. The company was profitable when we raised our Series A round.
Now we have started to localise for non-English speaking markets over the last 18 months, like in German, French, Spanish, among others. We are learning how we can enter new markets with a degree of sensitivity.
India is a very unique market, so it was important to find someone we were aligned with. That's why we picked Times Bridge (the global investments and partnership arm of the Times Group, which also publishes this paper). I think it's very easy to look at the opportunity here. We want to be here for the long term.
How big is your corporate share?
Pierson: We have 600 enterprise clients, including Starbucks, Google, Nike, where we offer Headspace app subscription to every single employee. It is a big part of our strategy and we are thinking how we can localise it further to help these corporations.
How do you measure results from users of Headspace?
Puddicombe: There are two ways – anecdotal and scientific. The scientific part, we have doubled down on. So we can say with a high degree of confidence that Headspace can reduce stress, anxiety and improve focus. And then (is) our most highend research in corporate… insight from user data and feedback.
You are now expanding beyond just offering meditation…
Puddicombe: We think Headspace is not just for meditation, we think about it is as a mindful living platform. We launched a subsidiary, Headspace Health, for prescription medicines. This requires the most investment and (we are) in the process of getting all FDA approvals and should launch by start of next year.
How does Headspace Health tie up with your larger mission?
Puddicombe: Our mission is to prove to the world that Headspace is not just for those people who speak English and can afford to pay for it. It is a really important part of our mission to be able to get to the point where people can access it for free through health insurance as it would be prescribed.
There are many competing apps in the wellness segment. So how do you plan to differentiate?

Pierson: There are two things that are really important– authenticity and science. There are 4,000 apps that are out there but no one has the volume of research that we have on the product. As consumers get more informed, they are going to start asking questions about the quality and literacy of these things.