The rise of healthcare content marketing in an increasingly digital medical marketing environment
The role of the healthare marketing rep is undergoing rapid reimagining into a digital/face-to-face hybrid as we're finding the more effective avenues of engagement, such as healthcare content marketing, during the pandemic and beyond.
Convincing budget holders to increase the use of digital channels in the pharmaceutical industry can be challenging given legal constraints. This is illustrated by pharma's traditional investments in third-party, healthcare provider-only websites, but with limited patient information.
Content marketing strategy involves defining both the best content types and formats to support customer journeys and selecting how to reach audiences via content distribution as summarised by our content marketing blueprint.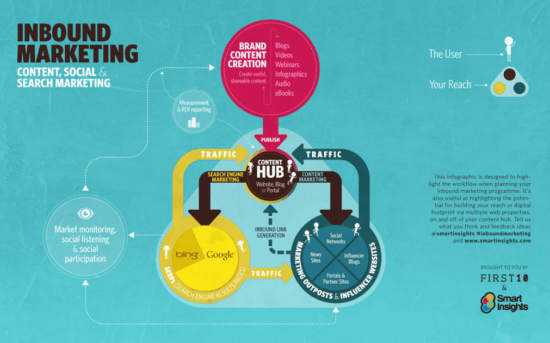 Danny Flamberg writing in M3 highlights how online content gives new opportunities to support pharma and healthcare patients' pain points. He says:
"Unlike traditional communications, digital marketing gives you the power to truly speak to your healthcare providers (HCPs) as individual people with unique needs, so it's vital to ask some important questions. What are their subspecialty and prescribing habits? Are they in small practices or large? How is COVID-19 impacting their practice? Are they working in a metropolitan area impacted by the pandemic? Or, are they pediatricians and Ob-Gyns trying to maintain health and wellness remotely?
"The answers will help you segment your audiences, driving uniquely relevant content that is more likely to capture attention, views, clicks, responses, and conversions. Unlike traditional HCP content, focused on science with an occasional nod to the emotional benefits to the patient, consider content that is more stimulating, contextually relevant, and personalized based on behaviors/interactions, and data.
"Digital marketing enables marketers to deliver brand touchpoints that are more targeted and frequent, in the channels HCPs use throughout their day and available on-demand. And the best part: it can all be repurposed across your brand's digital footprint, in online advertising, social media, PR, and other channels to create tremendous efficiency and increased reach".
Applying healthcare marketing trends to your strategy
What are your pain points? We recommend the use of in-depth medial personas featuring detailed patient journey and content mapping to elicit these needs and plan communications around them, for example by defining top, middle, and bottom of funnel content.
Healthcare marketing is complex and evolving. Naturally, strategic healthcare content marketing is important to get right, but it's only one element of your marketing funnel. That's why we've written our free pharma and healthcare marketing trends guide. This industry report breaks down 9 trends across the medical marketing sector to inform your marketing strategy.
As an example of new content distribution opportunities, to reach HCPs and consumers, digital communities continue to grow in importance. For example, the M3 publishing and research group operates HCP communities in the US, Asia, and Europe with over 5.8 million physician members globally via its physician websites which include mdlinx.com, m3.com, research.m3.com, doctors. net.uk, medigate.net, medlive.cn, and m3india.in. By keeping up to date with the latest trends you can ensure that your company doesn't miss out on business-changing opportunities.
Healthcare Professionals
The outcome is that HCPs are increasingly looking for insights, not sales pitches or collateral now. They want integrated, personalized, and value-driven interactions as opposed to brand-driven interactions. High-quality content is the best way to fill this need and the best way to maximize this is to invest in your own content and channels. M3 recommends this process for developing and reviewing insight-based messaging and content indicating the processes required.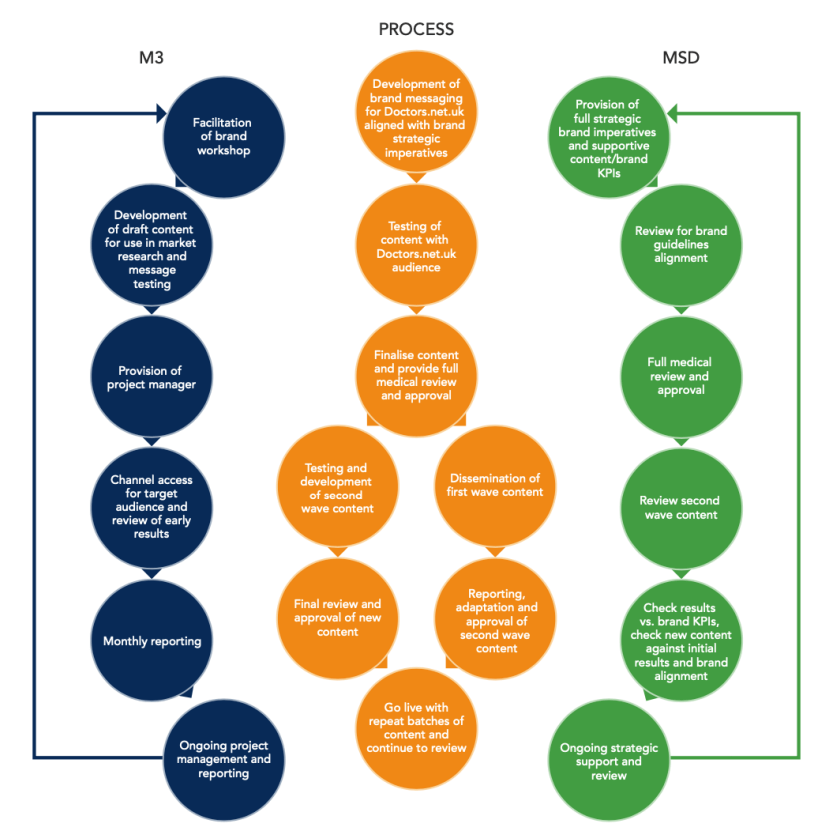 The shifting nature of information that consumers seek
Providing healthcare packages that individual patients can tailor to their own needs is a significant challenge for companies and while some companies may choose to provide such services themselves, most will function as nodes for a network of providers, including device manufacturers, dieticians, health and fitness clubs, mobile telecoms operators and compliance call centers. They will be responsible for managing the mechanics of contracting and delivering these services.
In the UK, for example, insurance giant Prudential has joined forces with Virgin Active Health Club to offer a critical illness policy that provides subsidized gym membership and rewards people who exercise regularly by reducing their premiums.
Analyzing the healthcare customer content journey
One of the important uses of customer journey analysis from a content perspective is to understand your customers' goals, and what type of content helps them achieve their goals. Therefore, it's important to use the analysis to identify the gaps between what you think you're delivering and what your customers are actually experiencing. For example, health insurance consumers are seeking simplicity, personalization, and peace of mind.
Most insurance plans can be overwhelming to an average consumer so they respond well to companies that provide content in plain language that makes complex elements simple. This also means that the content you provide needs to be as complete as possible for autonomous decision-making and personalized to their circumstances.
Ultimately, they are seeking reassurance that they are adequately covered by a brand with a solid reputation.
Patient information journeys
The content that is provided to patients regarding a particular ailment and associated treatments needs to have all the previous elements to build trust but also support decision making during a stressful time.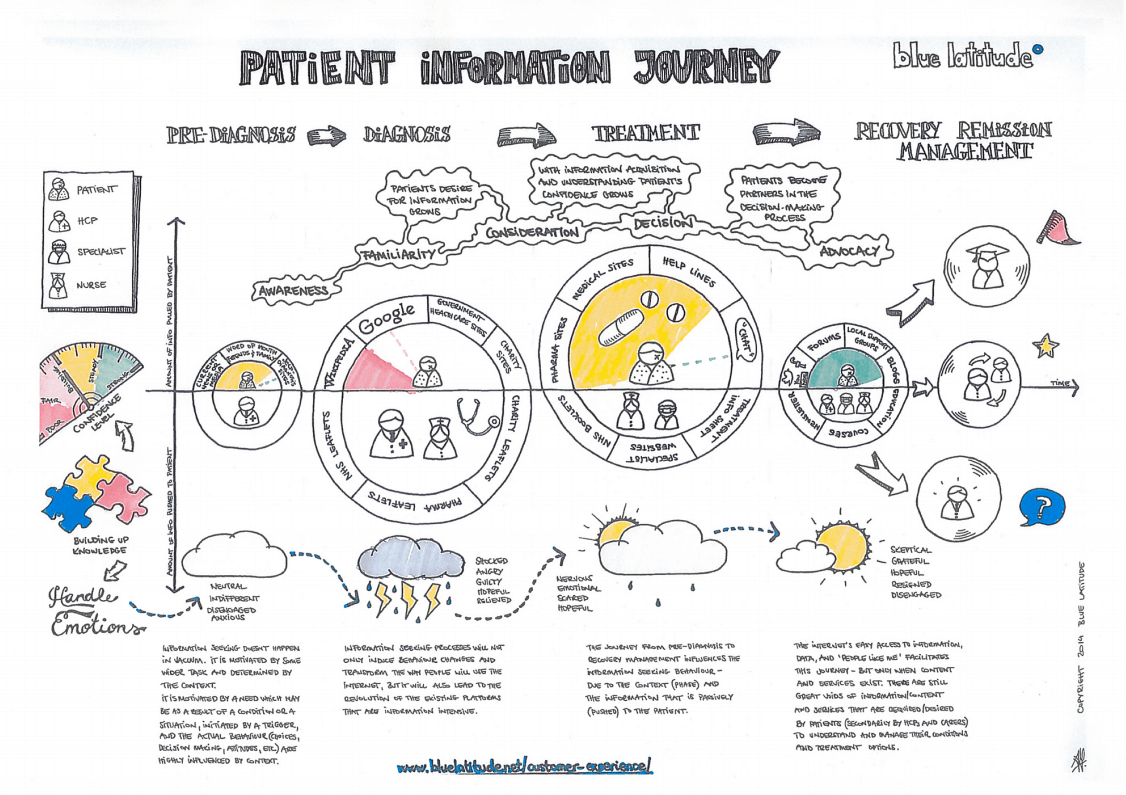 Customer perception maps
GPs are saying that patients are becoming more informed and empowered in the treatment decision-making process, often performing extensive research about their condition and some of the potential products available to them before their consultation.
In pharma, as in every other industry, content is king. In a world filled with noise, it's never been more difficult to get your message heard and one of the best ways to cut through the noise is to provide quality content and information to customers when and where they want it. It doesn't matter what segment of the healthcare industry you're in, people are trying to learn something new.
Whether it's tips and tricks about technological advancements, new diagnostics options, general industry news or from a patient perspective alternative treatments or disease prevention and health maintenance tips.
There is one simple takeaway: The people who can buy your products or services more frequently go online to educate themselves before interacting and transacting with a company, especially in the healthcare space.
A solid content strategy is not only about writing content that shows your expertise, authority and trustworthiness and increases the chances that your content will show up on the first page of search results, it also focuses on posting original content on social platforms and guest posts on other highly authoritative digital platforms. Whether that's LinkedIn and Facebook or Instagram and Twitter – you've got plenty of platforms to choose from and you should be making the best of the tools available.
Our free pharma and healthcare marketing trends guide puts you in the driver's seat when it comes to making decisions about your marketing channels and activities. Alongside healthcare content marketing, you can discover marketing tools, recommendations and case-studies to inform all elements of your medical marketing strategy
Webinar healthcare content marketing: Engaging physicians and other HCPs
Beverley Smet from Across Health, sees that the market is now learning exactly what the target group wants from online. 'Our research shows that webinar viewers prefer a 30-minute webinar to a one-hour webinar and traditionally webinars in pharma are often far too long.
When it comes to marketing online activities for these webinars potential viewers are more likely to sign up when a speaker personally shares on their LinkedIn timeline that they are giving a webinar. Pharma still has a lot of opportunities to learn and experiment.'
Opportunities of using webinars to support healthcare and pharma marketing include:
Medical education
In the final 'approval' phase of a medicine or device development, it is valuable to explain to doctors what the possibilities are of the upcoming medicine. A webinar of this type provides worldwide reach and is an excellent opportunity to deliver an in-depth understanding of the scientific underpinnings of the medicine by renowned doctors who contributed to the development.
This can also be transferred to education operations within medical organisations such as hospitals. By launching a webinar series that offers scientific information on current themes, busy professionals can keep up to date with content from experts in the medical field on-demand.
Promotional webinars
Webinars are also ideal for promotional purposes such as explaining the operation of a medicine or device. During the event, doctors can ask questions which provides a lot of insight into what is going on among them. The webinar is also an excellent way to stay in touch with doctors and others within the target group in between major conferences.
Platform during conferences
During conferences and seminars webinars conducted by companies in the biomedical world play a facilitating role such as going deeper into the scientific highlights that were shared during the event. They also provide a platform for doctors and other experts to add extra insights into their new data or procedures. The added benefit of a webinar is that professionals who are not present at the live event can still receive important information and participate in the discussion.
Healthcare video content marketing
Video marketing is a useful format for healthcare marketers to build trust and increase awareness around their healthcare business in 2021/22.
There's very little that can rival video when it comes to engagement; it's why TV ads have been the holy grail of marketing in the past and why YouTube is as successful as it is. Plus YouTube is a preferred search engine for many seeking healthcare education.
With this in mind – as a healthcare marketer, you should really consider making video marketing front and center of your marketing plan.
Options for using YouTube vary from creating a 10-second ad to play before YouTube videos or creating a channel to promote your company's vision, people and products. Video can personalize your health brand and make it more approachable in an industry where people are potentially intimidated by doctors and medical equipment (think white-coat syndrome).
Orlando Health has a great series of videos on YouTube where doctors, nurses, and nurse practitioners talk about who they are, their work experiences, but also how different medical conditions are treated. They're a fabulous example of health video marketing done right.
Your company's healthcare ontent marketing strategy
Whether your business is regularly applying content strategies and tactics, looking to improve, or not sure where to start, you can find everything you need in our pharma and healthcare marketing trends guide. Packed with helpful tools, templates, and next steps recommendations, download your free copy today and start taking steps towards optimizing your marketing strategy.