Artificial Intelligence (AI) has actively taken the world by storm. More and more businesses are now planning to leverage AI to develop brand management strategies as a fundamental part of their vision and mission
Meanwhile, AI is slowly but steadily becoming more prevalent in customers' day-to-day lives. It makes everyday tasks and small chores easier and is quickly becoming more readily available in lots of shapes and sizes to suit customers' needs.
Google and Microsoft are among the popular global brands that have already regulated their business operations to focus on Artificial Intelligence research. Other industry leaders like IBM, Amazon, Facebook, Apple, and Alibaba are not far behind from this objective.
According to a market research firm IDC, global spending on AI systems is said to reach $57.6 billion in 2021.
While AI offers undeniable benefits such as cost savings for the business, the bigger goal for marketers is to enhance brand management by making it more predictive and personalized. So, specifically, how can AI help marketers to achieve this? Without any further ado, we'll discuss various methods to improve brand management using AI.
AI guards online reputation
We know that opinions spread like wildfire online. Word of mouth is powerful enough to enhance brand awareness or wreck it altogether. Managing online reputation in this tightly connected world can be quite challenging for organizations.
A recent report by Bright Local found that marketers are spending, on average, 17% of their workweek on online reputation management. That's almost one full day of work per week.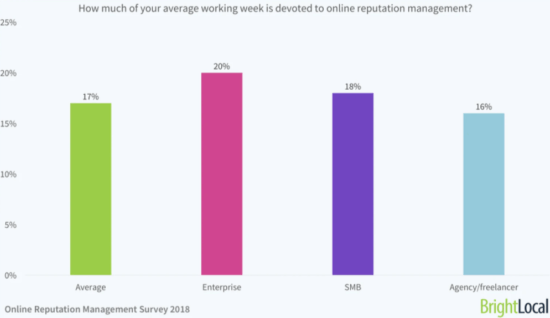 Of course, social media monitoring is essential for business success, but that doesn't mean it should dominate your work time. The use of AI tools simplifies this task.
Artificial intelligence, using natural language processing (NLP) models, means computers can understand and decipher what your audience is saying.
AI offers a better way to ease the time commitment of managing your reputation online by:
Automating the monitoring process.
Responding to and asking for reviews at the right time.
Enabling brand managers and product managers to research on a large-scale basis.
Monitoring social media, websites, and other online forums.
Identifying mentions on social media and bifurcating negative comments to rectify it at the earliest.
Recognizing and recording positive comments.
AI connects you with the right audience
Today, we are granted more opportunities than ever to reach our target audience due to the multi-channel environment we live in. What's more, we can refine our market further with advanced tools like AI. With little effort, we can learn much more about customer behavior, pick up on specific patterns, and steadily shape and update strategies for campaigns.
Before the introduction of AI, companies were broadly categorizing customers to make bulk decisions about customer experience. AI has entirely changed how companies monitor their CX.
AI records and analyzes every action made by a user, such as:
The items they browsed
The products they added to the cart and then removed
The items remaining in the cart
A call-to-action clicked and left in midway
AI analyzes all these behaviors to find out the reason behind the customers for stopping in their quest. Moreover, by analyzing the customer's data, and presents your message or advertisement to them at their exact time of need.
Consider the example of Premier Inn, the largest hotel chain in the UK. The company was able to reach out to the target audience who were looking for a place to stay by leveraging the signals of their search queries.
Rather than manually reviewing analytics and audience behavior, Premier Inn utilized AI tools to study the data about the length of traveler's stay, the device they used for searching and the country they were planning to visit to have their Google ads pop up at the appropriate time.
By connecting to the right users with the right message at the right time, they saw an increase in their hotel bookings by 40%!
AI improves customer experience
Happy customers are advocates for your brand. And, that's the reason why companies are focusing more on brand management through customer experience. By delivering excellent customer experience, these businesses can achieve better customer loyalty, which in turn contributes to increased revenue growth.
Forming an emotional connection with a brand plays a crucial role in enhancing the customer experience. Apple is the perfect example of a company that leverages emotions to build an everlasting bond with its consumers. Instead of sending out press releases about a product launch, it creates events to nurture a sense of mystery and allows consumers to be a part of it.
Marketers can achieve this intense relationship by utilizing the power of AI. These tools collect and analyze tons of data, giving access to accurate information to drive marketing strategies, and contributing directly to improved customer experience.
According to Forbes, the future of customer experience is artificial intelligence. In fact, it is projected that 95% of customer interactions will be managed by AI technology by 2025.
Companies are also focusing on using AI to deliver personalized recommendations. This is another crucial factor necessary to achieve a better customer experience. For example, we have already seen chatbots helping brands in this area by offering a personalized experience.
Intelligent chatbots deliver a comprehensive communication solution when it comes to answering FAQs, providing sales suggestions, or guiding a customer where to go next. With this approach, one need not have to call in or wait on hold for a customer representative. The automated live chat will answer all the common inquiries.
AI secures customer data
Digitization has brought tremendous benefits to organizations, but it has also made them more exposed to cyber threats. Over the years, we have seen online attacks dramatically increasing.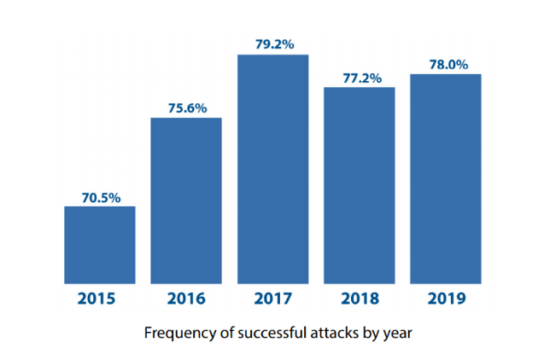 In the wake of these outbreaks, eight out of ten online customers in the U.S are becoming increasingly concerned about data security and privacy as per 2019 CIGI-Ipsos Global Survey. This clearly indicates that most online users feel like they've lost control over how their information is being collected and used online.
The data protection laws such as GDPR and CCPA are introduced to secure the customer's personal data and instill their trust in the favorite brands. These laws come with a massive penalty for the companies that are involved in leaking sensitive customer data.
According to the European Data Protection Board, supervisory authorities in the 31 countries reported 206,326 cases of GDPR infringement from May 25, 2018, to mid-March 2019.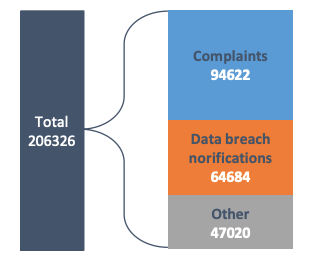 With more number of companies embracing the Cloud and digital technologies, it's now more critical than ever to protect the crucial data. Fortunately, business leaders and experts believe that artificial intelligence (AI) can improve data security to a certain extent.
AI-driven security tools can do this either by themselves using automation and detection or by offering security teams and Security Operation Centers (SOCs) with enhanced capabilities.
Examples of AI-powered data security solutions include:
User and Entity Behavior Analytics (UEBA) – This tool learns specific patterns of legitimate access usage and uses it to determine sophisticated attacks like insider threats.
Security Information and Event Management (SIEM) – This security tool helps the security team deal with various events across the entire organizational environment. With the information delivered by SIEM, one can quickly deal with data security threats in real-time.
Security, Orchestration, Automation, and Response (SOAR) – This cybersecurity solution alerts on threats. It can detect risks and deal with some of them automatically.
Apart from this, some firms utilize AI systems like facial, voice, and sound recognition to register customer's biometrics, which can then be used to securely access facilities in the future.
Bottom line
The above-specified ways help companies in enhancing brand management using AI tools. Through these techniques, companies can earn higher revenue in terms of increased sales and conversions. Enhanced brand management is crucial to surviving in the competitive business environment, so brand managers should seek funds to invest in AI at the earliest and reap the benefit.