With the rapid development in technology, many changes occur in the marketing scene within short periods. Therefore, as you're trying to execute the tactics you know, you're also in a constant quest to learn new things.
Otherwise, it becomes difficult to stay relevant and achieve your goals. Even in marketing channels you know, changes are happening with time.
For instance, 17 years ago, you only need to understand how to send blast emails to be a good email marketer. However, today, you need a deep understanding of automated email sequences just to get by.
That said, you'll always stay relevant as a marketer if you keep up with important trends and apply them to your marketing campaigns.
In light of this, here are 6 essential tactics to work on:
1. Creating and designing visual content
Over the years, visual content has been growing in popularity. And it's now gotten to the point where your ability to create visual content should be a basic marketing skill.
After all, when 54% of consumers expect videos from brands, then you have to produce this type of content. Apart from your customers' expectations, visual content can help you deliver your marketing messages more effectively.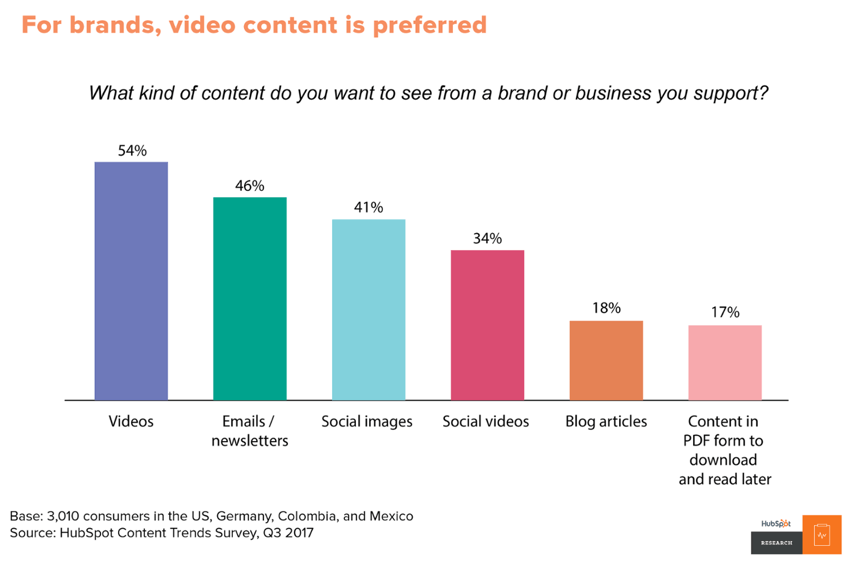 Now, if the only content you've been producing is the written format, this can look like a daunting task.
However, you can catch up by practicing with relevant tools. For example, Animoto is a simple tool that provides templates you can use to create marketing videos.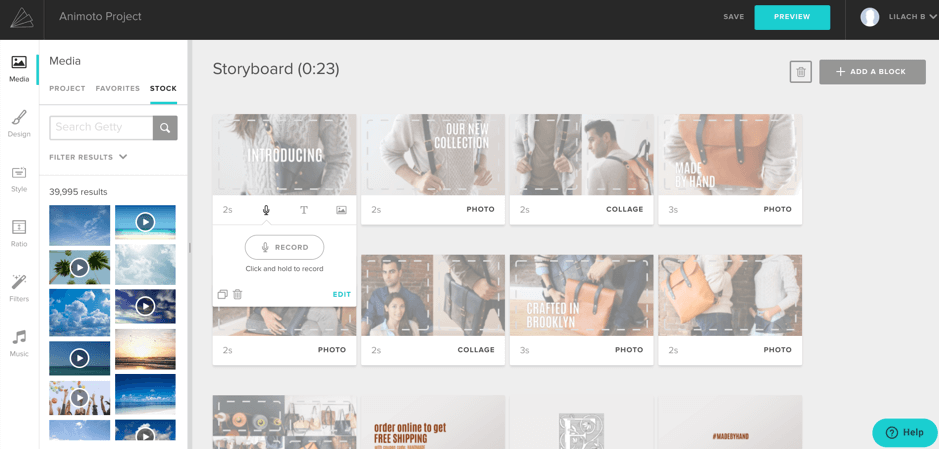 Likewise, a tool like Canva allows you to design images for your campaigns. First, you can create images to share your blog posts on social media.
Also, you have the option to create images for your social media campaigns. For the major social media channels, Canva provides templates to create images of recommended sizes.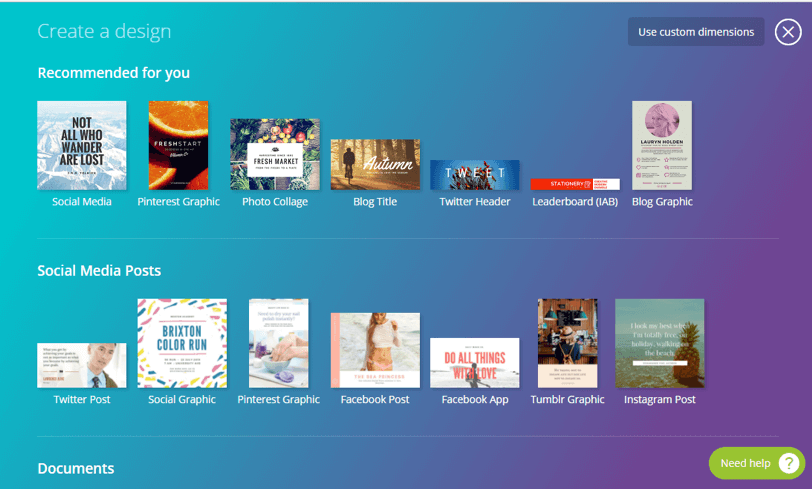 By learning how to create visual content, it becomes easier to deliver your message to your audience.
2. Voice search optimization
As a more convenient way to search, it's only normal that voice search will continue to grow. And as smart speakers grow in popularity, expect the trend to continue. According to Voicebot.ai, 66.4 million American adults use a smart speaker. That's 1 in 4 American adults.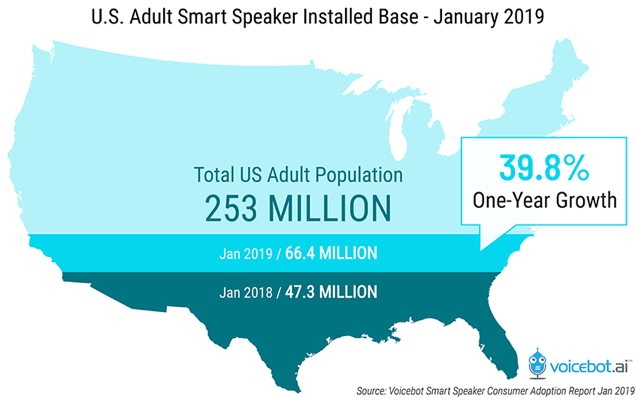 While searchers' lives become easier, this makes your work as a marketer more challenging. Because voice searches have different traits compared to typed searches.
First, voice search queries tend to be longer. That's because it's easier to speak to your smartphone than to type.
Having said that, what are the tactics to improve your chances of showing up for these searches?
Find long-tail conversational keywords: when people use voice search, they have conversations with their phones. So rather than type "buy Nike shoes Boston," they can say "where to buy Nike shoes in Boston."
Answer possible searchers' questions: since many voice search queries are phrased as questions, answering these possible questions will increase your chances of ranking high. Here's an example: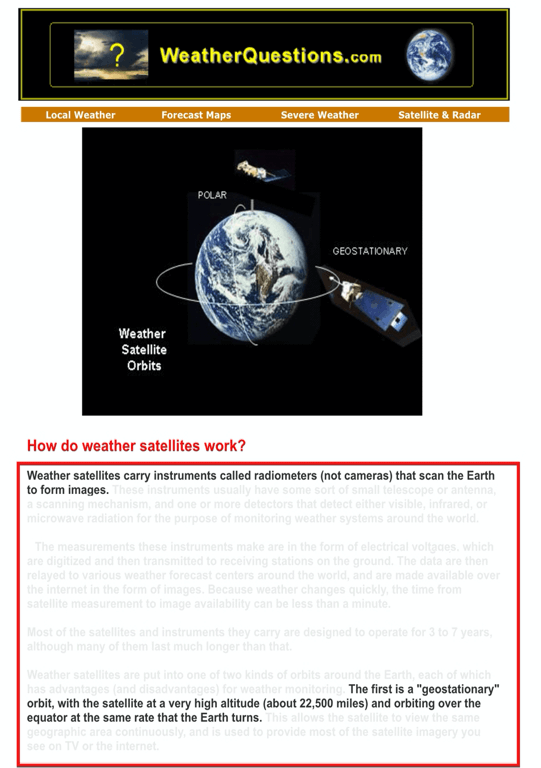 By incorporating voice search optimization into your search marketing effort, you can increase conversions for your business.
3. Native ads creation
As more website visitors use ad blockers, marketers need to evolve. One solution is native ads.
Put simply, native ads are ads that resemble the content of a page or website. By using them, you can create less intrusive ads that are likely to improve your results.
Over the years, this type of ad has been effective in search PPC ads, social media ads, and content recommendations on websites. For example, a study by Sharethrough revealed that native ads got a 9% lift in brand affinity and an 18% lift in purchase intent compared to banner ads.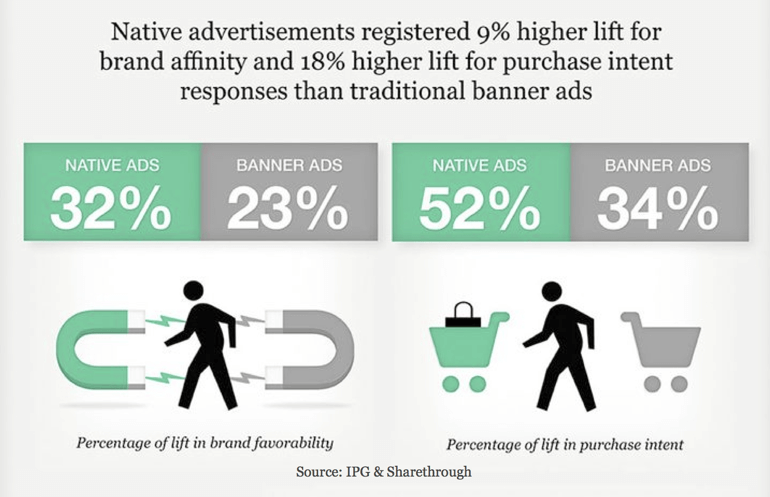 As a marketer, creating this type of ad requires a different approach compared to traditional ads.
One major trait of native ads is that they focus on benefits or an important feature of your product rather than being promotional. Check out this example from Google Home on BuzzFeed: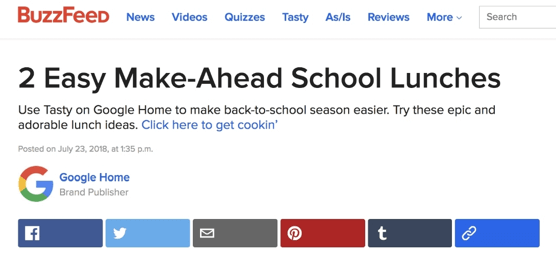 In this short article, there's only a single mention of Google Home. What you'll find is that Google is promoting a benefit users will get from Google Home rather than promoting the device itself.
By learning how to create native ads, you can improve your marketing results.
4. Personalization skills
Some years ago, personalization became popular through email marketing. Now, personalization is evident in many areas of marketing.
Most prominently, email automation has morphed into marketing automation. This helps to provide personalization in more channels of your sales funnel.
Also, website personalization has become popular as visitors see pages based on different criteria. While some personalizations are done by artificial intelligence, some are manually set up.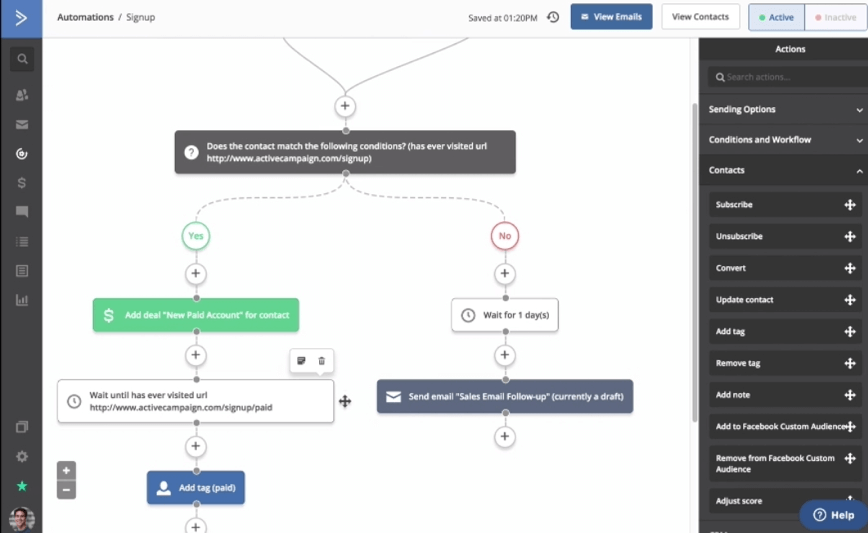 As a marketer, you need to identify what aspect of your marketing to personalize and how to create the necessary automation. Of course, this skill may depend on the marketing automation tool your business uses.
However, no matter the marketing automation tool your business uses, you have to be able to personalize your marketing efforts as this is becoming the marketer's job.
5. Micro-influencer marketing
When an influencer endorses your product, it's a form of social proof that can convince their followers to buy. However, having a celebrity endorse your product can be expensive.
That's why micro-influencers are proving to be the better investment. Micro-influencers are influencers with follower count ranging from a few thousand to tens of thousands.
In most cases, micro-influencers are people who have developed expertise in a field over the years. Even though they might have a lower number of followers than celebrities, they tend to have better engagement. According to InfluencerDB, influencers with 5,000 to 10,000 followers boast of 6.3% engagement compared to 3.6% engagement for influencers with more than 10,000 followers.
Furthermore, their followers see them as experts and are likely to take their recommendations about a niche product seriously. In another sense, micro-influencers feel more like normal people as they're easier to reach. Daniel Wellington is a company that has grown using micro-influencers to promote its watches.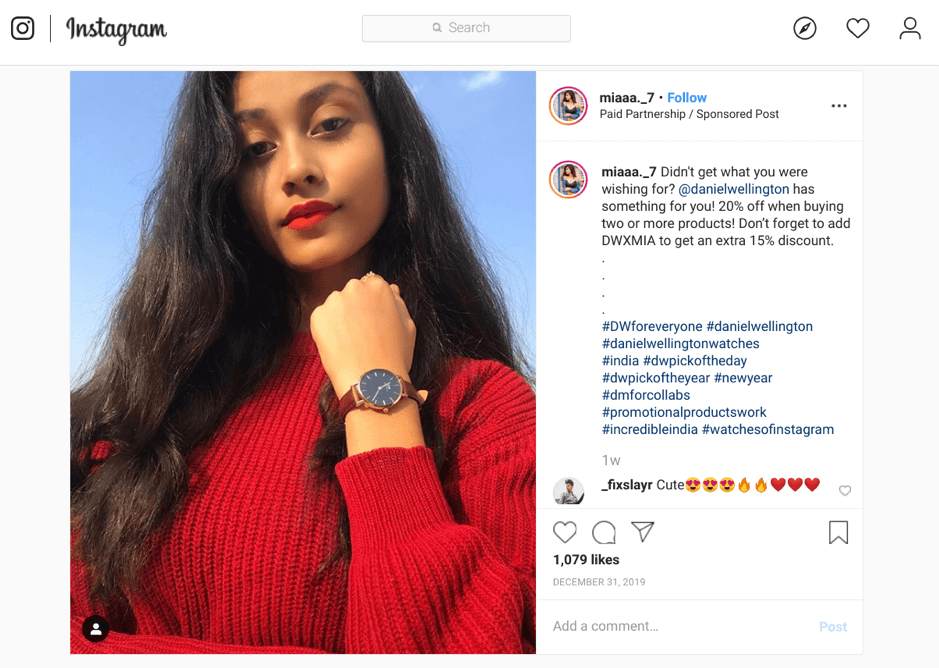 Having said that, it's more difficult to find the right micro-influencer that can convince your ideal audience. Fortunately, a tool like HYPR (or Keyhole) helps you discover micro-influencers based on different criteria.
6. Obtaining insights from analytics
If you work for a big company, then you might have a data analyst to collect and analyze marketing data. But for most businesses, this is becoming the marketer's job.
Sure, you might find it difficult to analyze numbers as it looks like foreign territory to you. However, these numbers are important to your marketing campaigns.
For every marketing campaign, you have goals that should be specified by key performance indicators (KPIs). For instance, if you're running a brand awareness campaign, what are the numbers to analyze? What if a lead acquisition campaign?
A popular analytics tool you need to master is Google Analytics. Here, you can find details such as the number of visitors, bounce rates, time on page, and more. You can even track goals for your landing pages.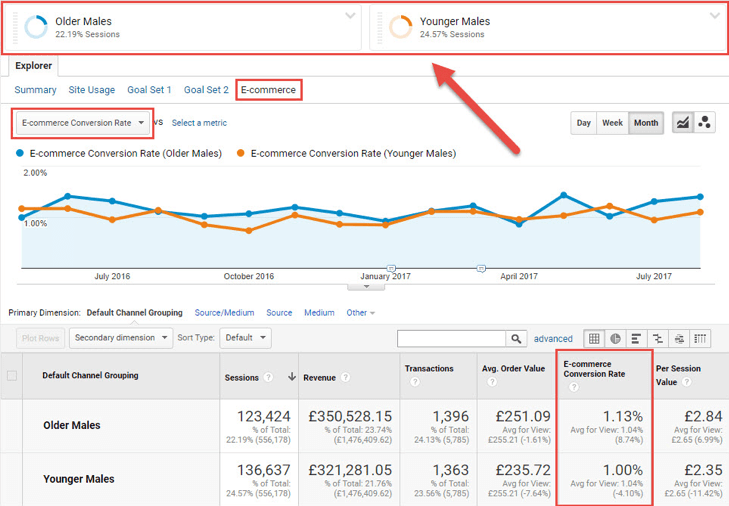 There are other analytics tools you can use to collect important data about your social media, email, and search engine marketing campaigns. To become a better marketer, you need to be able to collect data and more importantly, derive valuable insights from it.
Conclusion
Becoming a better marketer requires that you use your current skills and knowledge effectively. But even more, you need to learn new tactics to help you achieve better results for your business.
Start implementing these 6 tactics today and you'll become a better marketer.