Employee engagement has been shown to impact many different areas within an organization with three primary areas being performance, retention, and revenue
The shift of employee engagement to disengagement often comes down to a mismatch between employee expectations and what the organization is offering, particularly in relation to training and development.
Across all experiences, I have encountered students and employees who are disengaged and at times, I have been disengaged myself. So what got people re-engaged? For others, it was personalizing the learning experience, what had got them to this point and where they wanted to go moving away from the 'one size' model and searching for new and novel ways to engage them.
For myself, it was recognizing that I had needed to take responsibility for my own continuous learning.
To say that I'm passionate about learning and engagement.
A little bit of background about myself. Even though my initial training was in secondary education, I have been fortunate enough to work across a number of different industries and while I have only been focused on digital marketing for the last eight months, I have been in the marketing industry the whole of my working life.
Why engagement matters
If we are to maintain a vibrant workforce, then engagement is critical and offering opportunities to learn is one way that research has suggested this can be achieved.
Employee engagement has been shown to impact many different areas within an organization with three primary areas being performance, retention, and revenue.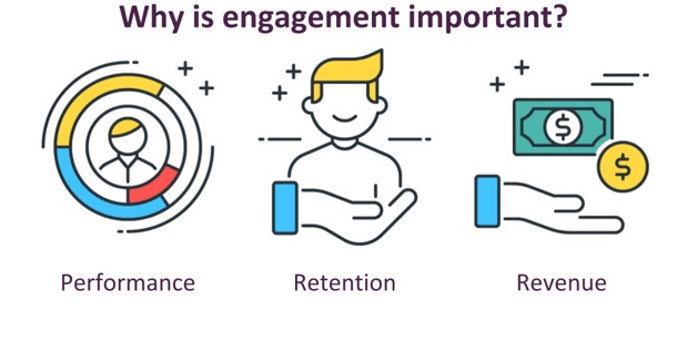 Performance – Highly engaged employees can improve business performance by up to 30% and are more likely to exceed performance expectations.
Retention – Higher engagement reduces the temptation for staff to leave.
Revenue – employee engagement improves advocacy, increasing opportunities to bring in revenue while raising and maintaining the brand profile.
Companies that act strategically on personalizing learning opportunities are more likely to have high performance, solid revenue streams and are more likely to win the war for talent. 
Global shifts in workforce learning needs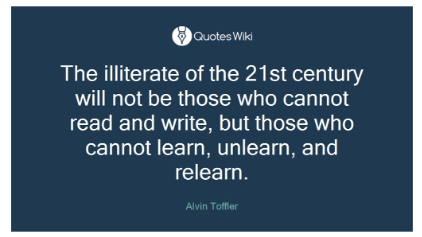 This quote from Alvin Toffler could quite easily have been written this year but the fact that it is from his book Powershift: Knowledge, Wealth and Power at the Edge of the 21st Century, published in 1990, shows that learning agility has been considered important for life in the future for a very long time.
With increasing life expectancy and dwindling state resources, it will be important for people to work and remain engaged for longer across their lifespan.
Learning agility will be a key behaviour and is the focus of Heather McGowan's provocative titled article, 'Learning is the New Pension'. She suggests that remaining employed or employable depends not on one's formative education but on one's willingness to learn new skills or re-train to address new, novel and often complex work and life situations.
"Continuous learning in the workplace must become the new norm if individuals and organizations want to stay ahead." – Redefining the role of the leader in the reskilling era, McKinsey Quarterly, December 2019
With the expectation that the organization will provide continuous learning opportunities, the demand for leaders to take on a new role as learning facilitators will require planning and support as it may be unfamiliar to many leaders and managers.
The Consortium for Advancing Adult Learning & Development found that the development of a learning culture is essential for the continuing success of an organization in an everchanging environment. They identify that learning as an adult may be more difficult as the pain of making mistakes doesn't roll off as quickly as it might have when we were younger. Therefore, it is critical that leaders foster an environment of psychological safety where employees are supported and actively encouraged to continue learning.
A key question to ask at this point is "If leaders are going to provide this environment, what is the learning that employees and businesses in the digital marketing industry actually need?"
Understanding the learning needs of your workforce
The latest OMCP Role delineation study (2019) shows digital skills competency areas that members of the industry agree are required to be successful in digital marketing roles.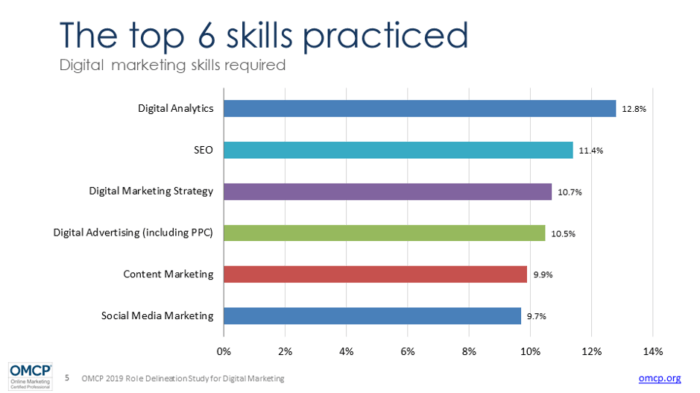 This list, extracted from the World Economic Forum Report – The Jobs of Tomorrow (January 2020), uses data from Coursera to show what learning topics are most popular in relation to marketing, sales and content. There is a strong correlation with the previous chart, which suggests that individuals are already accessing the knowledge required to be successful in the digital marketing industry.
The challenge for leaders is to encourage this type of learning and surface these skills in meaningful ways so that they can be applied within the workplace.
One consistent theme that emerges is that although intuition and creativity will still play a critical role in crafting marketing messages and campaigns, data and advanced analytics are expected to underpin almost every marketing decision – including which marketing levers to pull, when, and for which customers.
So, if we know what the industry requires and some people are engaging in self-directed learning, why isn't everyone engaging in lifelong learning? Andrew Bollington, Global Head of Research and Learning for LEGO Foundation in a 2015 OECD Business brief questioned why, with so many opportunities for lifelong learning available at the click of a button, many employers still report a "skills gap" when looking for talented members of the workforce.
Andrew believes the reason for this is that taking advantage of lifelong learning opportunities demands certain skills.
Specifically,
We need to be motivated to learn, without the constant supervision and support of a teacher.
We need to be able to ask questions and relate the knowledge gained to real-life challenges.
We need to stick at the challenge even when the work gets hard.
We need to be prepared to try something; fail; adapt; then try again until it works.
We need to network with other students, sometimes virtually, often across cultures.
We need to critically analyze and evaluate the content we find in seconds on the internet, not memorize it.
We need to play creatively with ideas and solutions.
I believe that an additional difficulty is that many learning solutions still have an industrial age where focus, experience, timing, and access are very different from what is needed and expected. The report Modernizing Learning: Building the Future Learning Ecosystem outlined how learning activities and delivery must shift for it to meet the current and future needs of learners.
Reflecting on changes in the digital marketing industry it is clear that the days of the strict T-shaped marketer have passed with successful employees in this industry requiring a more distributed level of knowledge and skill. Success in many jobs within digital marketing will depend more critically on an employee's ability to master emerging technologies quickly will rather than expertise in one specific niche technology.
Moving forward data-savvy marketers will work alongside data scientists and analysts to oversee fully automated data collection, integration, and consolidation, and to generate insights for refining marketing mix and budget allocations.
Key decisions about campaign planning, pricing, and promotion will be based less on representative consumer research or gut feeling and much more on analytics.
With these business-focused success factors in mind, what would motivate employees to learn these skills and what does success mean for them?
Identify employee motivations and success factors
In the Who moved my skills research report, Towards Maturity, identified six key characteristics of modern learners based on how they learn, what digital tools are used, preferences and their perceptions of support.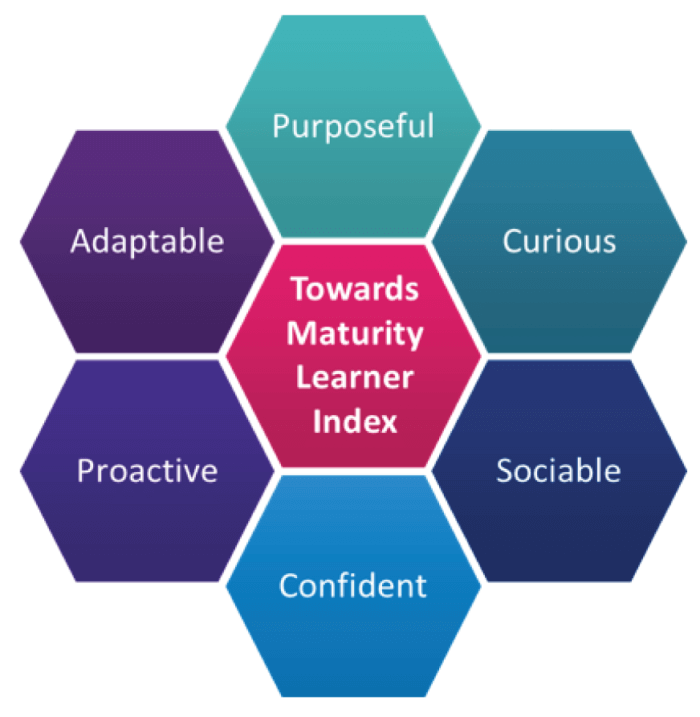 Taking these characteristics into consideration there are four elements that should be considered when investigating learner needs.
They are:
Personal motivations for learning.
Understand what success means to each person.
Identify individual key learning needs.
Anticipate a high level of control, convenience, and personalization.
There wouldn't be many marketers who would be unfamiliar with using personas to target segments during campaigns, however, within a learning framework it may be more useful to use archetypes. The reason for using archetypes rather than personas is that they have a stronger cognitive/behavioural focus alongside demographic factors. This is critical as self-directed learning is more likely based on a role rather than age or ethnic background.
A good example of archetypes for learning has been developed by FutureLearn who analyzed user data from nearly 7,000 users and discovered patterns from which they developed into archetypes.
While they developed seven archetypes, those most relevant for this discussion are The Work and Study Group of archetypes who were identified as learners who use FutureLearn primarily to enhance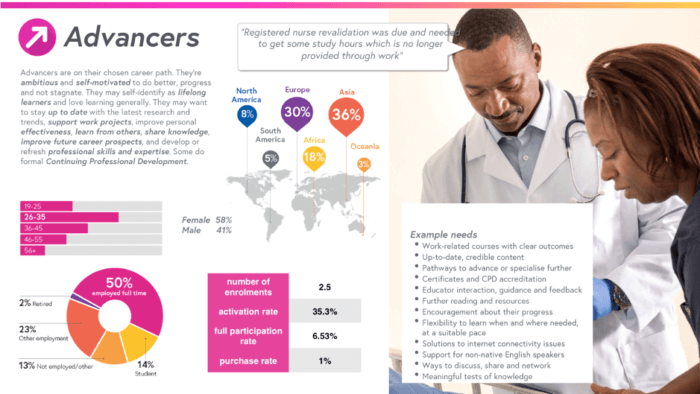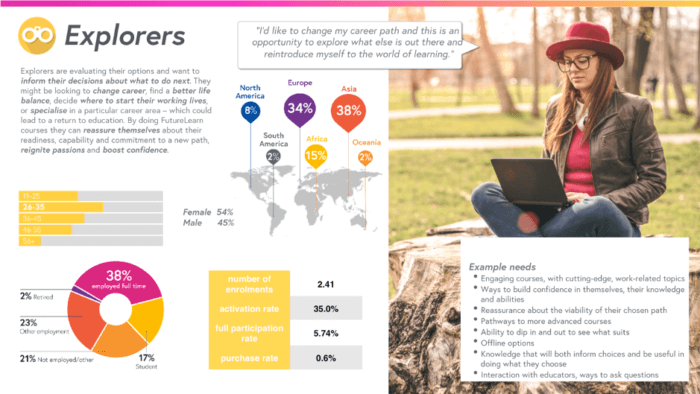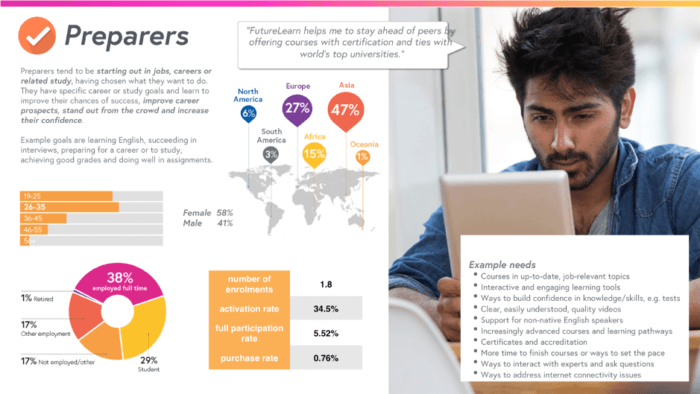 Ultimately, by defining the different types of learners using their platform in the form of archetypes, they were able to act more strategically.
By applying a similar process, organizations can segment their workforce by their needs and success factors to provide more personalized learning experiences.
Once you have a clearer understanding of your learner needs it is important that you match it with an appropriate learning platform.
The World Economic Forum suggests that understanding the typical employee lifecycle is key for mapping the points where people will likely have a need to refresh their skills. This will allow organizations to invest in a truly relevant education system that will enable learning and training opportunities for workers at all stages of their careers.
Investment in a learning experience platform to produce long term benefits
When investigating a learning platform for your organization or team it is important to consider the way information can be accessed.
Degreed identified that self-directed learners showed a distinct pattern accessing at the point where need.
At Smart Insights we pride ourselves on developing resources and learning experiences that are actionable and directly relevant to learner needs.  One model that we use to focus our resource development is Workflow Learning and the Five Moments of Need as developed by Bob Mosher and Dr. Conrad Gottfredson. This allows us to tailor our content and learning experience to the most applicable moment for learner success.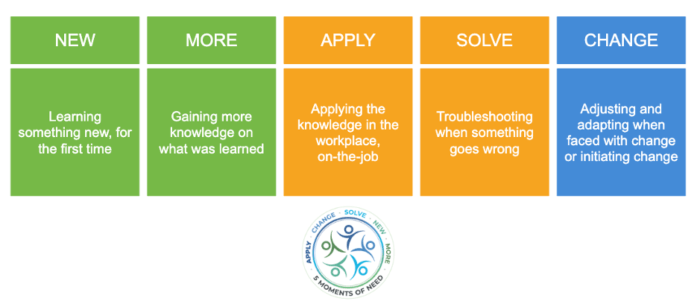 Keeping the 5 Moment in Mind it is important that the learning platform you choose has these essential elements of functionality as well to support experience delivery.
An effective learning platform must:
Be quick to launch.
Be memorable, direct and easy to navigate and search.
Keep learners interested to aid recall and application.
Empower positive behavioural change.
Deliver immersive learning with activities, educational games, case studies, simulations and storytelling.
Due to the interconnected nature of digital marketing, our resources do cross over into different moments of need which means that learners can access them as they need to 'in the moment'.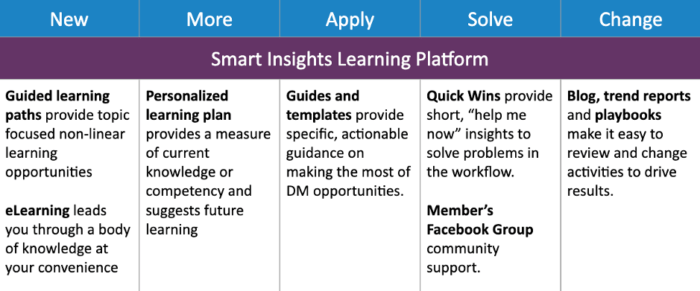 A practical example, that has been simplified for clarity, demonstrate how the Smart Insights platform can be used for all moments of need. In this example, optimizing Google Analytics is an activity that is critical to the success of digital marketing efforts.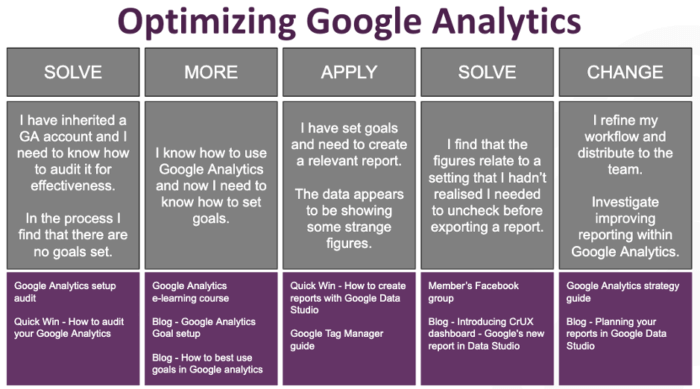 Organizational alignment
Now that we have covered the concepts and practicalities some of you may be thinking how it all fits together within an organization.
The Digital Marketing Institute suggests that it is critical to align skills training with the overall strategic direction of the business as in their research on 4% of organizations are doing so.
In the best cases, all effective learning experience efforts come as a result of a partnership between a company and its employees. The company should analyze its internal skill gaps and communicate its findings clearly.
The organization should then help employees acquire those skills, whether by creating new, in-house training programs or partnering with third-party training providers (such as industry associations and educational institutions).
Embedding learning into the overall strategy will also demonstrate that the organization is serious about the learning needs of employees and it provides a natural extension for management to consider linking transfers, promotions, and bonuses to participation in these learning programs.
Conclusion
It is clear that the changing nature of work requires new training methods focused on learning agility and fostering lifelong learning requires a focus on transferability and opportunities to explore adjacent, in-demand skills. It is similarly evident that organizations that are committed and responsive to the continuing education needs of employees report better performance and retention.
That workers and organizations must now have the ability to rapidly adapt to new information and quickly deploy new skills to act upon it means that the days when relying solely on the education received in the early part of your life are long gone.
This means that learning initiatives that match employee motivation and success needs and are embedded deeply into the workflow will not only improve engagement but investment in a learning experience platform that employees can access at the point of need will produce long term personal and organizational benefits well into the future.