Looking to improve your content marketing outcomes? Capture share of mind with a data-driven B2B content marketing strategy that doesn't cost the earth
The B2B purchase cycle is changing significantly – and so are decisionmakers, who are under more scrutiny than ever to ensure that the solutions they pick deliver ROI. This means they need to get up to speed fast on new technologies, new approaches, new solutions and more. It's a tall order, which has led the average sales cycle for a B2B solution to increase by 22% in recent years, according to Kapost.
As a result, content is now playing a vital role. B2B decisionmakers are spending more than 57% of the purchase cycle engaging with content before they ever reach out to sales representatives. According to Forrester, on average a person consumes 11.4 pieces of content before making a purchase decision.
That's a lot of material and it means the market is getting crowded, with brands vying for many of the same eyeballs. Some 86% of B2B marketers report that their organizations are using content marketing, and B2B marketers on average use 13 content marketing tactics at a time.
To stand out in this cluttered space, creativity is essential. Unlike many B2C buying decisions where impactful messages, shock tactics, and creative visuals play an important role, in a B2B scenario creativity has to be rooted in audience insights, understanding hot buttons and pain points and addressing these in an impactful way.
As with all content marketing, a common-sense approach works best. Let's boil it down to three really simple steps.
Understand what your audiences need.
Develop a content marketing strategy that creatively addresses these needs.
Measure performance and fine-tune your strategy for next time.
To maximize the ROI of your content marketing efforts you must have a content marketing strategy that is rooted in the realities of your target market.
How to develop a data-driven content marketing strategy?
The fact is that a lot of content out there does not achieve the goal it intends to. This results in wasted effort and resources being used up creating and formatting the wrong content, made worse by the wrong distribution and promotion tactics being used that prove ineffective. Picture a hamster running on a wheel without actually getting anywhere and you'll get the gist.
But this certainly doesn't need to be the case. With a content marketing strategy in place, it is possible to make content work harder, increase customer engagement and achieve overall business objectives: whether this is sales enablement, brand awareness, lead generation or something else.
Whether you're a B2B marketer doing this for the first time or a seasoned content marketing professional, you're probably aware of the importance of content that resonates, as well as how hard it is to create. Above all, it needs to be information that your audiences are interested in receiving, as opposed to what you are interested in sending. To be effective, what you need is data and insight into your audiences.
Hang on – data? Insight? Are we talking big research budgets, fieldwork, audience personas and more? With today's tight marketing budgets, very few organizations have the resources for large research exercises.
Here's the good news: developing a content marketing strategy based on data does not need to be difficult or expensive. But it does need you to be clear-minded about your goals, audiences, and capabilities. Here are three ways in which you can use the data that's already in your systems to gain these insights.
Use data to define and understand the audience
We've already said that B2B marketers typically work with complex purchase cycles, involving numerous stakeholder groups and influencers. Deciding on the right campaign targets and speaking their language, therefore, becomes a tricky exercise, which is why marketing or buyer personas are so commonly used. They are a sort of shorthand: a fictional, generalized representation of the ideal customer.
Buyer personas like this one are invaluable in B2C and even B2B2C scenarios. Typically developed through market research, they help marketing, sales, product, and services internalize the ideal customer they're trying to attract and relate to those customers as real humans.
They also help marketing and advertising campaigns strike the right tone, provide appropriate context, and present the most relevant messages to achieve the desired goals. Developing a buyer persona based on focus groups or in-depth interviews is an exercise that is bound to yield rich dividends. Ensure that all regions are adequately represented in the exploration stage, and you will secure the buy-in of sales, product development, and other key divisions before finalizing.
If the budget does not exist for a research exercise, a pragmatic approach is essential. I have found that more generalized descriptions of roles in the purchase process can be as effective than very granular buyer personas.
For example, classifying personas into tech implementers, tech decisionmakers, and financial influencers might give marketers a better feeling for who they're speaking to than job titles. If research budgets are limited at first, these personas can be defined through engagement with sales and product marketing teams within the company.
Including only work-related data points on personas is as useful as a slide of information on hobbies, passions and other concerns. It avoids information overload with data that just cannot be used within a campaign.
A persona based on the following basic criteria can form the basis for a very good marketing campaign: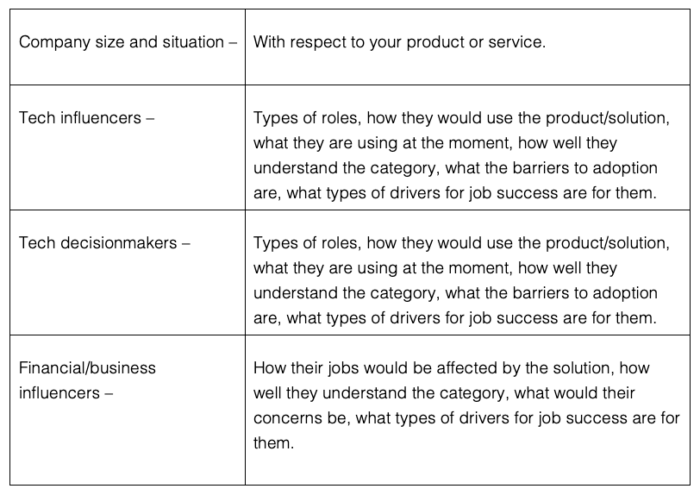 Use data to establish your messages and formats
Positioning is a starting point for brand assets, such as key messages that might have already been defined for other parts of the marketing mix. To ensure it is unique and differentiated, secondary research is all that's required.
Review the websites of your key competitors and understand what they are saying. Think about how you're going to differentiate. For technical or complex product categories, you might also want to think about the level of detail you want to go into with some parts of your content. Google analytics, when properly used, yields an unmatched wealth of insight into how your audiences are interacting with your website. What topics are they spending time on? What are they downloading? What are they bouncing away from?
Once you have your overall key messages, you need to develop 'campaigns' that you're going to run over the year. These will be driven by audience segment, product or any other imperative that suits your organization. Arranging your content by campaign will enable you to plan and develop content for specific needs and targets.
Catering to today's content trends
A complex, multi-product organization might run several content campaigns at once, each with multiple pieces of content in different formats. When you're thinking about this, be selective and identify the formats that will work best for your message and audience: web content, long-form content such as white papers, graphical content like infographics, AV content, interactive quizzes, and polls.
Content trends are a thing too, as any content marketer will affirm. This is the era of audio-visual content. Audiences prefer to watch videos and are happy to share them as well. Factors like these must be taken into account when planning the content mix.
Content marketing experts regularly publish studies into what types of content work best: an Isoline 2019 B2B decisionmaker survey showed that B2B decisionmakers were establishing 'trusted sources' for content that they returned to again and again to understand about new trends and topics. These trusted sources did not need to be journalists or analysts – even companies do make it to that trusted list. They are willing to share certain types of content too – case studies and videos are top of this list.
Plan for online success, and measure it
Once you've determined your high-level positioning and messages, you need to drill down into actual content strategy. How can you ensure that your website and the assets you're creating are findable and relevant?
SEO-optimisation is a must at this stage. In-depth keyword research will be vital at this stage but there are tools out there to help like the Free Keyword Research Tool from Mondovo.  Another handy tool is Answer The Public which will help you find common questions related to your industry which you can use to create blog content that will drive those upper funnels visits.
Now comes one of the most important parts of a content marketing strategy: measurement and evaluation. This needs to be done both at the macro and micro level of a campaign. It goes without saying that measurement needs to tie back to your objectives: define metrics and set goals for awareness, evaluation, and conversion, which are proxies for actual measurement through research. A proxy for awareness could be increased website traffic, or an increase in followers to a social media account, for example. And once you've got your content metrics defined, think about whether your content and its formats are appropriate and aligned with these metrics.
It's important not to confuse marketing metrics with content metrics – open rates, for example, might be more appropriate as a marketing metric than to determine whether your content was indeed effective in achieving the goals you set out to achieve.
Conclusion
A truly effective B2B content marketing strategy will take customers from the top to the bottom of the sales funnel, addressing their needs at every step of the way. Rooting these strategies in data-driven insights unlocks the path to long-term value.