Noah Wilcox has had it up to his ears with the gloom-and-doom attitude that community bankers are unable to compete against the largest financial institutions. "I've heard it for a long time," said Wilcox, chair, president and CEO of Grand Rapids State Bank, Grand Rapids, Minn., and chair/CEO of its sibling, Minnesota Lakes Bank, Delano. "You can't let Wall Street define your future, and you sure as hell can't let them tell you what success looks like." 
Success on Main Street, Wilcox proffers, looks nothing like success on Wall Street. He preaches from experience as a fourth-generation community banker leading an institution that will soon mark 106 years in business. "There are going to be community banks because there will always be a desire to have a relationship-focused banking experience where you're treated like a human being, somebody who's cared for rather than just a number," he said.
That's just one of the messages Wilcox will carry with him as he criss-crosses the country after being elevated to chair of the Independent Community Bankers of America at the group's annual convention to be held this month in Orlando, Fla.
Despite growing up in a community banking family, Wilcox, 47, said he was initially resistant to the idea of joining the northern Minnesota family bank. His earliest impulses led him to pursue study in visual arts; he later reset his academic career with a shift into economics and business.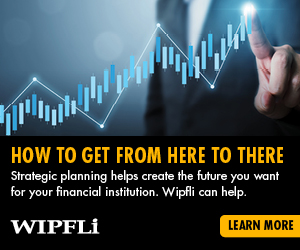 His first banking job was in loan production for Detroit-based TCF Financial. The culture was tough. "I needed $1 million in new money every month," he said. And while Wilcox repeatedly hit his targets, the intensity of the job the right match for his high-octane personality, he eventually burned out and returned to Grand Rapids. It was that point when he gave the family bank a hard second look.
It was the "symbiotic relationship between the bank and the community and the focus on the people," Wilcox said, that captivated him after a half-dozen years focused on volume. "I loved the banking industry but was totally disillusioned with the big bank business model," he said, thinking there just has to be a better way to do this.
Wilcox credits his big-bank experience for allowing him to appreciate the community banking model.
These days, his passion for his work spills from him. "When people ask me what I do, I don't say 'I'm a banker.' I usually say, 'I'm a proud fourth-generation community banker that is [a century old] and family owned.' When you tell somebody that, the look on their faces is pretty awesome."
Wilcox takes a philosophical approach to his dual roles of banker and industry advocate. "When I step back and think about my role with the organization, I'm just here for some period of time; I'm really just a steward of a terrific family-owned organization," he said. He believes keeping the bank vibrant, relevant and competitive requires him to be actively engaged in fighting for community banks.
Wilcox is no stranger to industry activism. He is past chair of ICBA Bancard and its credit card bank, TCM Bank; he also served on the board of ICBA Services Network and on several other ICBA committees. Closer to home, Wilcox is a director and former chair of the Independent Community Bankers of Minnesota. 
As ICBA chair-elect, Wilcox spent 122 days on the road in 2019, visiting 17 states, several more than once. As he prepared to become the leading voice for community banking, Wilcox paused to share some of his thoughts on how the year ahead might unfold.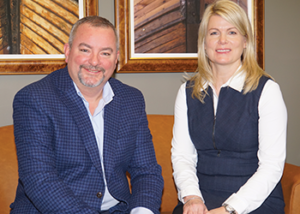 It's an election year. How does that affect your advocacy?
Noah Wilcox: With every election cycle you've got a new batch of freshmen members of Congress that have to be educated so that they understand that community banks are the cornerstone of the nation's economy. Whichever way the pendulum swings doesn't change that. When I got into this business 25 plus years ago, I couldn't have imagined the degree to which bankers have to be politically engaged and have to have the political savvy to be able to navigate Congress and all the various agencies. But it is important.
Unfortunately, we are in an environment where the Federal Reserve has been exposed to some politicalization. In terms of this upcoming election, I think more about it in terms of where the rates go, where the pressure is, and how the community bank sector responds in terms of its asset liability posture. 
Do you fear a 'Blue Wave'?
N.W.: I'm not a political pundit. I am a little bit of a political nerd. I like to follow all that stuff. I don't know what's going to happen in the election, but if the [current] administration goes, then you really have to start worrying about heavy-handed regulation. We've had critical successes in tiered regulation. A lot of people ask me when S.2155 passed, what was the best part of the bill? I tell them: Just like when Dodd-Frank established a bright line for what a community bank is, S.2155 galvanized tiered regulation. That's the best part about it. The agencies understand, and Congress understands, that our business model is not the same as the Wall Street mega banks' business model, and therefore the regulation should be appropriately sized and implemented. To have that pendulum swing back the other way could be disastrous really — for consumers and the economy.
M&A activity over the past few years has been brisk, and as a result, the industry is contracting. What encourages you despite this consolidation?
N.W.: There has always been consolidation. It was just masked by new banking charters being launched. The financial crisis certainly brought that to a screeching halt. Post financial crisis, the barriers that the regulatory community have set are so incredibly high that it's actually cheaper, faster and easier to go buy a charter and move it. I've talked to lots of bankers who say: We can go buy this bank over here for $10 million and move the charter 50 miles over there instead of trying to raise $35 million of capital and try to get regulatory approval to start something from scratch. It just doesn't make any sense.
 There need to be barriers to entry; that's important. But I've had a lot of discussion around the country, and in Washington, D.C., that there need to be lower barriers to entry in particular markets. If you're trying to start a de novo charter in a rural part of Minnesota, for example, that lost its bank and the nearest one is 60 or 80 or 100 miles away, I would think the barrier to entry for that community should be streamlined. 
Have you floated the idea of different chartering requirements to the regulators? 
N.W.: Jelena McWilliams has said in her speeches around the country that she is interested in changing and lowering the barriers to spark some de novo activity. I don't know that the needle has been moved all that much in her tenure. There have been some high level conversations, not necessarily with specific regulators. But it's a concept that, if it gets legs, is going to take some time to develop. I do think it's an important issue we don't want to lose sight of. But there are lots of other fish to fry. 
Putting credit unions on the flame, I imagine. But what are other priorities?
N.W.: We are in the midst of our wake-up campaign against credit unions, trying to get Congress to understand that a level playing field is vital to our nation's economy. I don't think there's a community banker in the United States who would disagree with the fact that we're happy to win it on the field as long as the rules are the same for all the players. 
In addition, I want to focus on active engagement and advocacy. When you get a grassroots email and add your name and address, click the button and off goes the letter to members of Congress, I would call that passive engagement. 
 Active engagement is so much more effective. That would be bankers taking three to five minutes to actually craft their own comments, share their own thoughts or examples from their communities, and send them directly to their members of Congress. So it's personal. I want to spur active engagement. 
I also want to work on the next generation. I'm hoping to find ways to encourage the younger generations to consider the community banking industry. I mean, if you look at some of the statistics for the millennial generation, it's such a terrific fit. That generation, and I'm generalizing a little bit, is very philanthropic minded. Think about a community bank doing all the things it does to give back to the communities it serves. 
Also, they like relationships. Working in a community bank is like working with your family really. I mean, this is my second family; it's a reunion every day and it's a fun work environment. So I think trying to get that message out and making space for and helping other bankers understand that this is not just the next generation of customers, but it is the next generation of the workforce and it's the next generation of senior leadership really. I don't want to miss that opportunity.
As you've been traveling and talking to bankers, what has surprised you?
N.W.: The mood of the bankers. In some states, bankers are really upbeat and active and there are some states where maybe there's more gloom. Wherever you go in the country, whether it's the Heartland, the West coast, the East coast, the South, the majority of the issues are the same, both at the state level and the federal level. I'm not so surprised at the federal level because we're all in it together. Certainly, the vendor complaints are the same. 
But some states have unique issues. I was in a state and I was appreciative that I was the last to speak. For three days, I listened to bankers in this state complain about the state's tax on capital, which I had a hard time wrapping my head around. I mean, the regulators want you to have more capital than regulatory minimums, right? It's about safety and soundness: The more capital that's in the system, the safer the system is. That's the argument. 
Well, what's the incentive if the state's going to tax your capital? You want to have as little capital as humanly possible, otherwise you're just getting hammered with this tax. The night before I spoke, I threw my remarks in the garbage and sketched about five bullet points on a piece of paper. And those were the pain points I was hearing. And I made some phone calls and did a little bit of research while I was there, just trying to better understand so I could speak intelligently to the issue. A tax on capital? It was the dumbest thing I could think of.
How are you preparing the bank, and yourself, for the next year? 
N.W.: Well, technology is beautiful. When I'm on the road, it makes for long days but I'm generally able to keep up with my email. I can get on the bank's network and see what I need to see in terms of reports. I'm available to my staff. I've told them: If you need to call me at two o'clock in the morning, call me at two o'clock in the morning, I'll answer the phone. Beyond that, we've tried to implement a good communication strategy internally, especially with the senior staff.
Over the years, even before I got into the chairs, there was a lot of travel because of the responsibilities that I held and you're able to start delegating things to other parts of the organization. We've had clear discussions internally about when I'm not here, who my proxy is and that would include other senior staff needing to go to that person rather than coming to me. So I think we've done a good job in terms of just continuity of management when I'm out of the office. And, 2019 was one of the best years we've had out of the last eight. So it goes to show you can really remain successful even though the demands on the CEO are quite high.
What about family pressures? Your wife, Julie, has an active role at the bank too.
N.W.: It would be very difficult to do this and be effective if you didn't have your spouse. It really is a packaged deal. [Julie] does a great job advocating for the industry right alongside me, whether it's on a quick trip to Capitol Hill or down to whatever state to give the ICBA update to their state convention. She's a true community banking warrior.