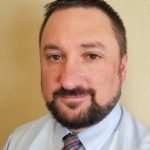 Joshua Gran was promoted to executive vice president and senior loan officer of Community Bank, Dunlap, Iowa.
First employed at Mid City Bank in Omaha for 10 years, Gran joined Community Bank in 2010. He was the office manager and loan officer at Community Bank's Ute, Iowa, office for two and a half years. He then transferred to Community Bank's main office in Dunlap and has been serving as vice president, loan officer, and IT committee manager.
Gran was named to Independent Banker's "40 Under 40: Emerging Community Bank Leaders" list in 2019 for combining "fierce loyalty to close-knit, customer-focused banking with an innovative approach to technology." He also helped spearhead the switch from in-house data management to an off-site service bureau at Community Bank.
Gran has degrees in business management from Iowa Western Community College, Council Bluffs, and human resource management from Buena Vista University, Storm Lake, Iowa. He is also a graduate of the Iowa School of Banking and the Graduate School of Banking at the University of Wisconsin-Madison. 
"Josh was a great addition to our team in 2010. The bank's future plans for Josh are to succeed me as president and CEO," said Jay T. Randall.
Josh is active in his community as a City Council member and Church Treasurer. Josh and his wife, Carrie, have four children. Outside of work, Josh enjoys hunting and fishing, along with cheering for the Iowa Hawkeyes and Green Bay Packers.
The $95 million Community Bank has offices in Dunlap, Soldier, Logan, Ute, Persia, Pisgah and Modale, Iowa.