In order to fix your brand's customer experience (CX) issues, you first need to find the problematic experiences
In life as in business, having a clear vision and tactical execution maps are essential for success. Otherwise, as Lewis Carroll cleverly put it in Alice In Wonderland: 'If you don't know where you're going, any road will get you there.'
When it comes to the customer experience your brand delivers, a journey map — and the data behind it — help your team discover the issues preventing your customers from having a five-star experience. Only after discovering these issues can you fix them, then watch your customer loyalty and profits grow.
What's a customer journey map?
According to the Harvard Business Review, a customer journey map is a visualization of all of the stages a customer goes through during their experience with your brand. It starts when they initially become aware of your brand, then it runs all the way through their decision-making process, and on to their eventual purchase. Later, it (hopefully) continues with repeat purchases and brand advocacy.
In essence, it's a diagram that illustrates the steps your customer(s) go through when interacting with your company as they consider or use your product or service. While every touchpoint is important, some are more important than others. That's because these represent the 'moments of truth' in your customers' minds.
Touchpoints aren't just online clicks; they include offline interactions as well. Do a search on YouTube for "unboxing", for example, and you'll see many examples of people going through the act of opening the latest box from Amazon. You'll soon see both good and 'clearly needs improvement' unboxing experiences.
Journey map template
Here's a sample journey map template from the Nielsen Norman Group. Many such journey map templates and styles exist, but I find this one to be the clearest.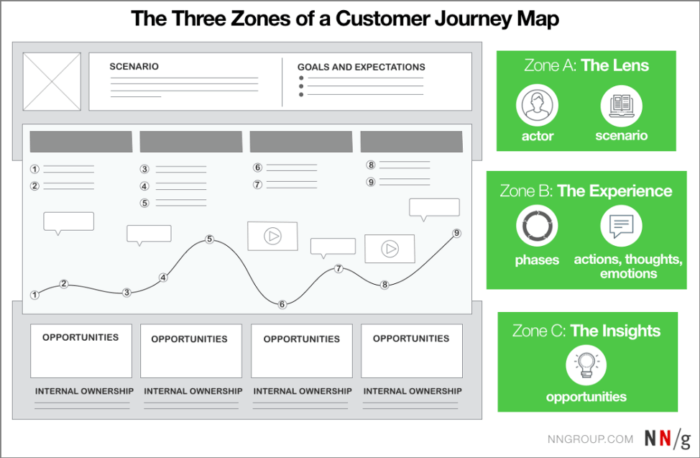 Note the three main 'zones' on the map:
Zone A (The Lens): What's the scope of the map: the customer 'actor' and the scenario?
Zone B (The Experience): For each buying phase or workflow phase: what is the customer doing (actions) and experiencing (thoughts, emotions)?
Zone C (The Insights): At each point in the experience, what are the CX issues, and thus your opportunities for improvement?
When you create a journey map, don't worry about it looking 'polished.' In fact, the rougher maps, constructed with sticky notes, are often the best since they encourage team collaboration. Just make sure all the 'experience' and 'insights' notes you add are directly supported by prospect and customer data.
Where to find these issues?
Speaking of which, my go-sources for finding customer experience data are customer support representatives (in a B2C context) and account executives (in a B2B context). I speak with these people first since they're what I call 'voice of customer (VOC) aggregators.' You obviously won't need to email out a survey of people within your organization already have the answers you seek.
For client brands of mine who offer online chat, I pour through those transcripts looking for questions, concerns, and objections. By doing so I'm seeking 'the why behind' — what's causing prospects to bail out of a funnel without saying a word.
I also pour through interactions in their social media accounts, and while doing so continually ask myself:
'Is this positive, negative or neutral sentiment?' and
'Do these comments help or hurt my brand value?'
When I push a short online poll to my existing customers, my go-to question is simply:
'What nearly stopped you from buying from us?'
By reviewing answers to this question, particularly the 'why' rationale, both stated and implied, I quickly discover the root-cause CX issues.
Map your B2C customer journeys
When it comes to B2C journeys, the online journeys you should map include:
Search queries to search result (landing) pages.
Landing pages to category pages.
Category pages to product pages.
Product pages through checkout.
Purchase page to confirmation and 'next steps' page.
Post-purchase email interactions (related to purchases, personalization, promotions).
I find that many brands forget the post-purchase path; they just 'sell 'em and 'leave 'em'. But skip this analysis step at your peril, because you'll likely miss some important CX gaps.
The offline paths include:
Unboxing experience
Support phone calls
Product return experience (usually both offline and online)
Any other non-digital 'touches' customers have with your brand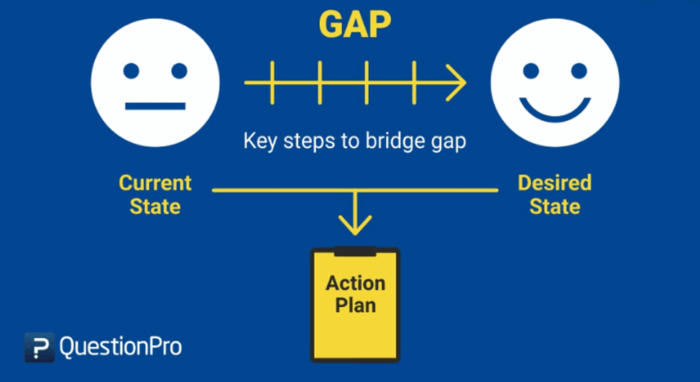 Finding CX gaps on B2C journeys
By doing journey mapping, you're looking for CX issues, which are opportunities in disguise. So, after you've created your maps, become an 'issue investigator.' Drill into each aspect of the experience to identify your prospects' and customers' biggest pain points.
Nancy Porte, VP of Global customer Experience at Verint, shared this pro tip in Customer Think's 'Top do's and don'ts of journey mapping' article: 'Don't forget to scope the map.' She reminds us that trying to fully map-out and solve all CX issues at once is a recipe for overwhelm. Scope a definable combination of a) customer personas, b) lifecycle stages and c) associated attributes. Then focus on the touchpoint improvements that will most improve customer perceptions of your brand.
Key B2C journey questions to investigate, from top-of-funnel to mid-funnel, include:
Did your experience (content, calls-to-action, and product benefits) match the keywords used by your organic traffic?
Did your experience (content, calls-to-action, and product benefits) match the questions asking during online chats?
Did your product — and the service that envelops it — deliver on your brand's value proposition and promise?
By focusing on these questions first you'll see the early-experience gaps that will propagate throughout your conversion funnel.
Issues you're likely to find
Based on my experience, prospect engagement issues you're likely to find include:
Not understanding how your product solves their problem.
Unsure how long it will take to receive the product (free shipping speed question).
Unsure if the price of your product is the same/better than Amazon.
Unsure if your product is worth the price you're asking.
(bonus market research) Looking for something you don't offer (but maybe should).
And on the customer side:
Don't feel appreciated (especially those who've spent a lot of money with your brand).
Don't feel that you're responsive after the sale (when processing a return, for example).
See that you have a loyalty program, but find it too cumbersome to use.
(bonus market research) Have a great suggestion for how to improve their experience.
I've just listed some examples here; maybe you'll discover totally different issues. The fun's in discovering the issues that matter most to your customers.
Map your B2B customer journeys
When it comes to B2B journeys, the online paths you need to map include:
Search queries to search result (landing) pages.
Landing pages to squeeze pages (lead capture forms).
Squeeze pages to confirmation and 'next step' pages.
Email marketing sequence engagement.
New sales opportunity identification and prioritization (by Account Executive team).
Existing customer issue resolution (by Customer Success team).
(bonus market research) Do your 'high touch' prospects and customers get what they really want from your solution (do you show enough emotional intelligence)?
And offline paths include:
Follow-up phone calls scheduled after initial 'pre-qualification' interactions.
Periodic 'account check-in' calls (done by Account Executives or Customer Success).
Any other non-digital 'touches' customers have with your brand.
Finding CX gaps on B2B journeys
Similar to B2C gap analysis, key B2B journey questions to investigate include:
Did your experience (content, calls-to-action, SaaS solution benefits) match the questions asking during online chats?
Did your experience (content, calls-to-action, SaaS solution benefits) match the questions asking during offline phone calls?
Did your sales and support staff fully capture the buyer 'state' (stage, comments, feelings) at each key touchpoint?
With higher price points and subscription plans, the financial stakes are clearly higher for B2B offerings. So it's especially important to quickly find and fix these CX gaps.
Issues you're likely to find
On the prospect side, you're likely to find that some of them:
Don't understand the steps involved in working with you (maybe especially for a consultant who offers a service).
Don't trust your brand (for whatever reason).
Are reluctant to commit to a long-term subscription (they want to try before buying).
Don't have the level of 'human touch' they want (automated email campaigns only go so far).
And you may find that your customers:
Don't feel like their long-term loyalty has been appreciated and validated.
Don't feel incentivized to share their great experience with their contacts.
Aren't getting the 'higher-touch' support or service they expect.
In marketing and economics, we talk a lot about pricing. But I'm willing to bet that many of the CX issues you discover will have nothing to do with pricing, and more to do with emotional reactions to the experiences you do (or don't) provide.

Deciding which CX issues to fix
What aspect of your CX has the biggest room for improvement? This depends on how you're measuring this improvement; that is, your brand's success metrics. Here are three CX metrics I use most often.
Net promoter score (NPS)
The Net Promoter Score, or NPS, was developed by Fred Reichheld of Bain & Company in his 2003 Harvard Business Review article.
Essentially, NPS is a measure of customer loyalty and is based on a single question:
How likely is it that you'll recommend this product to a friend or colleague?
Since customers will typically only recommend something they really like, NPS is a highly 'telling' metric.
Net customer value growth (NCVG)
NCVG is the net growth, or loss, in the economic value of your customer base over a given time period. That is:
Net Growth or Loss of Customer Asset =
New Customers (volume and value) – Lost Customers (volume and value)
I'm amazed by how many organizations aren't measuring this. If you're losing more customers than you're gaining every month, you'll soon have financial problems. In this case, your first order of business should be to 'stop the bleeding' due to customer churn (turnover), not spend more on acquisition marketing.
Customer effort score (CES)
If you're not familiar with the Customer Effort Score (CES), marketing automation leader HubSpot defines it well in this article. The more effort your customers must expend to do business with you, the more likely it is they'll look elsewhere for a comparable (but lower 'experience friction') solution.
Check out this recent SmartInsights article to dig deeper into CX metrics.
Map your journeys to lift your CX metrics
Lots of organizations these days say they're customer-centric, but they aren't doing the work to ensure they truly are. Whether you sell a product or a service, if you're serious about improving your CX, you need to dig into your customer data to discover the issues that are hurting your customer experience. If you don't have any CX metrics by which to measure your current experience, you might want to start by defining those. That way you'll have a benchmark for comparison going forward.
By tapping into all of your customer data sources, carefully combing through them, and focusing on areas of the customer experience that you can most positively affect, you'll soon be on track to growing your customer engagement and loyalty. Best of all, this process will remind your team that it's revenues from your customers that ultimately fund their paychecks.