Tracking all the usual metrics can help you measure SEO performance, but there are 3 other metrics you probably aren't tracking that could help make a big difference
SEO is all about generating organic traffic to a website and ensuring that the acquired organic traffic converts well.
As an SEO professional, you're probably already be tracking a number of metrics, such as organic traffic, bounce rate, conversion rate, keyword rankings, backlinks earned etc. But, there are three metrics that most SEOs aren't tracking but they really should be.
Let's learn what's these three metrics are and how to track them:
1. Organic traffic 'quality'
Organic traffic quality is a better metric to track than the number of organic visits. For example, you start doing SEO for a site that has 5,000 organic visits each month. You measure the organic traffic quality of the site and find that 30% of the organic site traffic is coming via bots or fake IP addresses. You share your findings with your SEO client that 30% of the traffic is of zero value. The actual people (real traffic) who are visiting the site are 3,500 and not 5,000.
After working for a quarter, you measure the increase in organic traffic and find that the traffic increased by 30%. But, you filtered out the spam traffic from the 30% increase and find that the real increase in traffic is around 20%. Hence, measuring traffic quality is more important as compared to organic traffic. Comparison of organic traffic should be done after filtering out the spam traffic. This is what every SEO should be doing.
Finteza is a great tool that lets you identify the percentage of quality traffic on a site. It is a buyer side analytics solution that shows real traffic data. It displays three levels of traffic coming to a site: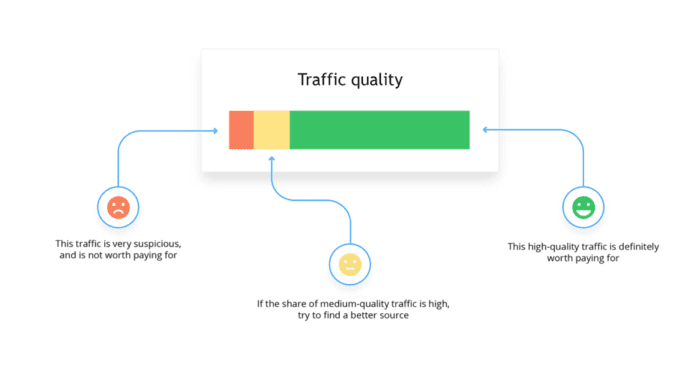 Green indicates pure traffic, yellow indicates traffic via proxy or VPNs and red indicates visits via spam IP addresses or hackers. This is what a sample traffic dashboard looks like. As you can see, you can easily filter the organic traffic and see the actual traffic coming to your website after ignoring spam traffic, VPNs and bots. This way, measuring SEO success becomes easier: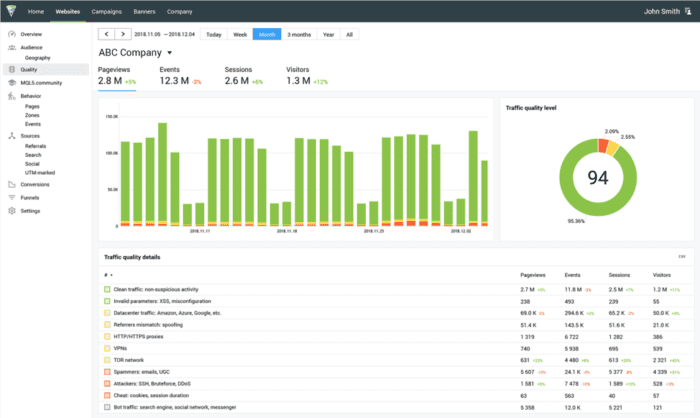 2. Mobile rankings
Around 70% of web traffic happens on mobile devices. With the increase in internet speeds and 5G networks, the surge in mobile traffic will continue to happen.
This means that if you aren't already doing so, you should start tracking how your main keywords are ranking on mobile.
You can measure the mobile rankings of your site by using the Ahrefs Rank Tracker. Before you start using the Rank Tracker, you need to register for the tool and add your website as a project.



After adding your website, you can add the keywords whose rank you want to track.



Once you have added all your keywords and have allowed Ahrefs to gather the required data for at least a week, head to Rank Tracker and click 'mobile view'.



This report will display all the mobile rankings for the keywords you are currently tracking, allowing you to see what keywords you should focus on and how you can amend your startegy.
3. Total number of keywords under featured snippets
We are all heading towards a new era where voice search would be placed predominantly and have a higher share of search as compared to text search. So, how will you make sure your voice SEO strategy is giving you good returns?
Tracking the total number of keywords that are displayed under featured snippets is the best way to do that. Featured snippets have been dubbed as the 'position zero' of the search results. Here is an example of a featured snippet: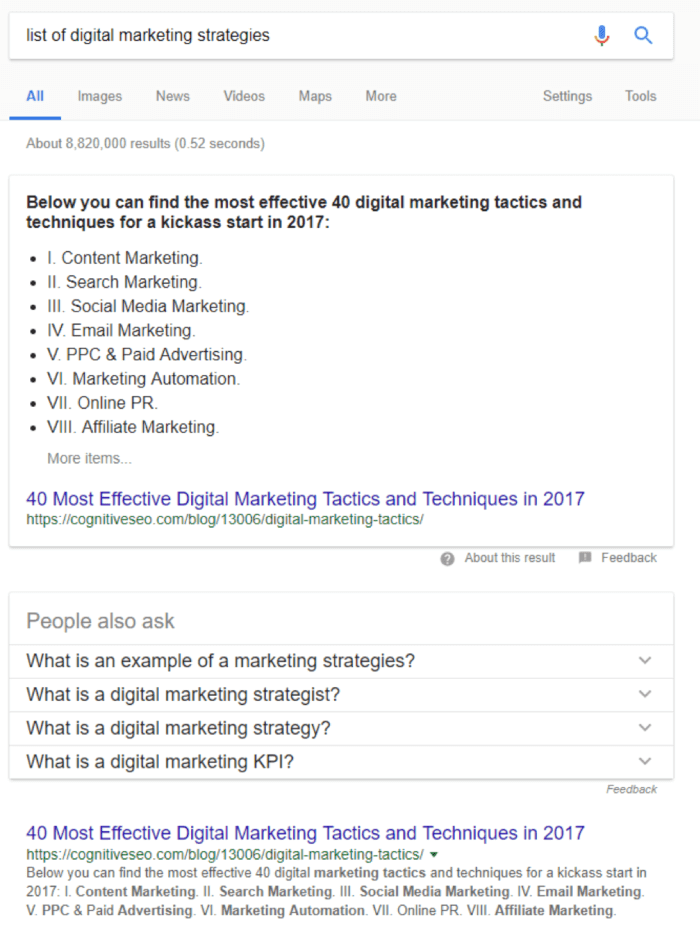 Sites getting featured under answer boxes or featured snippets generate around 8.6% of clicks. If you are able to acquire both the position zero and position one then the amount of clicks would rise to more than 28%. Here is an example of an answer box which is also a form of a featured snippet: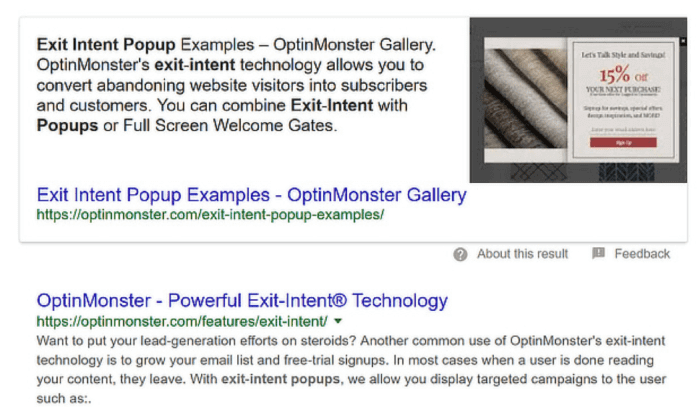 More than 69% of answers provided by Google in the answer box (featured snippets) are extracted from a website.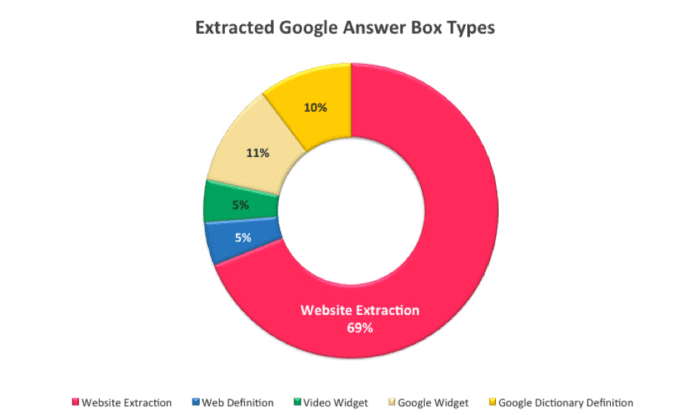 Getting a website featured under featured snippets is guaranteed to increase the amount of high-quality and relevant traffic coming to your site. This is the reason, you must measure the number of keywords that are ranking under featured snippets. This is a primary KPI that's linked to branding and conversions.
In order to track the number of featured snippets, use the Ahrefs Site Explorer. Simply log in to your dashboard, navigate to organic keywords and select the filters 'target domain must be featured' and 'featured snippets'.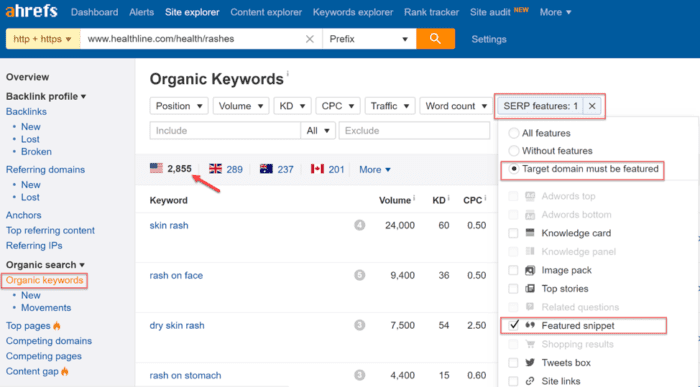 Increasing the number of keywords ranking under featured snippets can have an immediate impact on both the quality and quantity of organic traffic generated to your website.
Final thoughts
Measuring your SEO efforts is critical to its success. There are other metrics that you need to track other than the number of conversions happening on your site because tracking primary and secondary KPIs are essential to leave an impact on the actual number of conversions happening on your site. Start tracking these three new metrics in your SEO campaign and see the difference it brings to the overall ROI.