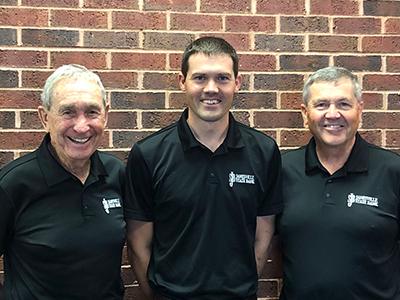 Mike Finley has chosen his successor as president of Janesville State Bank: His son Sean, currently the bank's assistant vice president and chief financial officer. But Finley, 65, has only just begun to draft a formal succession plan, possibly modeled on the blueprint his father drew up for him in the early 1990s.
Two hundred and sixty miles straight north of Finley's small community of Janesville, Minn., fellow banker Noah Wilcox admits he's "passionate" about a topic not many community bankers are passionate about: Business succession planning. 
Wilcox, the 48-year-old CEO of Grand Rapids State Bank in Grand Rapids, Minn., has strived to pass on the legacy of the bank for more than 20 years. Shortly after joining the family-owned enterprise as a senior manager, Wilcox and his father Steve developed a long-term succession strategy that culminated in the younger Wilcox becoming the fourth generation of the family to lead the bank. Now he's considering the next stage of succession, the transfer of ownership to the fifth generation, although the eldest of his five daughters is still in college. "I think we have some luxury of time, short of me being hit by a bus tomorrow, to weigh that next option," he said. 
Both bankers, in their own fashion and at their own pace, are grappling with what Tom Hubler, a Minneapolis family business consultant, calls "the last challenge of entrepreneurship" — passing the torch to the next generation.
Getting into the nitty gritty
Understandably, bank owners tend to put off succession planning. It involves discussing discomfiting topics such as wealth and death, for one thing. "People just don't like to talk about these things, and they like to pretend that it's not there," Hubler observed. It entails relinquishing control of the bank and the income stream that comes with ownership. And the planning process requires huddling with lawyers and accountants to work through irksome matters such as regulatory compliance and estate taxes.
Frequently community banks fail to rise to the challenge, coming to grips with passing on ownership only when a crisis — such as the death of the primary shareholder — forces the issue. Attorneys and business succession consultants make a comfortable living off of banks teetering between generations whose owners failed to plan for the inevitable.
Succession well-planned doesn't necessarily mean keeping the bank in the family. It does mean finding a way forward after the passing of the senior generation that ensures the continued prosperity of the bank and its survival as an independent, locally-owned institution. The alternative is the end of the line — liquidating assets or selling the bank to another financial institution that will operate it under its own name.
The heir (not so) apparent 
The best time to begin succession planning is a decade or more before the head of the bank plans to retire, business succession experts say. Starting early can make the process less stressful and reaching consensus with family members and other stakeholders easier, while giving the younger generation time to learn the ropes. "I jokingly tell clients, you should start thinking about this when you incorporate your business," said Sally Stolen Grossman, an attorney with Lathrop GPM in Minneapolis, who counsels banks and other businesses.
Both she and Hubler advise bank owners to focus on substantive business and family issues before diving into the legal, tax and other technical aspects of succession. "The succession plan needs to start from the inside in terms of what motivates the owner-entrepreneur and what they're trying to accomplish," Hubler said.
For a banker building a bridge to the future, the most important decision is picking a successor. Who will become the majority shareholder? Who will serve as CEO? The fondest wish of most heads of family-held banks is to hand the reins to a family member — a son or daughter, or perhaps a younger sibling.
That's the way things turned out at Grand Rapids State Bank. In his son, former CEO and chair Steve Wilcox found a willing and able successor who had cut his teeth at TCF Bank and other financial institutions before returning to the family business. After his uncle, a major shareholder, retired in 2000, Noah Wilcox pressed for a formal succession plan that would keep the bank independent and under family control. Over the next 20 years Noah Wilcox acquired Wilcox Bancshares stock formerly held by his father, uncle and other family members. He assumed leadership of the bank in 2007 and two years ago became majority shareholder.
Family succession also seems set at Janesville State Bank, in the person of Sean Finley. He worked for 10 years in the Mankato, Minn., office of Eide Bailly before joining the bank's executive team in 2017. "He's my right-hand man," Mike Finley said. "He had more experience coming back to the bank than I had coming back to the bank."
The plan is for Sean Finley to become president of the bank and its biggest shareholder after his father retires. Nothing has been settled, but Mike Finley is considering a stock transfer similar to the arrangement his father Joe (still keeping an eye on things at age 90) made to make sure that Mike gained control of the holding company.
There's not always someone in the family to take up the mantle of bank ownership. Children may be too young to assume control, or have moved away and have no interest in coming home to run the family bank. But alternative ownership scenarios can form the basis of a succession plan. One that Stolen Grossman says her clients often fail to consider is family members  retaining ownership — thereby staying in charge of the bank's destiny — while bringing in an unrelated, experienced CEO to head up operations. "The two things — owning the bank and managing it — don't have to be the same," she said.
Other options that may preserve the bank's name and charter include selling the holding company to a group of top managers or other bank insiders, transferring ownership to bank employees by setting up an Employee Stock Ownership Plan, and selling to outside investors who pledge to keep the bank locally-owned and independent.
Sharing the wealth
Two other crucial matters to consider in succession planning are providing for support of the senior generation when it retires, and in family-owned banks, ensuring that children not destined to own the bank are treated fairly.
Most bank owners — those who don't plan to die with their wing tips on — plan to step down from bank management at some point and let their successors take charge. Mike Finley says that within the next five years he may step down as bank president while staying active in the holding company, although "there's really no timetable for that, no magical date."
Facing the possibility of living another 20 or 25 years, how can an owner provide for sufficient liquidity in retirement? Often the solution lies in selling stock to the successor owner. Redeeming the majority shareholder's stock at retirement is a common practice for small banks; buying back shares generates cash for the former owner while increasing the percentage interests of other family shareholders.
Retirement is a distant prospect for Wilcox, but he's already contemplating how much bank stock he could afford to give to his children while retaining enough shares to fund a comfortable retirement — a tricky calculation because of the massive appreciation of bank stock over decades. "That multiple of growth in value is always a problem, and it gets harder with every generation," he said.
How to do right by children not in the line of succession can be another quandary for owners. Grossman sees many clients wanting to treat all their children the same, by giving them equal shares of voting stock when they retire or die, for example. That's a big mistake, creating a house divided and setting up the successor for failure, she says. "What I try to do is change their focus from wanting to treat their children the same, to wanting to treat them fairly."
Adult children who aren't involved in bank operations could benefit from gifts of non-voting stock or cash during their parents' lifetime. Or they could receive their due later from the family estate, in the form of non-bank assets such as real estate, trust funds or life insurance payouts.
Forming a "family board" or advisory council that allows parents, children and other family members to gather on a regular basis to air their differences can help resolve disputes and smooth the transfer of ownership.
Noah Wilcox frequently revisits his vision for carrying on the family legacy: "Any succession plan really is a living document. It's in constant flux and you have to care for it and feed it constantly to be sure it's still relevant."