Google has changed search listings related to featured snippets, e-commerce to grow by over 30% in five years, Google urged to rethink third-party cookie blocking, Netflix named favourite UK brand
Google has dominated the news this week following its announcement that it has changed search results to deduplicate listings that appear as featured snippets. Find out how it could affect your strategy by reading the full story below.
New research has suggested that e-commerce is going to account for a fifth of all retail by 2024, as consumers turn to convenience rather than heading to the brick and mortar high street.
In other Google news, it has been asked to rethink its decision to block third-party cookies by 2022 due to the impact it could have on digital advertising.
Finally, Netflix has taken the top spot away from Aldi to be named as the UK's favourite brand while a couple of brands have taken spots in the top ten for the first time ever.
---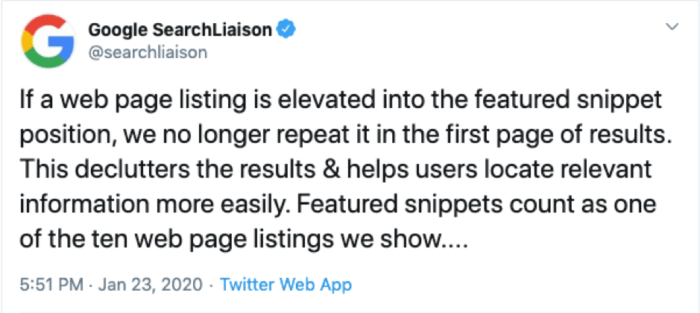 Google featured snippets will be deduplicated on page one of results
Google has announced changes to the way listings appear on page one of results. In a tweet, Google SearchLiasison confirmed that pages that appear in the featured snippet for a search will no longer be repeated on the first page of results, pushing the organic listing to page two. The change launched on Wednesday, January 23rd, affecting 100% of global search results.
On top of this, featured snippets will now be classed as one of the ten organic listings shown on the first page of results, effectively removing 'position zero'. The organic listing of the featured snippet page, if it previously appeared on page one, will be moved to the top of page two in search – however, this is not guaranteed. It seems that this will also be the case for searches that serve up two featured snippets.
While this will reduce duplication in results, it could have an impact on traffic to sites appearing in the featured snippet, as it has not been uncommon in the past to see pages in the featured snippet also appear further down the first page of results.
It is also not clear how tools like Google Search Console will deal with the change. There is also no information on what happens to a page's organic listing if it loses the featured snippet position, i.e. does this mean that it regains its first-page ranking? It's hoped that, as you need to be in the top results to get a featured snippet, losing one would mean you go back to appearing in the top ten rankings.
So exactly what does this mean for your SEO strategy? Primarily, it will mean you need to consider whether appearing within a featured snippet is worth it or if you'd rather be listed in the organic results on page one.
If you see a drop in traffic or conversions for searches that you have a featured snippet for, it may be worth blocking the featured snippet from Google use at a code level so you can focus on moving up your listings to page one instead. However, it's important to note that a knee-jerk reaction is not the best plan of action. Assessing data over the next few months is the best way to make an informed decision, as is testing your strategy.
---
Online shopping to make up a fifth of retail by 2024
Online shopping is becoming even bigger business with the latest report from GlobalData finding that shopping habits in the UK are further shifting away from the high street. According to the research, a fifth of all retail spend will take place online by 2024, further affecting already struggling brick and mortar stores.
It is expected that the five years from 2019 to 2024 will see online spending increase by 30.4%, hitting £75 billion. At this point, it will make up around 19.8% of all retail spending, providing increased opportunities for e-retailers.
Sofie Willmott, Lead Retail Analyst at GlobalData, said: "Clothing specialists continue to develop their online proposition with many players now offering easy to use credit options like Clearpay and Klarna's buy now, pay later, driving online conversion and giving shoppers another reason to choose the online channel over stores.
"Often first to market with tech developments, ASOS last week launched its "See my fit" augmented reality tool, which enables browsers to view selected items of clothing on different size models to help with purchase decisions and potentially reduce return rates."
The biggest online retail sector is and will continue to be the largest single market in online retail. However, the food and grocery sector is expected to be responsible for a large proportion of the growth up to 2024. It is expected that this sector's sales will increase by £5 billion, reach £16.2 billion as consumers capitalize on convenience.
---
Google urged to rethink third-party cookie blocking
Google has been called on to reconsider its decision to block third-party cookies on its Chrome browser from 2022. The Association of National Advertisers (ANA) and the American Association of Advertising Agencies (4A's) have shared their disappointment that Google has opted to make the big change without consulting digital and advertising industries.
In a joint statement, the executive vice president of ANA and 4A's, Dan Jaffe and Dick O'Brien, said: "Google's decision to block third-party cookies in Chrome could have major competitive impacts for digital businesses, consumer services, and technical innovation. It would threaten to substantially disrupt much of the infrastructure of today's internet without providing any viable alternative, and it may choke off the economic oxygen from advertising that startups and emerging companies need to survive.
"We are deeply disappointed that Google would unilaterally declare such a major change without prior careful consultation across the digital and advertising industries. We intend to work with stakeholders and policymakers to ensure that there are effective and competitive alternatives available prior to Google's planned change fully taking effect. We will also collaborate with Google in this effort, so we can all ensure the digital advertising marketplace continues to be competitive and efficient."
---
Netflix becomes UK's favourite brand
Netflix has become the UK's favourite brand after knocking Aldi off the top spot, where it has been for the last six years.
According to YouGov's annual BrandIndex 'Buzz' rankings, Netflix has seen a five-point increase in the rankings, ending with a score of 21.4. In comparison, Ali only managed a 1.1 improvement, landing it in second place with 19.8. Lidl has taken third place with an overall score of 15.1, showing that there is a big difference between the top two rankings and the rest of the list.
Other brands seeing improvements include Greggs, which is in the top ten for the first time after its vegan sausage roll helped it to secure a score of 11. Spotify has also entered the top ten with a score of 10.4.
These improvements for Greggs and Spotify mean that BBC One and Samsung have been pushed out of the top 10. BBC iPlayer has also seen a fall, landing at ninth place after being fourth in 2017.
Amelia Brophy, head of UK data products at YouGov said: "Netflix only entered into the rankings in 2016 and has done well to be highly perceived by the public in such a short amount of time.
"2019 saw Netflix focus on developing and launching original content that caters for multiple markets and demographic groups This appears to have been successful, rewarding them with multiple award nominations, including Oscars, and ensuring the brand was talked about positively more than ever before."