The 28% marketing gender pay gap, Chrome to block some video ad formats, Influencer guidance simplified, Twitter posts positive results, TikTok launches desktop uploads, Instagram adds new Following lists
Included in the news this week is new research that suggests that the gender pay gap in the marketing industry is well above the UK average, with the charity and not-for-profit industry seeing the worse results.
Chrome has announced more changes that could cause issues for online advertisers, as it will start blocking certain video ad formats from August.
Watchdogs have aimed to simplify guidance for influencers when it comes to advertising and promoted content, but there is still confusion over the rules.
Twitter has seen results improve with its latest quarterly report showing much better figures than Q3 2019.
TikTok has made it possible to upload content and post to feeds from desktop, which could be good news for social media marketers.
Finally, Instagram has added new lists to its "Followers" category, putting a focus on curating audiences rather than following everyone.
Find all the details below:
---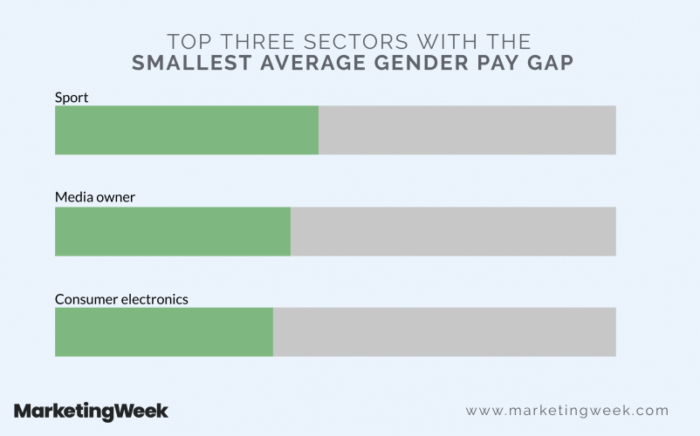 Marketing gender pay gap is 28%
Women in marketing are continuing to be let down by the gender pay gap in the industry. According to Marketing Week's 2020 Career and Salary Survey has revealed that the mean gender pay gap for full-time workers is 28%.
When you consider the fact that the UK's national gender pay gap – as calculated by the Office of National Statistics (ONS) – is 8.9%, it shows that the marketing industry has a long way to go.
The government calculates the gender pay gap by combining the average hourly wages, not including overtime, for men and women and then dividing this by the number of employees. The gender pay gap is the percentage difference between men and women's wages.
This average gender pay gap was then used by The Fawcett Society to calculate that 2019's Equal Pay Day fell on November 17th, as this is the day that the pay gap effectively means that women start to work for free in the year.
According to government figures, on average, female marketing and sales directors earn 11% less than men in the same jobs. Women currently hold around 28% of these roles in the UK but only earn, on average, £68,770 compared to men, who earn £80,051.
Marketing Week has deep-dived further into the stats by analyzing the gender pay gap across seniority levels and across 24 different sectors within marketing. It found that the charity and not-for-profit sector has the biggest pay gap, with women earning an average of 47% less than men. In comparison, the sports sector has the smallest gender pay gap of just 14%, however, it shows that work still needs to be done in order to balance salaries better.
---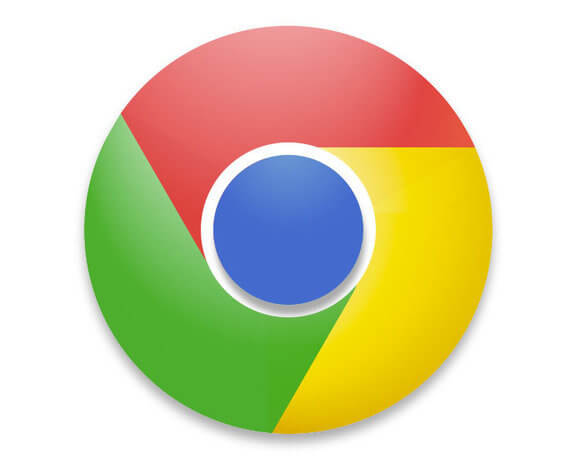 Chrome to block some video ad formats
Chrome is set to start blocking some ad formats for short-form videos as part of changes it is making to comply with a new standard from the Coalition for Better Ads. This means that the browser will block mid-roll and other video advert formats in order to improve user experience.
The new standard applies to videos that last up to eight minutes whether they are on mobile web, desktop or in an app. It will filter out mid-roll ads, pre-roll ads or pods that are more than 30 seconds long or that cannot be skipped after five seconds. On top of this, it will also get rid of display ads that take up over 19% of the video or that are in the middle one-third of the video.
These changes will be rolled out ready for the standard going into effect on August 5TH.
In a blog post, Jason James, Product Manager at Google, said: "Following the Coalition's lead, beginning August 5th 2020, Chrome will expand its user protections ad stop showing all ads on sites in any country that repeatedly show these disruptive ads. It's important to note that YouTube.com, like other websites with video content, will be reviewed for compliance with the standards."
This news comes shortly after Google Chrome announced that it was phasing out support for third-party cookies, with both announcements set to heavily affect the advertising industry. However, it's important to note that the third-party cookie decision is aimed at alleviating privacy concerns, while this new video ad standard is based on improving using experience.
---
Influencer guidance 'simplified' by watchdogs
The Advertising Standards Authority (ASA) and the Competition and Markets Authority (CMA) have responded to feedback from advertisers and influencers to simplify influencer guidance. The authorities have released a shorter version of their guide dealing with advert labelling and disclosure on social media platforms in a bid to provide a better understanding of the rules.
ASA has updated its portal; however, it doesn't include updates to the current rules. The portal now directs influencers to different resources, which include some simplified infographics and flowcharts. These are designed to help them present their sponsored content correctly from the start so as not to get into trouble with regulators.
While simplifying resources to make it easier for advertisers and influencers to comply is good news, it has had to be done less than six months after the ASA and CMA pooled their resources to create the guidance. This suggests that things are more complicated for influencers than the watchdogs believe.
The need for further simplification implies that there is a general lack of understanding by affected parties around what the rules are for influencers when it comes to paid advertising. It seems that the general feeling is that this needs to be addressed in a better way and that the watchdogs need to do more to educate influencers and advertisers.
---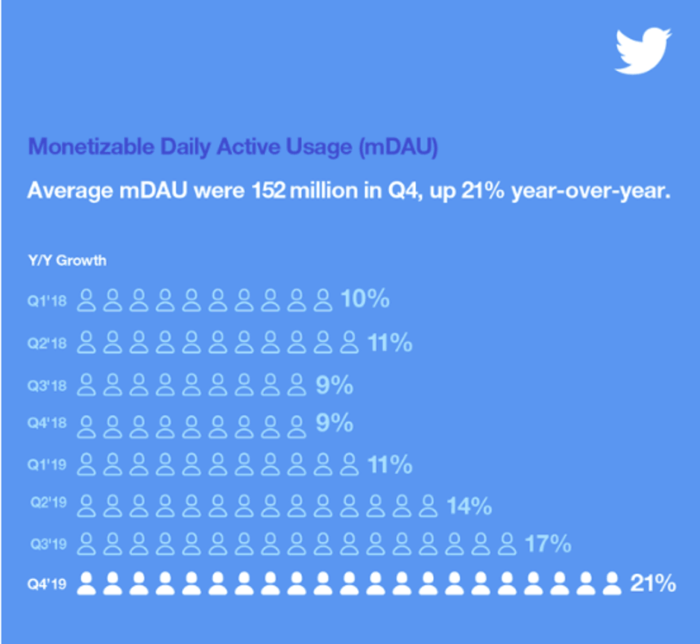 Twitter sees 21% increase in monetizable daily active users
Things look to be improving for Twitter with its latest performance update delivering much better news than its last one.
The social media platform, which saw revenue growth reduce due to issues with its ad targeting systems in its last performance report, saw a 21% increase in its monetizable daily active users (mDAU) in the last quarter of 2014. This means that its mDAU count was taken to 152 million at the end of last year.
Essentially this means that there are 152 million people who can be shown ads on the platform using Twitter every day, providing some great opportunities for advertisers. While Twitter says that the mDAU metric is a good representation of its performance, it means now that it doesn't report on monthly active users or standard daily active users.
According to Twitter, this good result is primarily due to its improved machine learning models, which are aimed at providing more relevant content in users' timelines and notifications. This has caused Twitter to continue with its plans to further improve data models and enhancements to the platform, such as Lists and Topics.
Twitter's CFO Ned Segal said: "When you add 26 million people to the service when more than half of it is directly tied to product improvements you build the confidence to continue to execute against your strategy."
On top of these good results, Twitter saw an 11% year-on-year increase in revenue in Q4 of 2019, bringing in $1.01 billion. Breaking this down, US revenue saw a 17% increase taking it to $591 million with international revenue hitting $416 million, with a rise of 3%.
This is positive considering the fact that Twitter is still seeing the effects of issues with its Mobile Application Promotion (MAP) system, which saw year-over-year growth reduced by at least four points in Q4. However, as MAP has been revamped, the effects of these issues will grow less over time.
It now looks as though Twitter is on the right track and that its focus on improved discovery and relevancy are positively affecting its business results.
---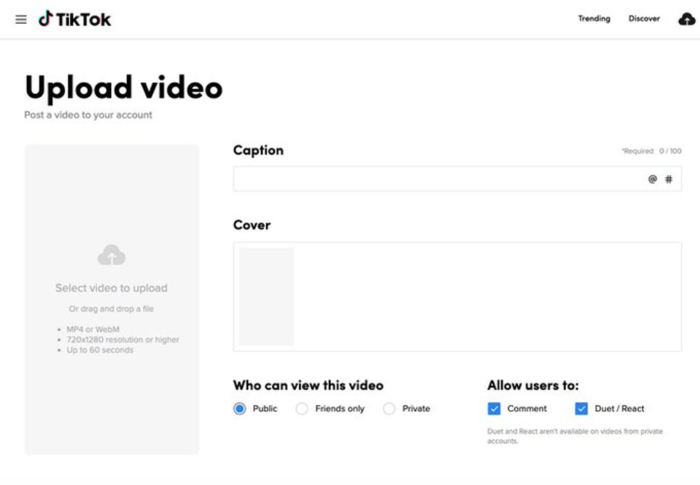 TikTok allows uploading via desktop
TikTok has reportedly provided the option for users to upload content to the platform via the desktop version of the app. According to social media expert Matt Navarra, who shared the news on Twitter, users are now able to upload videos and post to their accounts on desktop.
While this probably isn't huge news for the young audience that TikTok has managed to attract, it could make life a lot easier for those managing social media accounts for their business.
Being able to upload from desktops will definitely make social media account management simpler, as well as allow for the upload of more polished video content, which will be useful for advertising purposes.
On top of this, the desktop option means that marketers will be able to include TikTok videos as part of their regular social media posts, as well as using the mobile app for more reactionary videos.
---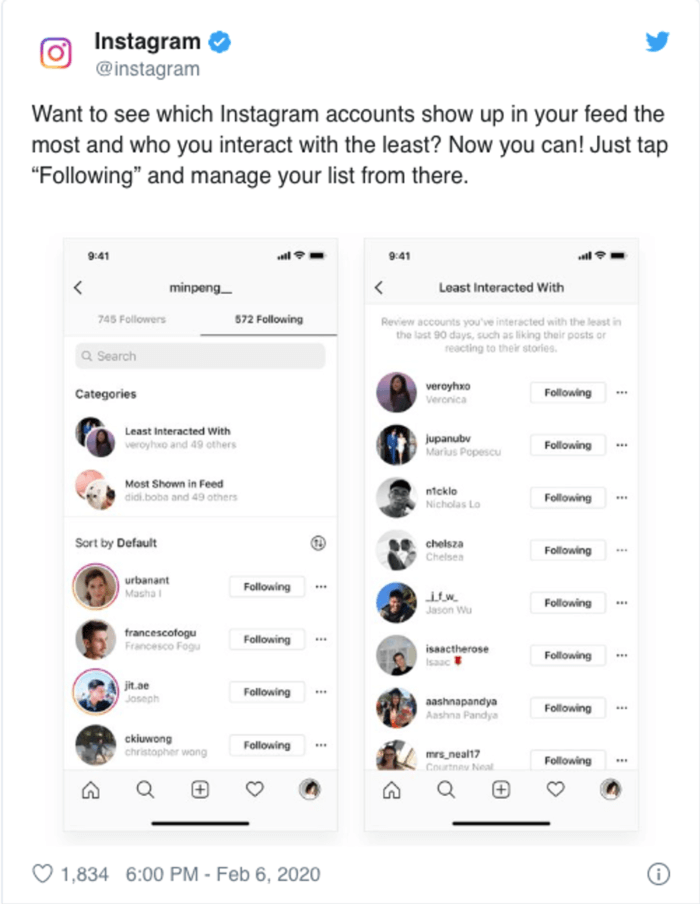 Instagram announces new 'follower' listings
Instagram has announced the rollout of two new category listings in the Following tab on its app. Users will now be able to see which of the accounts they are following are interacted with least and which are shown most in their feed.
Essentially, getting a better understanding of who isn't being engaged with provides you with a potential list of accounts to unfollow. The list showing those who are most-shown in a feed will also allow Instagram users to have a greater level of control over their feed, which is defined by algorithms.
While this was previously reported by Jane Manchun Wong to be in the test phase toward the end of last year, Instagram has now confirmed that it is live.
This change could mean that social media platforms are leaning more toward follower curation, instead of suggesting they follow as many people as possible. Overall, this could lead to improved performance and better engagement.