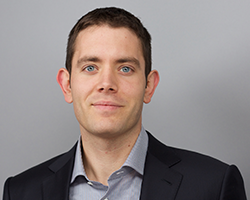 CardX, a Chicago-based company that passes the fee for credit card transactions on to consumers and away from merchants, considers itself both a fintech and a regtech. Michael Tomko, chief operations officer, explained how redirecting this fee helps small businesses and their banking partners. 
Back in 2013, Visa and Mastercard introduced new rules that allow businesses to pass on the cost of credit card transactions in the form of a surcharge. How did this open the gate for CardX? 
Michael Tomko: At the time, experts in the banking industry were in near-universal agreement that these new surcharging rules were economically valuable, but very challenging for merchants to implement in their existing card acceptance workflows, making the case for a solution provider like CardX.
From a banking perspective, this can be a win.
On the issuing side, the card payments industry has seen sustained growth in volumes of about 7 percent for the past decade, and for this trend to continue, issuers need more cardholders paying in the new and emerging verticals that only accept card payments when they have the surcharging option. 
From an advisory or acquiring standpoint, bankers can also introduce their clients to a compelling new, faster payment option that costs the payee nothing — no basis points, no per-transaction cost — for credit cards.
How does this get implemented without turning off small business customers?
M.T.: On the traditional payments model, the merchant pays the cost of interchange, dues and assessments, and all the other fees associated with the transaction. With surcharging, those costs are still there, but the cost incidence is shifted to the cardholder. 
If the cardholder values the rewards, miles, access to credit, fraud protection, and convenience associated with their card enough to pay for those benefits, they'll use their credit card. If not, they'll switch to a lower-cost form of payment like a debit card (which would not be assessed a surcharge) or ACH.
Bankers can think about this as a win for their clients in a few ways. 
First, for their commercial clients who are thinking about the accounts receivable side of business, this is a way that they can accept credit cards without bearing those transaction costs. 
For their cardholders, the use of surcharging by businesses that previously didn't accept cards gives them more places they can use their cards, and they can always decide whether they want to pay by credit card for an additional fee or use another form of payment. 
Surcharging helps bankers offer a new, value-added solution to their clients and improve their own margins.
Has the pandemic influenced surcharging, or transaction revenue in general?
M.T.: From a payments perspective, the pandemic has accelerated digital commerce and electronic transactions at an unprecedented rate, with more people paying by card than ever before.
This rapid acceleration has led to some challenges for payment service providers. 
There are once-popular models that are suddenly outmoded — technologies that allowed commercial cardholders to write checks from their cards, for example, are less effective when accounts payable processes for handling checks are disrupted. 
Similarly, payments models that encourage payment by cash (e.g., "cash discount") are facing real challenges, especially as businesses are impacted by coin shortages and diminished access to physical bank branches.
In the current environment, what businesses want is faster payments, better reporting across payment channels, and lower transaction costs, all of which have led to a significant increase in surcharging in 2020.
What is interesting in this field that isn't so obvious?
M.T.: Many community bankers may know that their commercial clients are very cost-sensitive when it comes to payment acceptance, but they may be surprised by how complex card payments are from a reporting and reconciliation perspective. 
If bankers get their clients talking about their card acceptance, they'll hear a lot about lack of transparency in costs, the challenges of knowing which payments from which day were included in a batch deposit to their bank account, and the sheer amount of manual work that goes into tracking down and accounting for payments.
With continued expansion of card payments and software changing the way businesses operate, this is the next frontier for payments. Businesses expect their card processing to be as easy and work as seamlessly as other software they use, and it's leading to more competition for better technology.