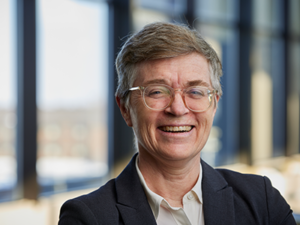 When Kelly Skalicky was in elementary school, she wanted to play basketball. But the town's youth league was only open to boys. The restriction didn't make sense to her. Why, she wondered, could the boys and girls play kickball together and have gym class together but only the boys had access to the league and the tournaments and the "cool" trophies? There was an inherent unfairness about the whole situation, which didn't sit well with the scrappy fourth grader. 
Skalicky eventually talked her way onto that boys' team. She had to wear a t-shirt under her jersey, had to wait for her coach to open the girls' locker room while the rest of her team poured into the other one. That separateness, well "maybe that settles in," observed Skalicky. Equal access to athletic opportunity wasn't mandated until 1972, and even then, access didn't trickle down to youth leagues. Still, Skalicky cleared the barrier to entry and succeeded by focusing on what she loved.
Inequality these days manifests in all sorts of headline-generating ways, from glass ceilings to credit invisibility, from lack of broadband in rural communities to racial strife in urban ones. For the lawyer turned banker who now leads the $2.2 billion central Minnesota-based Stearns Bank, the opportunity to extend banking services to the underserved (or just provide better banking services), while also advocating for those whom the system has kept on the bench, is rooted in an ethos of fair play. 
Learning, listening, leading 
Skalicky, president and CEO since 2019, joined the Stearns organization in 2011 as general counsel. The bank, which had been led by her father, Norm, since 1964, had acquired nine failed banks in the fallout from the Great Recession. Integrating those banks and their employees "was kind of our specialty," Skalicky recalled. 
As a banking team from central Minnesota, Stearns brought Midwestern values and empathy to the integration process; its team emphasized the importance of understanding the communities in which the banks operated. These were banks in Florida, Georgia and Arizona, Skalicky explained. "We rolled up our sleeves, dug in and got to know local people," she said. "We didn't try to be something we're not. Who we are is somebody who really wants the best for that bank."
And in any expansion, whether through an acquisition or soliciting new loan or deposit customers, "you're coming into it with the credibility of your own background," Skalicky said. Taking the time to understand a community's needs, a bank's operations and strengths, Skalicky said, was necessary to see where there might be an opportunity to build on existing strengths. "We really prided ourselves in doing that."
As in-house counsel, she didn't start to think of herself as a community banker, though, until she commenced a review of the bank's SBA program. Stearns had been an SBA Preferred Lender for many years, but it didn't actively market itself as such nor did it push the benefits of SBA guaranteed loans to small business owners. "It's such a terrific product. It's the most viable, transparent loan product that a borrower can have."
Stearns had a solid niche lending program, Skalicky said, but study revealed an unmet need for business customers who perhaps required $200,000 to $300,000 in working capital, companies that didn't have a need for real estate, or have real estate to put up as collateral. SBA lending as a companion product to the bank's equipment leasing division opened their eyes to potential. But they needed to streamline the process. 
"At the time it was really important because you had a lot of these non-bank lenders, OnDeck and Kabbage," Skalicky said. "You hear them advertised a lot, but the problem is the interest rate is from 9.9 percent up to 99 percent. Well, once a business takes out a loan at that rate, it will probably destroy the business."
To counter what she called the "payday lenders for small businesses," Skalicky and team set out to specialize in Low-Doc SBA loans. Skalicky worked closely on the due diligence side as Heather Plumski, chief financial and strategy officer, took the credit side.
"As an attorney, she doesn't just read a rule, right?" Plumski said. Skalicky takes context, common sense, and has the ability to argue different sides, to the benefit of the small business customer who needs a banker advocating for them. Skalicky became that banker.
Stearns Bank is now ranked nationally at No. 12 based on SBA loan volume, while the bank's equipment finance division accounted for more than 50 percent of total assets.
As a "not-too-small, not-too-big" institution, Stearns Bank is in shape to be agile and adaptive, Skalicky said. "It's a little bit in our culture to be entrepreneurial and go into some new areas," or just to change things up if one niche gets too crowded, or more banks are servicing a need.
This entrepreneurial spirit has deep roots in the bank's capital reserves. "We've always had the financial discipline to have a really strong capital base — that safety savings net," Skalicky said. Having a strong balance sheet, "gives you the solid foundation to be able to go into some new areas," which has been a long-time strategy at the bank. 
 "Fintechs and those non-bank disruptors are really something to pay attention to," Skalicky said. "What need have they identified?"
One answer is the elimination of borders. If Stearns can lend anywhere in the country, why couldn't it draw deposits from anywhere, they wondered? An open lane of opportunity was a deposit app the bank has built in house, utilizing the expertise of Josh Hofer, chief risk and information security officer, who joined Stearns in 2016. "If we're not making it convenient enough for people to make a deposit and move their money from account to account or make payments, that's on us," Skalicky said. 
Smaller community banks without the resources to build its tech from the ground up shouldn't consider themselves shut out of the game, Skalicky said. "We have to do a better job of partnering with technology to provide this service that customers are clearly telling us they need. That's why they're going somewhere else," Skalicky said.
If Skalicky has learned anything as the bank has stretched into tech services, it's to just open up a little bit, not be threatened by either a fintech or another bank. What the big banks do, Skalicky said, "they do really well. They're providing a service that we can't really do better. Let them do that."
By contrast, Stearns Bank is "trying to focus on areas where we feel like we can really fill a need," Skalicky said. Banking the traditionally underserved and the unbanked is one of those areas. 
In July 2020, Stearns Bank pledged to partner with Minority Deposit Institutions, whether through loan participations, training or investing. This followed Skalicky's application to be on the Office of the Comptroller of the Currency's Advisory Committee on MDIs. 
Stearns also has an eye on rural America. As one of only 29 institutions in the country with a USDA RD1 designation, the bank is a certified multi-state lender. "We're located in central Minnesota," she said. "We understand small towns, and we understand the USDA program and rural America." 
Skalicky's home office is in Avon, a community of 1,700 people situated 20 miles north of the bank's headquarters in St. Cloud, itself located approximately 65 miles northwest of Minneapolis. Avon is also home to a nationwide renewable energy contractor. In a time when the pandemic has jump-started the conversation about the climate benefits of remote work, and policy-makers have turned their attention toward renewable energy, which requires space and infrastructure, Skalicky sees "a huge opportunity for the resurgence of rural America."
With the reconditioned advantage and requirement of connectedness, "you can now compete for a job anywhere in the world," said Mary Jepperson, an accounting and finance professor at the College of Saint Benedict/Saint John's University in St. Joseph, Minn., who serves on the bank's board. "I would bet more on the future of rural America than I would on inner cities right now."
Renewable energy is leveling the playing field for rural America, including in indigenous communities, Skalicky said in an article published by the bank. "Waste-to-energy systems work well on rural properties where land is plentiful," Skalicky wrote. Landowners and indigenous communities, she added, have a distinct advantage to capitalize on renewable energy. 
Early in her career, Skalicky was drawn to Native American law. As sovereign entities, each nation has its own set of laws, their own court systems, even their own economic structure.
Skalicky practiced law with Gover, Stetson & Williams in New Mexico, one of the largest and most prestigious indigenous-owned law firms in the country. Considering how the country's indigenous communities have historically been treated, "it's really important to them to preserve their sovereignty, first and foremost," she said.
When Stearns has worked to lend in Native American communities, "that's the first thing they will talk about," Skalicky said. "To make sure that we understand, as a financial institution … that we're not going to waive their sovereignty."
In fact, one of the main hurdles to overcome in this type of lending is distrust. "It takes a long time to build credibility and trust. You just have to stay in the arena and be available," Skalicky said. "It takes a lot of time, a lot of listening, a lot of finding out what their process is."
Stearns is pursuing tech solutions for resources to help Native American businesses access loans and financing. But while the rest of the nation is more connected than ever, technology, internet and financial literacy on tribal lands is still a challenge. One issue is lack of broadband. "That's something that we, even a $2 billion bank, can't solve on our own."
When technology exists, getting people to use it can be a barrier. "People have to change their habits, and start using [it]," Skalicky said. "It's something that just takes time."
And like trust, progress toward financial inclusion takes patience, and a commitment.
The natural 
Skalicky's scoring performance on the basketball court through high school was record-setting, eventually landing her in the Minnesota High School Basketball Hall of Fame. She switched to golf in college and later spent time qualifying for a slot in the LPGA. Personal bests in athletics pale, however, when considering how one's profession might impact the lives of others. 
While Skalicky attended William Mitchell College of Law, she clerked for U.S. District Court Judge Michael Davis, whom she called a mentor and one of the most influential people in her life. It was Davis who helped mold her thinking about social justice and equal representation under the law. She assisted Davis on a seminal case dealing with the admissibility of DNA evidence in a criminal case. "It was very challenging work," she said. She was still in law school and helping him write and research "such an important decision."
Davis wasn't concerned with favorable opinions or whether his cases would be reversed, Skalicky said; he focused on becoming a positive force in people's lives, through "diligence and conscious intention." By watching Davis, Skalickly saw the value of taking an interest in people and their stories. "He felt it was important that the parties got their claims articulated," which while sounding obvious for a judge, "it forces you to set aside personal bias," she explained.
In her first job out of law school, Skalicky gravitated toward bankruptcy and creditor rights. That work informs Skalicky's holistic approach to examining an applicant's credit; it pushes her to look beyond what's seen on paper. "There's a story behind everything, right?" 
She has considered the impact of lingering bankruptcies from the last financial crisis or potentially disputable medical claims. "You can't help that you're sick, and all of a sudden you've been [financially] burdened," she said. 
When assessing credit risk, Stearns bankers will pore over a request and probe around the numbers, assessing honest risk and considering ways to mitigate it. "We really try to look beyond the scores, to look at every customer as an individual. That's easy to say, but we actually do it. We individually underwrite every deal, because it's important for us to say, if there's any risk that's popping up in the numbers… we want to fully understand."
That doesn't mean the regulations aren't followed. Skalicky is a rule follower, Plumski said. So when safety and soundness keeps the bank from providing what a consumer needs, they direct that customer toward a grant, a nonprofit agency, county service or even another bank that might extend help. 
"We're a finance industry and we have regulations … but we're in the business of trying to help people," Skalicky said.