Highlights, insights, and lessons from some of Smart Insights' best marketing guides
The world of marketing is constantly changing and modern marketers are expected to have an increasingly diverse set of knowledge and skills. Although the internet offers a vast wealth of information, it's often difficult to judge what is and isn't good quality. Although biased, I believe that Smart Insights provides a wide range of quality marketing resources, from daily blog posts to quick guides and toolkits.
Smart Insights has over 200 different guides that marketers can access (depending on your subscription) – as well as online training and e-learning – to learn about everything from how to set up a social media campaign to managing a digital transformation strategy. I'm a big believer that marketers should always be learning and looking to build their skills and capabilities. But with so many resources, where should you start?
The answer to this question depends largely on your experience, seniority, and area of interest. However, for this blog post, I wanted to single out five Smart Insights guides that I believe offer a huge amount of value to any marketer. I have reviewed each guide and provided one or two key insights from each to give you an idea as to what they're about. Links to each guide are provided below for you to click through and read more.
Why is this guide important?
One of the stand-out benefits of Smart Insights' Quick Win guides is the accessible way in which information is presented and this is particularly helpful for a subject as wide-ranging as marketing planning. We all know that planning is an essential element of marketing, and for anyone who isn't experienced in creating plans, knowing where to start and how to structure a plan is of immense value.
Key insights
Planning is made up of so many important elements, including situational analysis, objectives, strategy, and tactics. However, positioning the core features of your brand and articulating what makes you different is crucial and something many brands fail to execute well.
One of the frameworks I've always found so useful is the Golden Circle, made famous by Simon Sinek in his book 'Start With Why'. This Quick Win guide brings the framework to life and demonstrates how this can be used practically to help you define not only what you do and how you do it, but also why: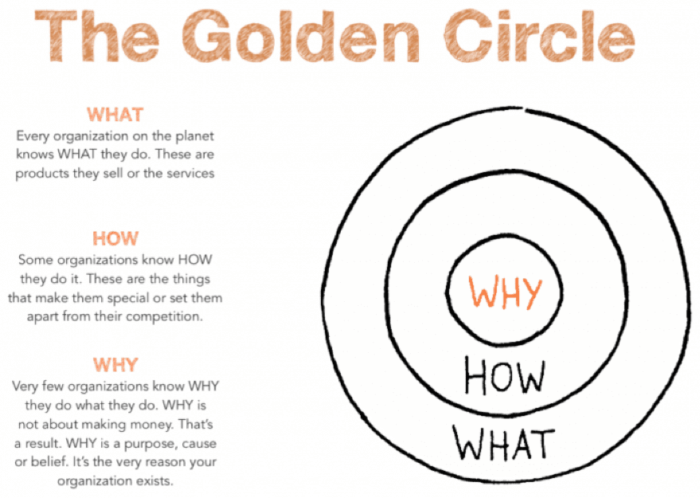 Why is this guide important?
Although launching a new product is more manageable than ever, it's still a very complex process requiring careful thought and planning. This playbook guides you through the process of successfully launching a product online and considers how to avoid common pitfalls launching a product and how to promote your online launch.
Key insights
Like many Smart Insights guides, the playbook uses five parts of RACE planning to help marketers:
Plan the launch.
Reach the target market.
Act through encouraging participation.
Convert by turning casual surfers into customers.
Engage by turning casual customers into loyal advocates.
The entire guide is a series of actionable checklists, which is really useful for marketers looking to build or reinforce existing knowledge and understanding.
Why is this guide important?
Digital is now a fundamental part of the marketing mix for any organization, large or small. This seven-part guide outlines how marketers can create a digital marketing strategy by using case studies, examples and a top-level strategy development process to form a structured your plan, i.e. what should go into your plan and key questions to consider.
Key insights
One of the most difficult parts of creating a digital strategy is finding a framework to help structure your content, thoughts, and insight. Creating a strategy that works needs an effective process to develop the strategy and this guide recommends using the SOSTAC® framework. The elements of SOSTAC® planning to help develop a digital marketing strategy are:
Situation analysis means 'where are we now?
Objectives mean 'where do we want to be?
Strategy means 'how do we get there?
Tactics define the usage of tactical digital communications tools.
Actions refer to action plans, change management and project management skills.
Control looks at keeping plans on track against target.
The multichannel marketing growth wheel summarizes the recommended structure of a digital plan, incorporating the main activities recommended at each stage: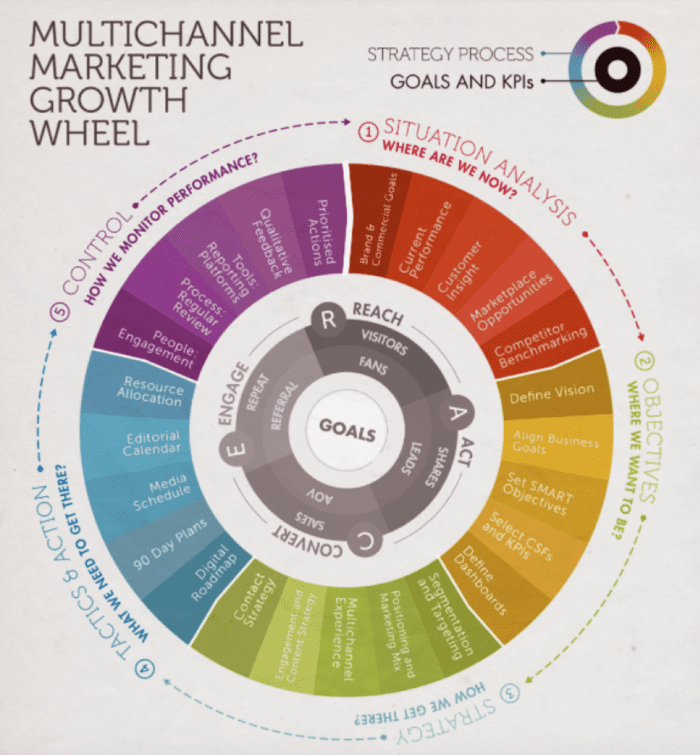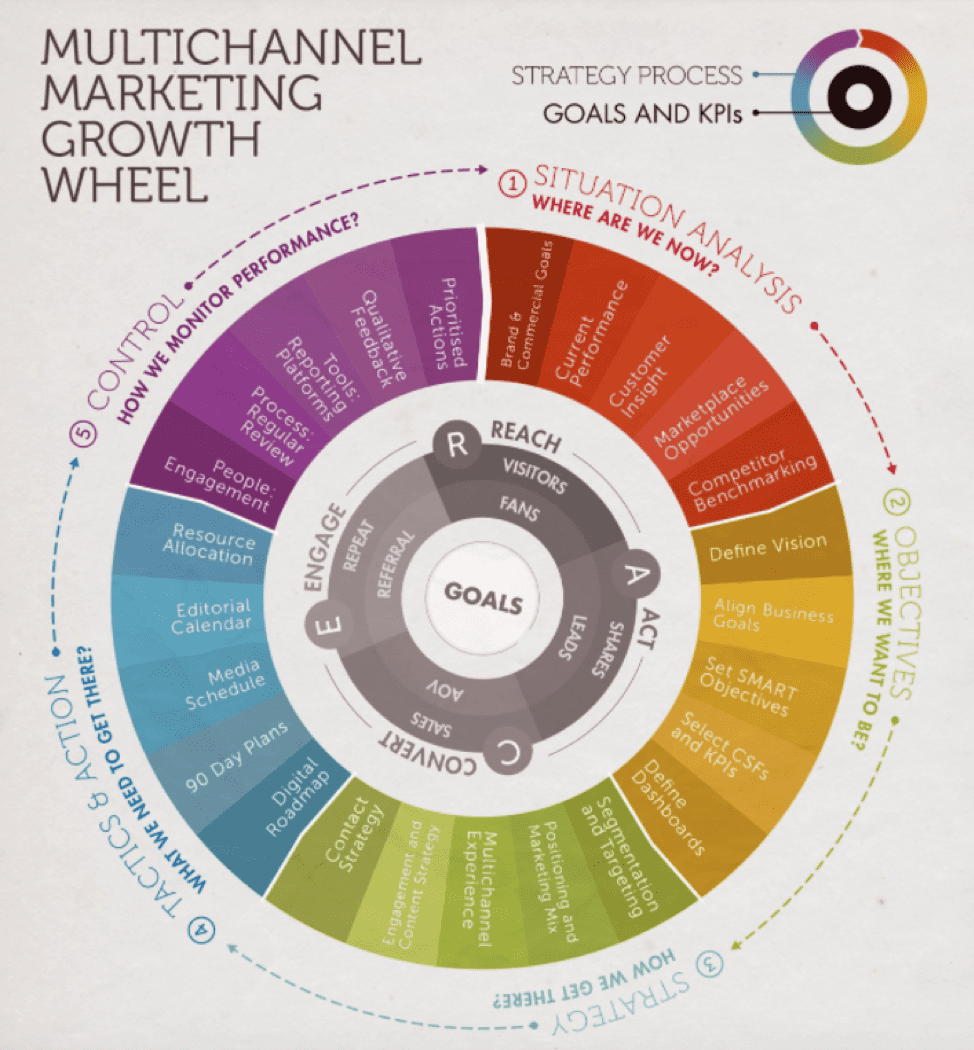 Why is this guide important?
Digital transformation involves very complex projects, with so many potential marketing activities cutting across different customer touchpoints. Changes to improve internal processes, team structures, and skills, technology, data management, insight, and reporting are all usually required. This guide provides a comprehensive structure to follow (RACE) to help marketers plan and prioritize activities across different marketing communications in the customer lifecycle: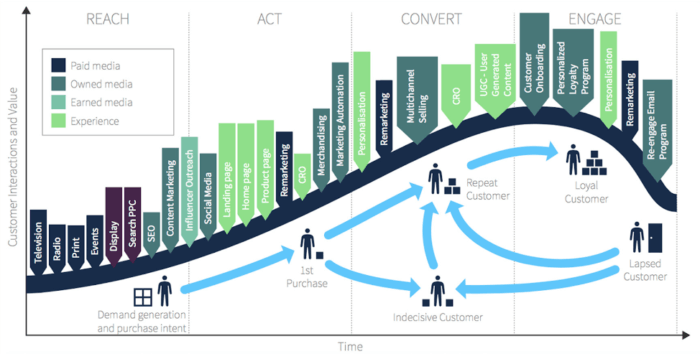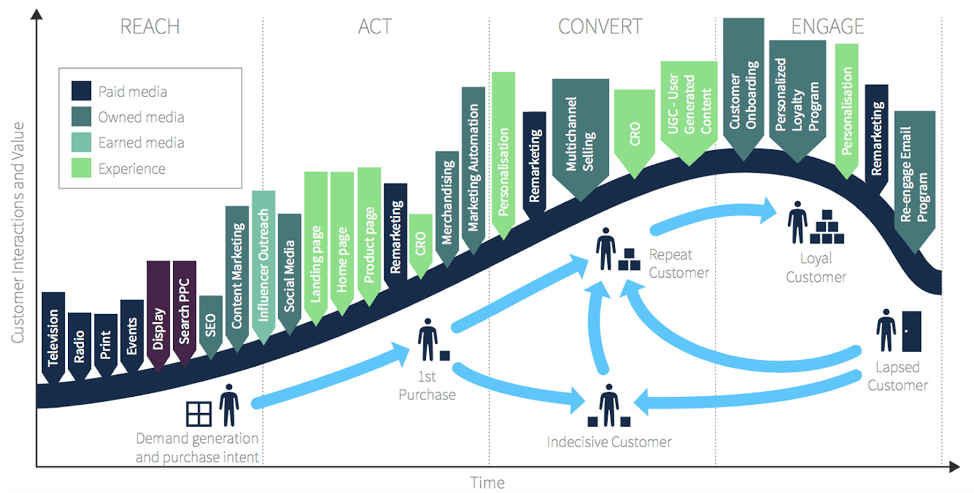 Key insights
Whether you're running a small company or managing an area within a larger business, to simplify your digital transformation assessment the guide recommends dividing planning for transformation into three parts:
Opportunity: Review capabilities and skills, forecast potential, and make the case.
Strategy: Define strategies, resourcing, and governance to achieve objectives.
Action: Define long-term road-map. Implement and optimize using 90-day planning.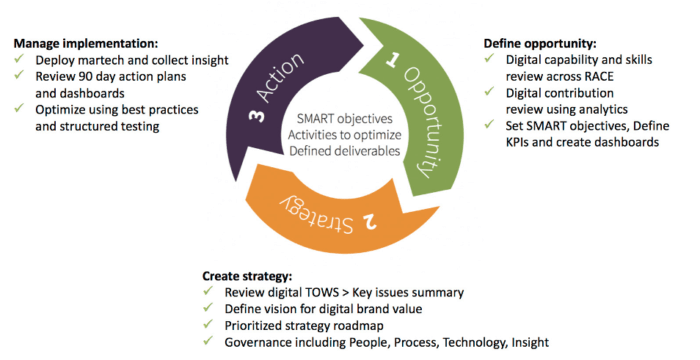 Why is this guide important?
This four-step 'Quick Win' guide provides an incredibly useful template for auditing content across your digital estate. Whilst many content audits are limited to reviewing SEO or making an inventory of existing content, this guide offers a '360-degree' content audit covering all aspects of content effectiveness.
Key insights
In order to carry out a thorough content audit, this guide outlines four key steps that marketers should follow:
Making the case – The 'what' and 'why' of a content marketing audit.
Produce a content inventory – Select the content attributes to audit.
Integrate analytics – Select the VQVC measures to audit effectiveness.
Assessing the current effectiveness of your content.