Are you using social media monitoring (SMM) tools and services tactically? Or maybe you're still not sure if you are using the right SMM tool(s) based on your specific business needs?
Social media monitoring offers digital marketers a wealth of opportunities for a more strategic approach. There is certainly plenty of conversation about these tools and services. So with so many definitions and nuances out there, let's start with a 3 step glossary:
Social Media Intelligence: All aspects of social analytics inform your social media intelligence. This intelligence includes not only your own business but the wiser macro and micro environment, such as your competitors.
Social Media Listening: This tool is for listening consumers and delving into customer personas and motivations to inform market research.
Social Media Monitoring: Ongoing use of data-drive listening and analytics to shape your social media marketing strategy.
Successful enterprises across all industries are continuously looking for the possibility to strategically improve and optimize their social engagement with their customers and prospects and measure the success of their social customer care services and marketing campaigns.
Measuring sentiment online
Marketers are investing in social media programs including social selling, social recruiting, social advertising, influencer marketing, etc. SMM technology offers opportunities to support these programmes, solicit public opinions about their brand and products, shape their online presence and develop strategies to engage and harness the social paradigm.
The key to social media monitoring is measuring sentiment, as demonstrated in the recent report, 'Everything About Social Media Monitoring' 2020, by Netbase:
Monitoring the posts of your audience, your competitors, and your industry overall, is the best way to spot opportunities your brand can take advantage of – like new trends, consumer problems in need of solving, and more.
Netbase give the example of a spike in social activity around 'arilines'. For airline brands, and any travel brands, understanding the nature of spikes and the sentiment behind them is crucial.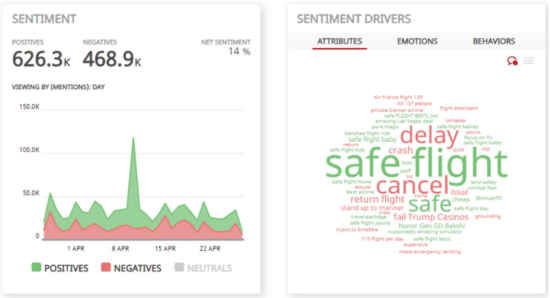 Data-driven social media monitoring
To measure the value of their social media activities, companies should look at the overall results they are generating, and carefully examine how social media was engaged in increasing their bottom lines through growing revenue and increasing efficiency. The chart below illustrates some of the key ways social media can affect your business performance.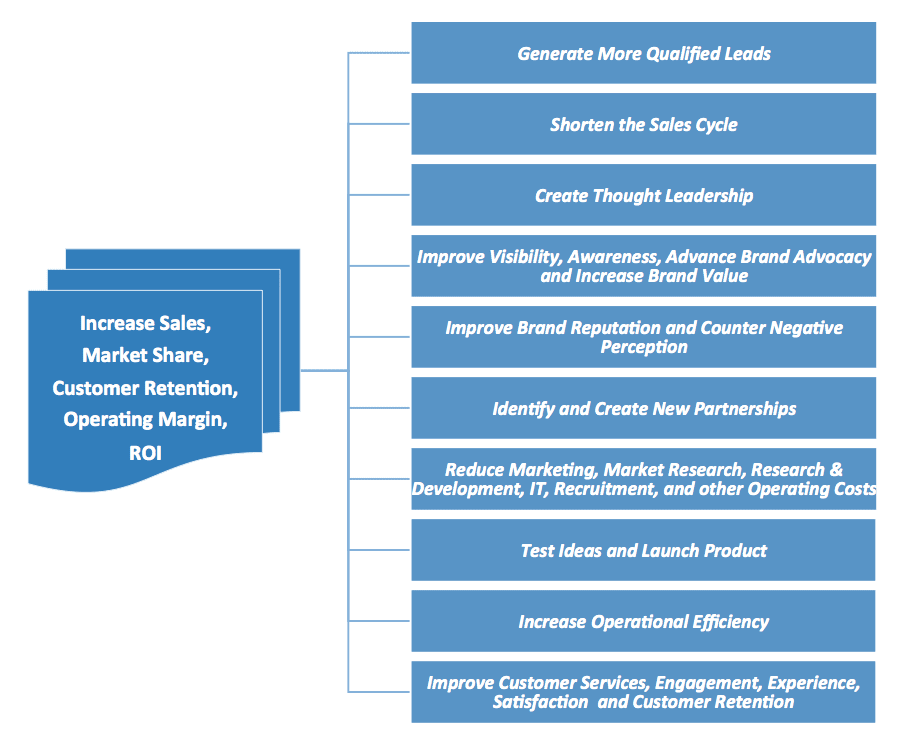 For instance, you can shorten your company's sales cycle and accelerate revenue by generating multiple impressions for your online content across the vast social media channels, employ social targeting and advertising or influencer marketing, and build and leverage the credibility, trust and relationships to win a prospect's business. This can be significantly augmented by successfully integrating social media with traditional marketing strategies at every stage of the buying process.
Similarly, in terms of customer services, you can use social customer care tools with strong workflow management to actively monitor and improve customer services and customer satisfaction by increasing resolution rate and lowering resolution time outside call centers, as well as increase brand loyalty and awareness by actively engaging with customers and addressing their questions and concerns. Your relationship with customers and their experience with your brand should be of the utmost importance.
If used right, social intelligence offered by social media technologies can create true business value for your business by supporting every area of your business from understanding consumers' needs and behaviours, competitive landscape, creating risk management plans, increasing customer experience, and satisfaction, to executing product development and campaigns, and building consistent, long-term and profitable relationships with your customers.
Choosing the right social media monitoring tools for strategic evaluation
The social technology industry is maturing rapidly through innovation and acquisition delivering increasingly sophisticated analytical capabilities, with unique personalized engagement and automation.
Established SMM vendors are frequently improving their products by introducing new features and coverage to accommodate their clients' needs and respond to continuous changes imposed by social network companies such as Facebook, Twitter, Snapchat and others. Some top vendors are developing features that go beyond monitoring, listening, or social media management, and are gradually converging their platforms with content management, social advertising, social customer experience, social relationship platforms, to name a few.
Furthermore, more advanced SMM tools are employing artificial intelligence (AI) in various ways to improve data discovery, data analysis and engagement function to get ahead of the competition. Some forms by which AI is making an entrance into social media marketing and customer care are ad targeting, chatbots, image recognition, smart alerting, predictive customer service, tailored recommendations, and others. If you want to stay ahead of the game, you have to understand these new technologies and what they might mean to you.
As a result of these rapid innovations, making a strategic and educated choice about which social technology can best address an organization's needs and justify social media investment, has become a complex and multifaceted task for organizations.
The tool key features and factors impacting selection process
As discussed in the Report, understanding the data management, data analysis and visualization features as well as process management and user interface of a specific tool is of the utmost importance, as well as understanding what differentiates it from its competitors.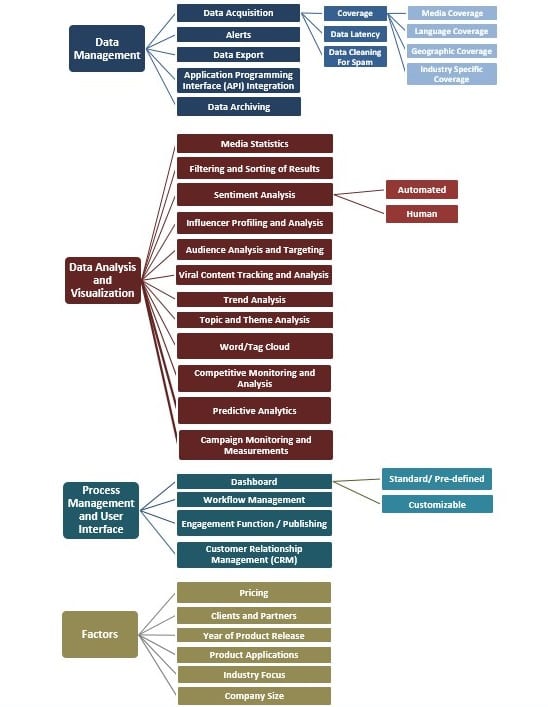 Nevertheless, you should also understand key social media monitoring functions and product applications, as well as take into consideration other factors influencing purchasing decisions such as pricing, product and service availability, vendor's industry focus, and possibly review SMM vendor's reference client listing, which demonstrate vendor's professional experience and credibility.