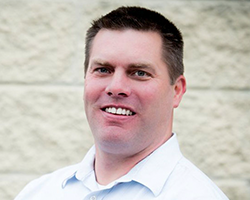 Even before the pandemic, bank customers had increasingly migrated toward online and mobile banking products to conduct simple banking functions. The widespread temporary closure of bank lobbies in 2020, which linger in some areas today, has called into question the relevance of the brick-and-mortar branch, especially after banks successfully migrated much of their workforce to remote home offices. As the industry ponders its "new normal," BankBeat reached out to bank architects around the Midwest to get their input. Here, Adam Holmes, CEO of Vanman Architects in Minneapolis, gives his thoughts on how the last year might influence a bank's use of space.
Q. Prior to the era of social distancing, we saw a move toward open office designs and collaborative workspaces. What is the future for this open-concept design in banking?
Adam Holmes: We are getting a lot of questions about open spaces. Some banks have a lot of space because they don't have as many employees in the bank. What we are seeing now is banks bringing in companies that offer complementary services such as brokers or insurance companies. We also see banks positioning themselves as a business or community hub. They are bringing the community into the space. Perhaps offering conference spaces for community education or for similar purposes. Some are partnering with locally-owned coffee shops or promoting mom-and-pop endeavors. The goal is to make it normal to swing into the bank.
Q. We used to take infrastructure for granted, but we saw weather-related rolling blackouts disrupting life for a large swath of the country. What sort of contingency planning goes into your designs to help bankers ensure continued operations in the face of crises? 
Adam Holmes: Y2K was the largest push for all financial institutions to ramp up their contingency planning. Since then, it's become normal to work in redundancies for critical functions. The costs are coming down on systems such as solar, wind and geothermal where it might make sense to consider these as alternative power sources. It depends on the payback time, which should be less than five years. 
Q. Are there unique strategies you see that are helping draw people back into banks?
Adam Holmes: There's a move away from the traditional office aesthetic. Banks are creating more living room-like settings where people can sit on a couch that is strategically placed, in an open format with better airflow. Here people can converse with their banker rather than sitting across the desk from them in more comfort and with more distance between them. 
We had one bank make some changes to their space to open it up more. At another bank, we looked at multiple options and decided to raze the existing building and start over in order to have the flow and function they wanted. We've had remodeling conversations that started with the topic of airflow and HVAC systems that evolved into reconsiderations of space.
Q. What's it been like having to take public health into account as you embark on a new design? How are you learning new technologies and adapting your approach? 
Adam Holmes: We've looked at HVAC systems to make sure we have the ability to increase airflow and air exchange. There are ways to clean the air using ionization systems that charge the air to drop out the particles you don't want. These can be placed inline, along with different filtering. 
We look at materials, choosing ones that are easier to clean or offer less opportunity for germs to incubate. Maybe this is the end of the plush couch or the shag carpeting. The customer, when they walk in, they will want to feel that the space is clean and comfortable. 
Q. What trends do you see unfolding in bank architecture in the next 12-24 months?
Adam Holmes: The drive-up is important and a number of banks are upgrading their technology and improving their drive-ups. In a typical drive-up, you can hear what the person in the next lane is talking about. You don't want the drive-up experience to be like going to McDonald's. We are installing new technology so people can do more at the drive-up. We are expanding the width of the lanes, in part because vehicles are larger these days, but also to allow for confidential conversations. 
Q. There's a narrative circulating that the branch is dying. What advice can you give bankers who are on the fence about remaking or updating a branch? 
Adam Holmes: We are seeing the trend toward small. We have a few projects for headquarters, but using the space differently. Other banks are looking at downsizing or having branches with fewer people on staff. The call center staff can work from home. A lot of people like working from home.
Q. How has the last year been for your firm? 
Adam Holmes: On the architectural side of the business, we've continued with planning and designs. On the construction side of the business, we paused a few projects but are now starting again. Everything that had been paused is now online again this year. And we had zero projects get canceled. It seems people wanted to wait for after the election, and to see where things were headed with the pandemic. The pent up demand is coming through.