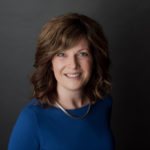 Melanie VanRoekel was named chair of United Prairie Bank's board on February 26. She assumes the position at the southern Minnesota bank from Stuart J. Sneer of Mankato as he transitions into retirement.
Sneer has led the board of Mankato-based United Prairie, along with its insurance and investment divisions, since 2006 when his father and founder of the company, James G. Sneer, went into retirement. He will remain on the board.
"Melanie has been serving on our board for over a year, so we're enjoying a smooth transition," said Scott Bradley, CEO and president of the $632 million United Prairie. "We're excited about having her in an even bigger leadership role. Her experience and leadership have already helped propel our company to its most profitable year ever in 2019."
VanRoekel has held key positions in two of the most prominent companies in the area. She was chief financial officer for Davisco Foods International, Inc., and corporate controller for Taylor Corporation. She has a bachelor's degree in accounting from Minnesota State University, Mankato.
She is also a recognized advocate for helping those with intellectual and developmental disabilities. VanRoekel was appointed to the State of Minnesota Special Education Advisory Panel in 2017 and was vice chair for the 2018-2019 school year. In addition, she is on the Special Education Advisory Council for ISD77 and is board chair for the Mankato Area Foundation.