Chart of the Week: 45% of marketers say increasing engagement is the biggest challenge for email strategies and yet this isn't a primary goal to work toward.
Email marketing has long been a tactic that delivers high ROI, which means there are a lot more marketers and brands utilizing email to engage, convert and retain customers. However, the increase in use means that inboxes have never been so crowded and, as a result, it is getting harder to stand out.
Despite the struggle to get opens and clicks becoming very real, marketers still need to deliver tangible results – especially as email has historically performed so well. Email effectiveness may be dwindling but optimizing your strategy ca still ensure you see improvements.
However, the question then becomes how you can improve the effectiveness of your email marketing. After all, sticking with the same strategy isn't going to see things go well during 2020 if you are fighting against more inbox competitors than ever before.
To help you understand how you can improve your email marketing strategy, we've taken a look at Ascend2's most recent Email Marketing Effectiveness Survey.
Increasing sales revenue is the primary goal
Before you start to change up your email strategy, you need to have an idea of what your goals are. For 59% of marketers, the key priority for their email marketing in 2020 is to increase sales revenues. With a further 49% saying they are aiming to increase leads generated, this shows that brands are seeking to monetize email more than ever.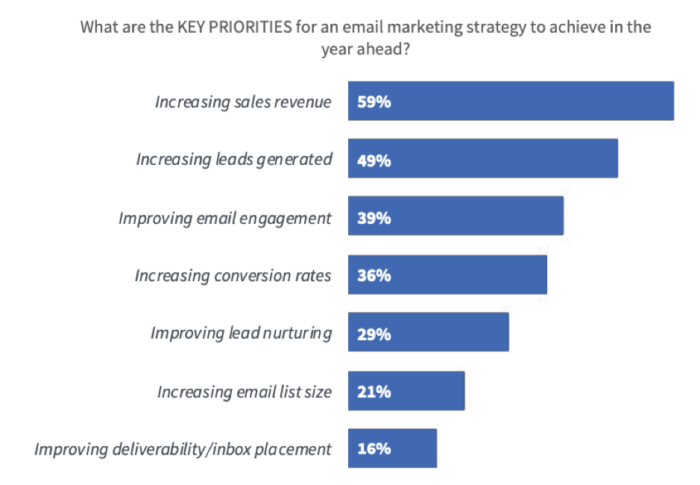 To improve sales revenue and leads, you need to keep people interested in your emails to nurture them. Despite this fact, just 39% of respondents said that improving email engagement was a key priority. On top of this, just 36% say that increasing conversion rates is a top priority, suggesting that many marketers may miss out on their top priority of sales if they are not able to keep their email segments engaged.
Despite these big goals for emails, only a small percentage (16%) of survey respondents said that improving deliverability/inbox discovery is a key priority for their email marketing in 2020. With deliverability taking into account more factors than ever before, failing to look at this as a goal for the year ahead could mean that other improvements to your strategy end up wasted.
How successful are email marketing strategies?
Not only do you need to have goals in place to help quantify the success of your email marketing, but you also need to create a strategy that actually achieves them. According to the research, not everyone is managing this as well as they could.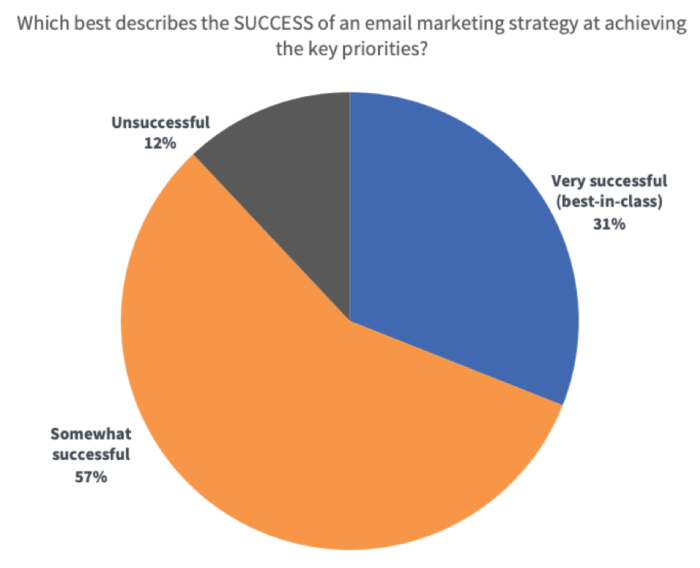 Under a third (31%) of respondents said that their email marketing strategies are "very successful" at achieving their goals, compared to 57% who said they are "somewhat successful". A further 12% said that their strategies are "unsuccessful".
The fact that more strategies are not "very successful" could be due to a number of factors, such as not fully tailoring email design, segmentation, and activity to the set goals. It could also be because marketers have chosen the wrong goals to prioritize, with work being needed in other areas before they can increase sales.
The barriers stopping email marketing success
Despite increasing engagement only being the third biggest priority for email marketing in the year ahead, it is the biggest challenge when it comes to achieving success. Just under half (45%) of respondents said that email engagement is the most challenging barrier.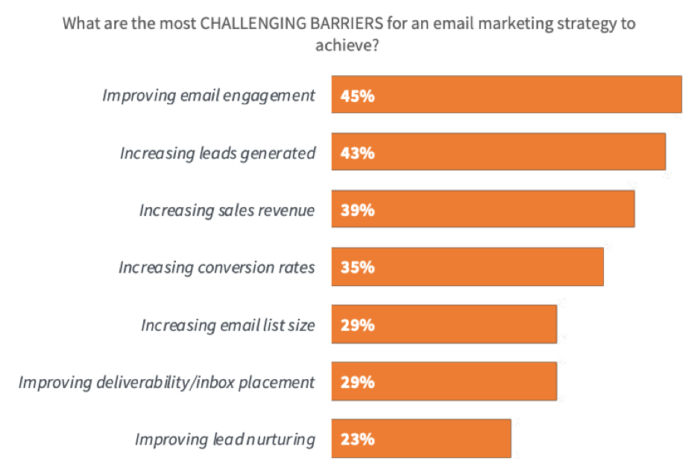 If increasing engagement with emails is the biggest barrier, marketers need to put more focus on overcoming this, making it the primary goal for the year ahead. After all, improved engagement will help to better achieve other goals, especially when you consider the fact that 43% said increasing leads generated is a big challenge and 39% said the same of increasing sales revenue. Not getting people to engage with emails will mean you fail to achieve these goals.
Interestingly, only 23% of respondents said that improving lead nurturing is a barrier to succeeding at email marketing. However, if more marketers were seeing successful lead nurturing via email, they would also likely see an increase in the number of sales and leads being generated. This suggests that lead nurturing is a bigger barrier than many marketers realize.
What does email effectiveness look like across the board?
While there are still some fairly big barriers in place when it comes to achieving success with email marketing, most respondents have reported an increase in the effectiveness of their strategies.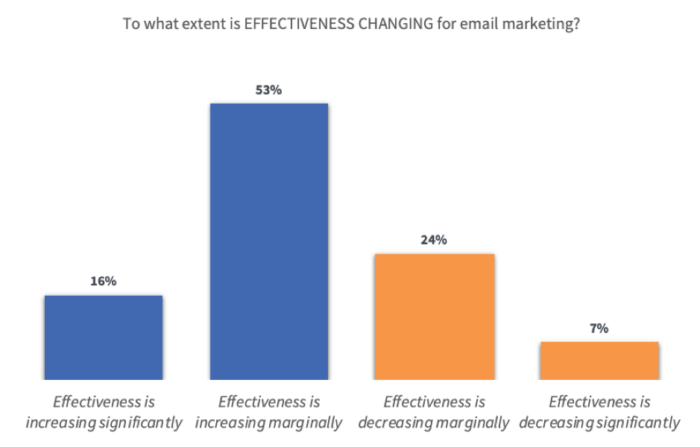 Over half (53%) of respondents said they have seen a marginal increase in the effectiveness of their email marketing with a further 16% reporting a significant increase. This suggests that they have updated their strategies as trends change in order to get the best engagement and conversion from their sends.
Unfortunately, around a quarter (24%) have seen marginal decreases while 7% have seen significant decreases in email effectiveness. This could be due to a number of different factors, including a failure to change their strategy and test new designs, segments, etc. Effectiveness is always likely to decrease when testing is not used as a continuous method for keeping a strategy up-to-date.
What tactics improve email strategies?
So, what tactics should those who have seen email effectiveness decline look to in order to improve their results? The big answer is content.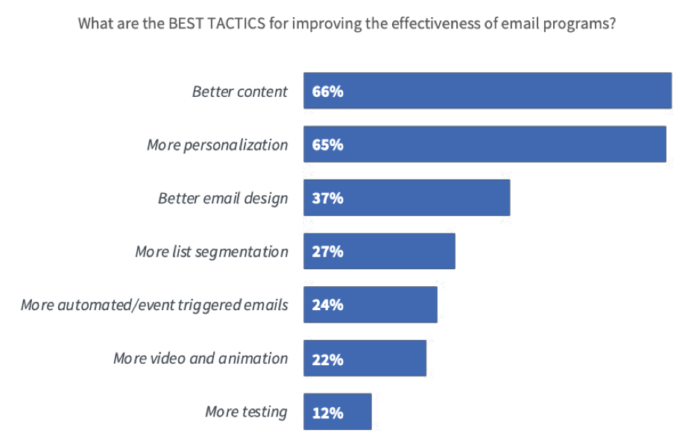 Some 66% of respondents said that better content is the best tactic for ensuring the success of their email. This means that testing different messages, images, videos, CTAs, etc. can help you find the best content mix in order to increase conversions from your emails.
As well as better content, 65% said that more personalization is key, which reflects the fact that the majority of customers will only engage with personalized marketing messages. Adding personalization to emails – whether they are triggered emails or include personalized product recommendations – can help ensure they are hyper-targeted, which could get you better results.
Perhaps surprisingly, only 12% said that more testing is a good tactic for improving email program effectiveness. However, it's important to remember that changes you make to content, design, segmentation and personalization may not always work straight off the bat. This is why A/B testing should be utilized to see if changes you're making will pay off.
How are marketers measuring email effectiveness?
Of course, in order to see how effective your email marketing currently is, you need to be looking at the right metrics. The metrics you use to measure success should relate as closely to your goals as possible, although there will be metrics you need to assess once people land on your site from email – such as time on page, pages per session and conversions.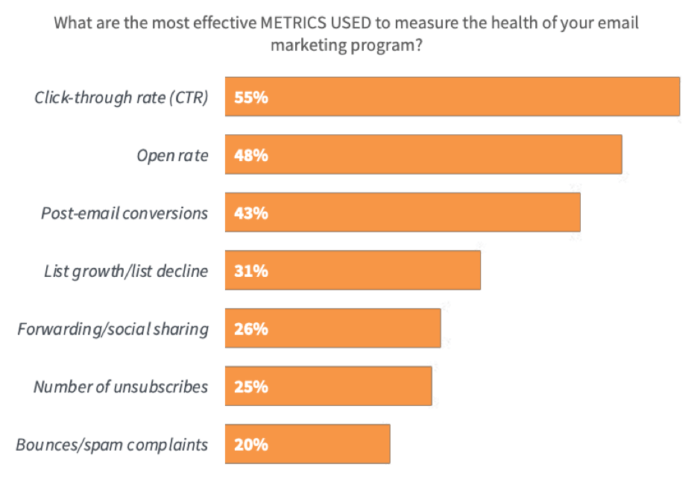 When it comes to the most effective metrics being used to measure the health of email marketing strategies, click-through rate took the top spot with 55% of respondents selecting it. This metric is a better indication of engagement than open rate and can signal that your messaging has captured the recipients' attention.
However, to get people to click through to your website, you first need to encourage them to open your email, which is why 48% of recipients believe that the open rate is an effective metric to use.
A large percentage (43%) also said that post-email conversions were an important metric, which is the case if your main goals are to increase sales and the number of leads being generated. This is why a full analysis of how people behave when the land on your site from email is needed.
Final thoughts
While getting sales and leads from your email marketing program is obviously an important part of your strategy, you need people to engage with your emails in order to create sales and leads. The fact that email engagement is seen as the biggest barrier for success suggests that more marketers need to look at increasing engagement as a key goal, especially as this will then lead to more conversions.
Of course, in order to improve engagement, you need to be placed in the right place in people's inbox, so this should also be taken into account within your strategy – something that many people are not doing.
It is also important to remember that any changes you make are not necessarily going to resonate better with your audience. This is why testing should be a constant within your strategy. Adopting a more agile approach with your email marketing strategy can ensure you find what does work, as well as the best ways to implement your strategy for the best results. So long as you're measuring the right metrics, it will be easy to see which tests win and how they can impact on your overall email marketing goals.