Benchmarks of B2B webinar promotion and presentation
Webinars are a key inbound marketing technique, particularly for business-to-business companies. Webinars can be used to support different audience engagement goals across the B2B marketing and sales funnel from attracting new prospects to interact with your brand through to nurturing prospects, product demonstrations and keeping customers up-to-date.
Experienced B2B marketers will know from their tests which are the best times to promote and what attendance levels can be expected, but if you're planning a series of webinars, then we hope you find this summary of B2B webinar statistics useful. They're from BrightTALK which we use for our webinars, but the insights shouldn't be platform specific since the mechanics of promoting and encouraging attendance are similar. We'll present the benchmarks as the answers to a series of FAQ we hear from webinar marketers.
Q. Best day of week to promote a webinar?
This data is actually showing the most popular amongst audiences for webinar pre-registrations, so it is not necessarily the best for you. However, it does show popularity with audiences, although this may be correlated with when emails are sent for promoting webinars. It's similar to data I've seen on the best day of the week to send an email. Testing a contrarian approach may give you better results since you may find there is less competition from other marketers on Thursday and Friday.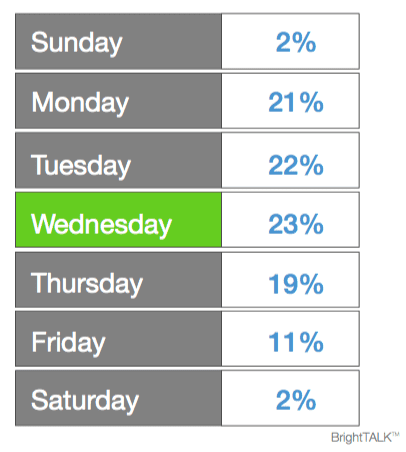 Q. Length of time for promotion?
BrightTALK recommends that webinar programs see the best success when they are promoted early (3-4 weeks out), and continue through the live day. The majority of your audience will have registered within two weeks of the live event. These rates have remained relatively consistent over the past three years. The chart they present simply suggests that more days to promote gives more opportunity to register.
Q. Best day of week to present a webinar?
Mid-week seems most popular amongst B2B professionals to attend webinars (live), although this data will be skewed by when marketers offer their webinars (this could be why Friday is so low here). These figures are in line with popularity of websites amongst B2B audiences. Although typically the order of declining popularity of visits to a B2B website in my experience is Tuesday, Wednesday and then Thursday, so it is surprising that Thursday is most popular.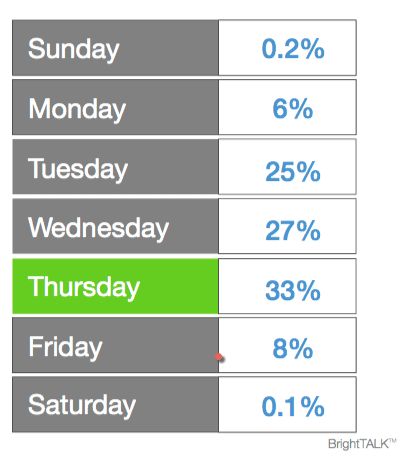 Q. Average length of webinar?
These figures suggest that most webinars are still targeting the 45 minutes or 60 minutes since the average if 39 minutes and there will be shorter duration webinars. The average viewing time of 22 minutes suggests that marketers should consider shorter webinars. Downloads are specific to the BrightTALK platform, but seem to work quite well as an engagement tactic.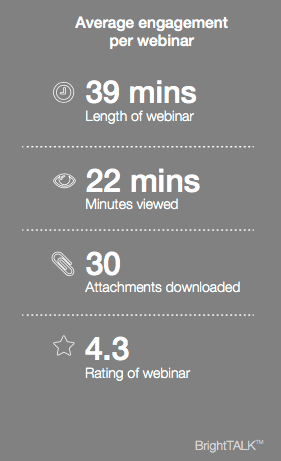 Q. Average webinar attendance audience?
The average figure isn't given, but you can see from this chart, that many B2B audiences have below 100 viewers. The average must be between 100-200. BrightTALK tend to attract larger martech brands and publishers, so these figures are possibly higher than other vendores such as GoTo Webinar.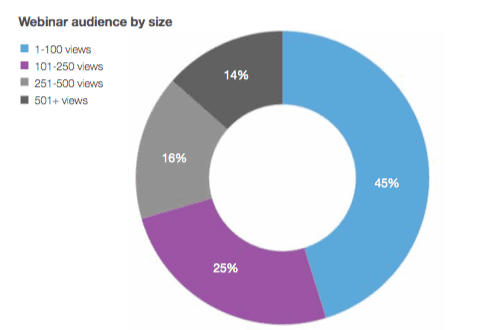 Q. Number of live vs recorded viewers?
The average figure is for…
36% of webinar pre-registrants attend the live webinar 
This is in line with what we find where between one quarter and one third attend live. It's slightly lower for us since we have a global audience which means that people in other timezones can't make attendance. We do find with BrightTALK that the automatic reminder emails do encourage viewing of recording such that within a few weeks viewings exceed pre-registrations. The data shows that within a month you get most of the viewings, but it's worth checking back to see who viewed the recording to follow-up on their interest.