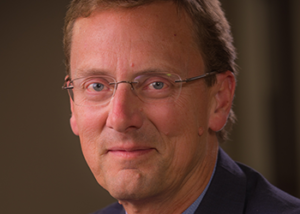 Editor's note: John Dykema is being honored as a 2020 Amazing Outside Director. The program is sponsored by Eide Bailly, and a full list of previous honorees can be found here.
During a typical board meeting at Nicolet National Bank, Green Bay, Wis., there are 16 people who meet for an hour and a half, and John Dykema might only open his mouth twice.
"But people lean in and listen when he does," said Bob Atwell, the bank's chair and CEO. "When I hear John say something, I'm gonna think about it," he said. "It'll probably contain something that I really need to hear."
Dykema is a lean speaker. He takes care to fill the space, whatever the dimensions, ensuring each message is valuable.
Dykema has been on the $3 billion bank's board since 2006, six years after the bank's inception. He met Mike Daniels (who co-founded the bank with Atwell) in 1998 when Dykema sought a loan to acquire Circle Packaging Machinery, Inc. Dykema's holdings quickly grew when in 2001, he bought the now-affiliated Campbell Wrapper Corporation.
And Dykema, Daniels and Atwell are kind of a packaged deal. Daniels is the entrepreneur, decisive and magnetic; Atwell is a bit more verbose, strategic and thoughtful;  "but with John, there's like a deep well of thought," Atwell said. 
Dykema calls it common sense. 
Dykema received two engineering degrees and an MBA from Northwestern University, Evanston, Ill., and is the sole owner of two successful manufacturing companies. "The basic skills and basic intellect are there," Atwell said, "but what really distinguishes John is his integrity."
And he's pretty entrepreneurial for a quiet guy, Atwell said. He doesn't play "small ball," and when he knows the right thing to do, he does it. The bank CEO said he goes to Dykema when he needs to see a situation clearly — matters of succession, acquisitions and his own performance. "I've definitely scheduled lunches with him to just sit down and talk about what's up, so he can … help me see what I can't see," Atwell said. 
There have been a handful of significant and pivotal instances regarding the board that might not have been so had there not been a conversation with Dykema, Atwell said, particularly after the bank went public.
Dykema has no problem with dead air as he parcels his thoughts. And though Dykema's words are few, his actions lend them a megaphone. 
Atwell remembers when Nicolet closed its first big acquisition in 2013, and though the bank's relationship with the OCC was strong, leadership decided to bring in $3 million of capital common equity from "around the table" to demonstrate that the directors were on board with executive decisions. 
Dykema's response was short and sweet — I'm in. However, he was someone who stood out and put his money where his mouth was. "His actions amplified his words," Atwell said.
Dykema, though busy running two companies and assistant coaching high school tennis in the spring, said he sees himself on the board at Nicolet for "as long as they think I'm useful."