Marketing can't avoid the changes that AI is bringing, so you need to understand how to successfully implement it.
Artificial intelligence (AI) is being implemented everywhere. Businesses all over the world have started adopting AI in their routine processes to get profit faster and decrease spending.
But things get additionally complex because companies add the "AI" mark to every product or service they offer for marketing purposes and tout AI as a panacea. Marketing can't avoid these changes. As R. J. Talyor, the founder and CEO of Pattern89, said in an interview with Paul Talbot for Forbes, "AI will reinvent marketing, again."
Even if you still think AI won't touch you, your competitors who are braver will adopt an AI tech stack for their marketing. Or maybe they already have! In 2019, Gartner reported that 37% of enterprises (and even small businesses) have implemented AI in some capacity. This percentage will only rise.
There are many ways to implement AI or machine learning (ML) in marketing for different kinds of businesses with the aim of minimizing routine tasks, analyzing tons of data, and getting insights. Businesses can use AI to:
Cluster and segment users.
Personalize content and provide recommendations (for online stores).
Manage ads and perform automatic targeting.
Forecast sales (for manufacturers and retailers).
Create chatbots (for any kind of business with customer support).
Offer flexible product pricing.
Enable computer vision (for exhibitions, offline stores, and safety systems).
Automatically categorize products.
Power speech recognition and conversational AI systems (for consultancies and any kind of support services).
Track sentiment and listen for social mentions.
Perform visual search and image recognition (for service providers, entertainment platforms, retailers, and others).
Offer augmented reality (for beauty salons, stores, manufacturers, etc.)
Write copy and better understand how search engines work.
One more thing should be mentioned here — most AI technologies weren't created to replace marketers but to help them leave the monkey work behind and become more profitable specialists. AI opportunities are everywhere, and only the laziest marketing teams are still trying to avoid them.
In this article, we give you some practical advice for applying AI to your business. You'll find an explanation of the skill set your marketing team needs to implement any kind of AI technology.
People-centered skills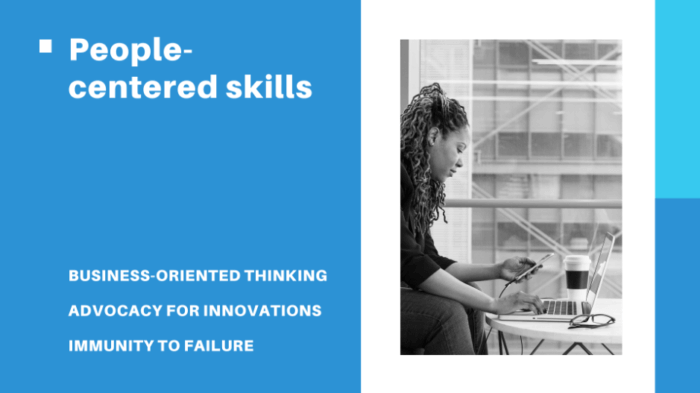 Business-oriented thinking
What are the problems you're trying to solve with the help of AI or ML? You have to understand clearly what benefits you're aiming to get.
For example, say you want to stop wasting time and money on writing product descriptions by delegating this task to an NLP algorithm.
You've calculated that paying people to write product descriptions costs your online store $100,000 a year. Implementing an NLP algorithm will cost the same amount up-front but will totally replace the need for humans to write descriptions in the future.
You might expect that this improvement will save at least 12 hours of a copywriter's work a week. Your copywriter might use that time to concentrate on more essential tasks or write for the blog.
Without understanding your goals, implementing AI is like wandering in a dark forest without a torch, hoping for somebody to come along. But wasting resources with only a hope that you're on the right path is too dangerous. This is one of the reasons people fail to implement AI: they try to start doing so without a goal.
Don't start implementing AI if you aren't sure what profit it should bring to your business.
Advocacy for innovations
Anyone in any role — an email marketer, the CMO — can initiate the implementation of AI technologies. According to the latest CMO Spend Survey by Gartner, most CMOs are increasing their budgets on innovation and driving change in their teams. But to promote AI innovation successfully, you have to advocate for innovation and work with your colleagues, management, and specialists from outside of the marketing department.
To successfully implement AI technologies, you have to be persuasive and open to communication. You should be able to work around others' negative attitudes and suspicions of AI technologies. Concentrate on people who really make or influence the decisions you're interested in and systematically lobby them through meetings and discussions.
Find the benefits of implementing AI for each team member. Collect examples of successful AI implementation from colleagues in your industry and try to find different vendors to present your team with a range of options to choose from.
Patience, curiosity, and immunity to failure
Implementing AI is like training for a cross-country marathon. Your team should understand that the results won't come tomorrow, even if that's what was promised by developers or service providers.
Each company must prepare its data silos so AI or ML technologies can consume data, process it, learn from it, and give results. And the quality of your data might need to be improved. That's one more positive effect of implementing AI — you'll find what sorts of vulnerabilities or get one more reason to prioritize your company development.
Remember that each marketing modernization is an experiment, and it may fail. The secret is in staying curious and patient until you find the path to success. Also, each time you fail, you'll gain experience, which can be your competitive strength. Sometimes, having the right expectations or narrowing the scope of work can help companies get results faster.
Process-centered skills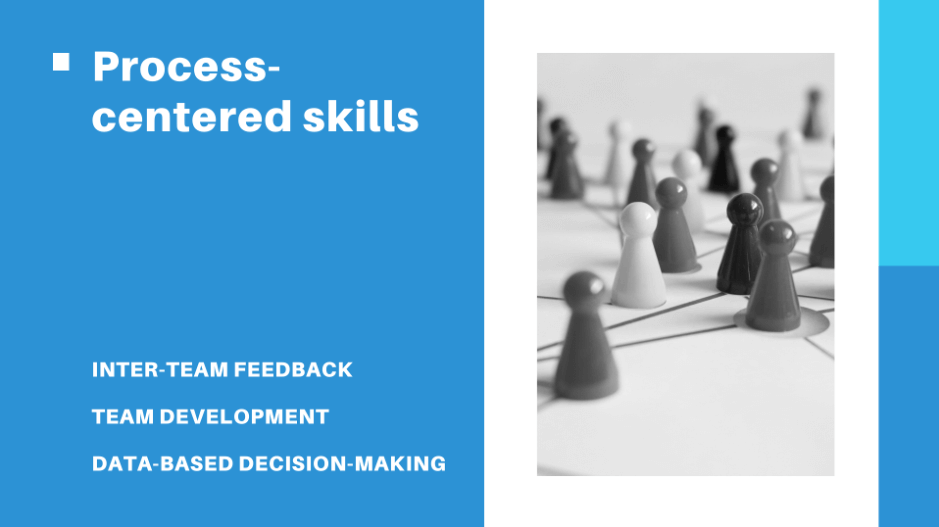 Project management and inter-team feedback
Once the decision has been made and everyone wants to implement AI into marketing, your team must understand who's in charge of what.
Select a person who will be responsible for communication within your development team, marketing team, and management to assure that all stakeholders know what's going on. Excluding one of these teams will lead to misunderstandings and may cause people to miss the whole point of why you're implementing AI.
Set up your KPIs for AI implementation and decompose the whole implementation process into periods, stages, sprints, and tasks. Set up tasks for developers and get to know all the terms and principles that are used in development. Encourage reviews and feedback in any form to understand the mood inside your team at the current stage of development.
Remember that depending on the type of technology you plan to implement, the end customer might be both the marketing team and management. So you should pay equal attention to these groups.
Team development
Your team must develop and learn new skills when your marketers no longer see themselves as just "creative" and "strategic" specialists but want to do things that are analytical or technical. Hard skills are becoming more and more essential for marketers, who might apply the methodologies or principles of modern software development in their work. For some, learning hard skills might be painful.
Today, marketers might add the skills of data analysts and developers to their arsenal, making themselves even more in demand. Getting people from different departments to work with each other and even having some informal Friday evening events can lead to knowledge being transferred from one part of the team to another. Help people from different departments who are connected by the same goal to work together and achieve the results you expect from AI implementation.
Additionally, interdisciplinary education can motivate specialists who have reached the ceiling in their profession.
Practice writing down instructions to save information for your future colleagues who might need to go down the same path of professional growth. Also, when implementing AI, you'll need to spend some time preparing your specialists who will work with AI-improved processes.
Data-based decision-making
This is a difficult point because it's connected with ethics, the basic values of your company, and your readiness to apply the results of AI. Implementing AI might be considered a step toward establishing a data-driven culture, and it requires data-based decision-making not only at the management level but at the level of each marketer.
You should apply the suggestions of your AI solution even if you hadn't considered them as a possibility and even if they fly in the face of your existing guidance.
You also have to be ready to accept unexpected AI-based insights considering ethics-aligned segmentations or recommendations, as algorithms can't understand the requirements of modern tolerance and equality.
Guidance on what to do in the described situations will help you avoid misunderstandings and avoid demotivating your coworkers after the hard implementation process. If you ignore the results of a working AI tool and don't apply it in your everyday business routine, you can't be a data-driven company or think that your decisions are data-based.
Main technology-centered skill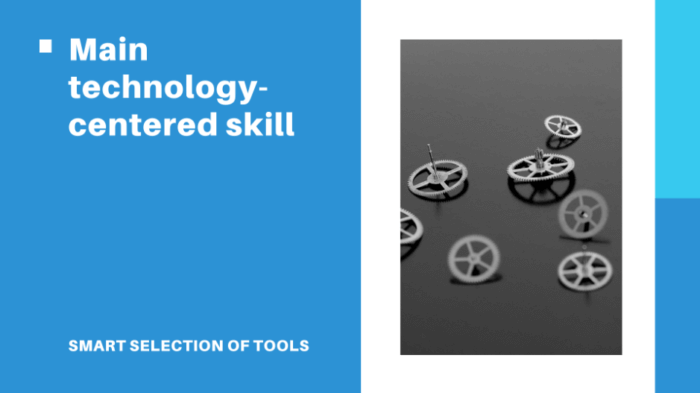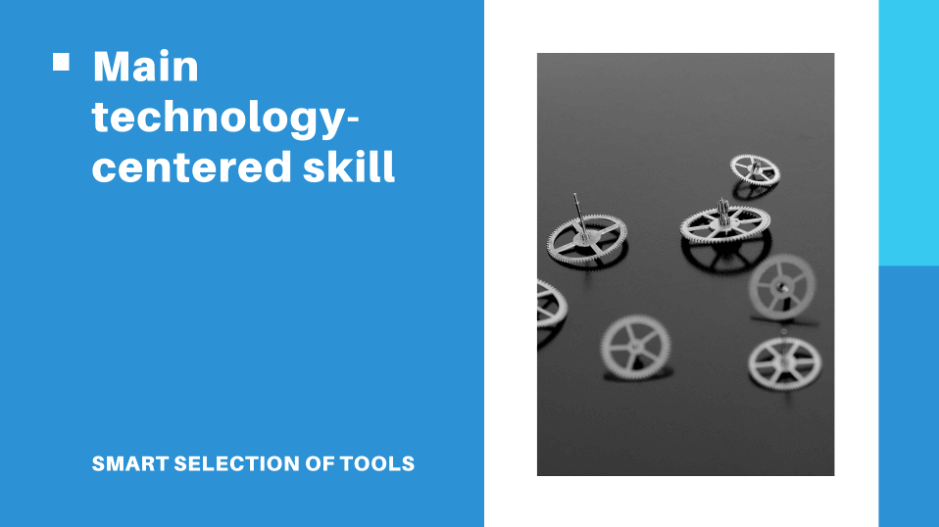 Selection of tools, services, and vendors
The selection of AI tools is up to you. Each company chooses its tools on its own. But there are common principles for how to avoid risks:
Control the CAC (customer acquisition cost) and ROI (return on investment) metrics during the whole pay-off period and implementation process. As implementing AI in marketing is an investment, you must achieve positive ROI in a certain time frame and not grow the CAC more than profitability allows.
Narrow the list of possible AI tools with the help of independent review sources like Capterra, Gartner, G2 Crowd, and Forrester.
After narrowing your list of tools, check out the SLAs (service-level agreements) from 3 to 5 vendors to get the best conditions for your company. Prepare questions on unclear points and get ready for negotiations.
Think over how you're going to scale the implementation on a cross-platform basis сonsidering your advertising channel's architecture, tech stack, and expected needs in the future. Will you ever need a similar solution for other branches of your marketing? It's best to know this from the very beginning of implementation.
AI implementation priority: people, processes, technologies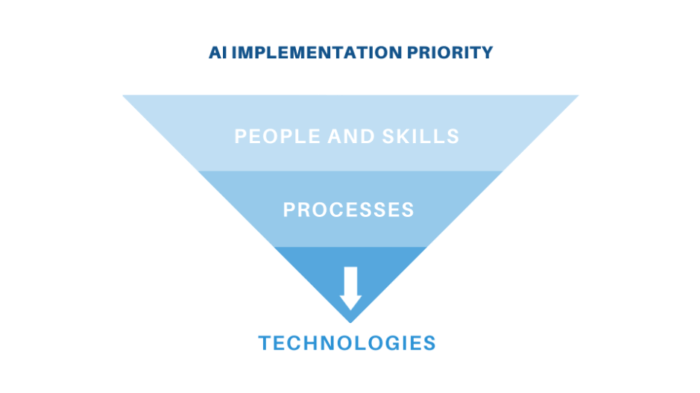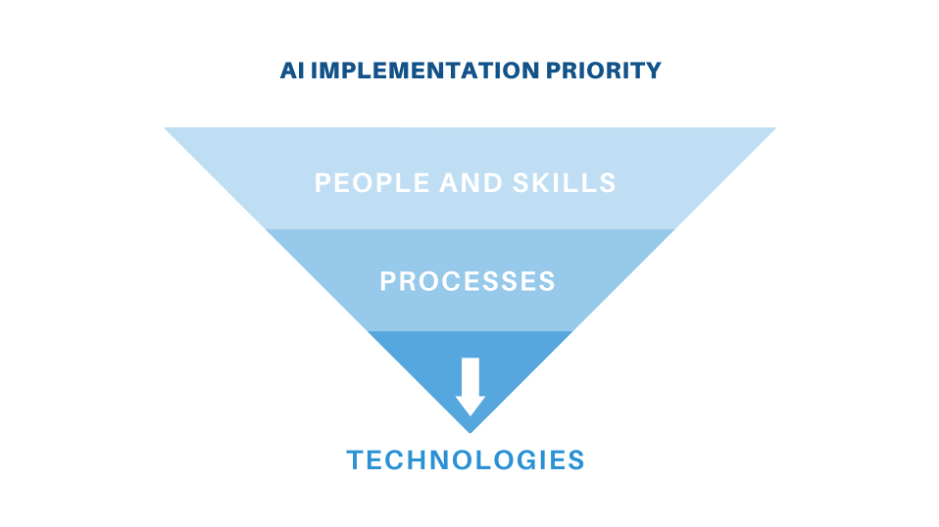 This is the correct order for implementing AI in any kind of organization. It's dictated by the complexity of AI and the high learning curve of adopting it. As your team is the core group that will work with AI and that will be forced to change, you have to make any changes painless and make sure your team understands the reasons for these changes.
If you start with establishing processes for implementing AI without agreeing and planning with your team, you'll meet hidden or open opposition to your positive intentions. People don't like changes they don't understand.
If you start bringing in technologies from outside of the team, everyone will get dizzy and wonder why this or that vendor is better than others and how they should apply new possibilities of AI to their work. If those technologies and services are expensive, it will cause even more stress — How should the team apply them? How can they measure and estimate the results of implementation and tell if these tools are efficient?
To sum up
This list of skills you need to prepare for implementing AI is only a starting point. There's so much more to do! All the skills we've mentioned can sometimes be found in one person, but typically they're spread across your team. So the main idea behind successfully implementing AI and ML technologies is to have an energized, daring, and excited team of motivated people who rely on data and are ready for a long-planned trip to the better data-driven version of their marketing department.