Google phasing out third-party cookie support, Facebook under fire for political ad refusals, Instagram testing web DMs, Grindr reported for GDPR breach, YouTube "should demonetize climate denier videos"
We're a bit late with our usual Friday news roundup, but the stories we've covered are no less important.
First up is the news that Google will be phasing out support for third-party cookies over the next two years – a huge move that will drastically affect the digital marketing industry.
Facebook is continuing to come under fire for its refusal to stop allowing micro-targeting when it comes to political ads, with IPA saying that digital advertising has been "weaponized" for political reasons.
In some good news, Instagram is testing DMs for its web-based app, meaning its messenger service could be a lot more accessible in the future.
Grindr and Twitter have had some issues due to potential GDPR breaches, which were uncovered in an official report.
Finally, YouTube is facing calls to demonetize climate denier videos that include misinformation.
Find out more about each of these marketing news stories below.
---
Google to withdraw third-party cookie support
Third-party cookies have been rejected by an increasing number of big browsers, with Google being the latest. Google has announced that it will be phasing out support for third-party cookies over the next two years.
Rather than utilizing third-party cookies, Google is looking to replace it with a browser-based mechanism, which will be rolled out as part of its "Privacy Sandbox" project, which was announced last August. This project follows on from growing pressure to provide better online privacy and from the increase in the number of browsers blocking cookies.
So how will the Privacy Sandbox initiative allow for targeting and conversion measurement if third-party cookies will no longer be available.
According to Google, "privacy-preserving APIs" will be used within the browser environment to allow for targeting. Google is currently looking at how it can deliver ads to groups of similar people without leaving the browser.
However, when it comes to conversion tracking, Google is not being as forthcoming. Currently, it looks as though conversions will be tracked in Chrome with APIs allowing advertisers to access conversion data that doesn't identify individual users.
The decision to stop supporting third-party cookies brings up a huge challenge for the digital marketing industry. It is likely that it will raise more questions over Google's dominance over the digital advertising industry, something the company will need to combat.
---

IPA condemns Facebook's political advertising stance
Facebook has come under fire for its decision to carry on letting microtargeted political ads that have not been fact-checked to run on its networks, with the Institute of Practitioners in Advertising (IPA) being the latest to condemn the decision. According to the IPA, microtargeted political ads on the social media platform have been "demonstrably abused in the recent past".
This comes as Facebook continues to allow political adverts that use micro-targeting and inflated claims in a bid to affect the opinion of voters. Facebook has said that it made the decision not to address how ads target specific groups and that it won't fact check these ads.
Rather than taking charge of the issue, Facebook said that it would be giving users access to "transparency features" that will mean they can limit how many political ads they see. This is due to be made available within the next few months.
According to the IPA, "advertising technology designed for the promotion of products and services has been weaponized for political messaging."
Nigel Gwilliam, director of media affairs at the IPA said: "in a democracy, political ideas need to be aired and debated in the public square. Micro-targeting has the potential to subvert this, especially when combined with the absence of fact-checking or any other message regulation.
"While the strict Advertising Standards Authority self-regulatory codes cover all product and service advertising in the UK, they not cover political advertising."
This has led the IPA to call for a "publicly accessible, platform-neutral, machine-readable register of all political ads and ad data online", as well as a ban on micro-targeted political advertising online.
---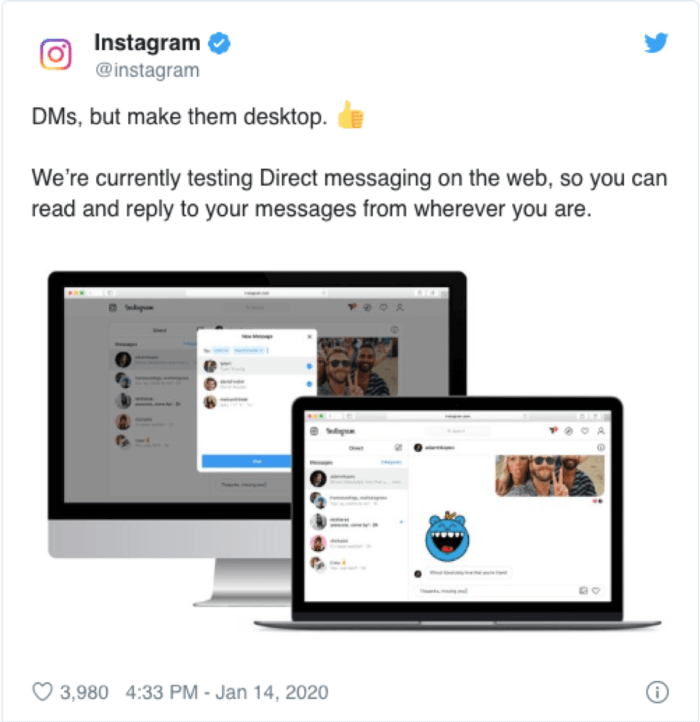 Instagram testing desktop DMs
Instagram has confirmed that it is starting to roll out a test that will allow a small number of accounts to access direct messages through the web version of its app. The functionality was first spotted in February 2019, with some tweaks being seen in October, but it now seems as though an official test is set to take place.
According to Instagram, a small group of users will be given access to the feature, with it still being in the test phase so not likely to be rolled as standard any time soon.
This is good news for social media marketers as it will mean that Instagram messaging tools will be more accessible, especially when you consider the fact that other platforms allow messaging to be accessed via desktop. This could enable brands to better use Instagram DMs for customer service queries and allow for direct interaction with followers.
Of course, this decision may be a pre-cursor to Facebook linking up all of its messaging apps, with Facebook Messenger and WhatsApp being available via desktop.
---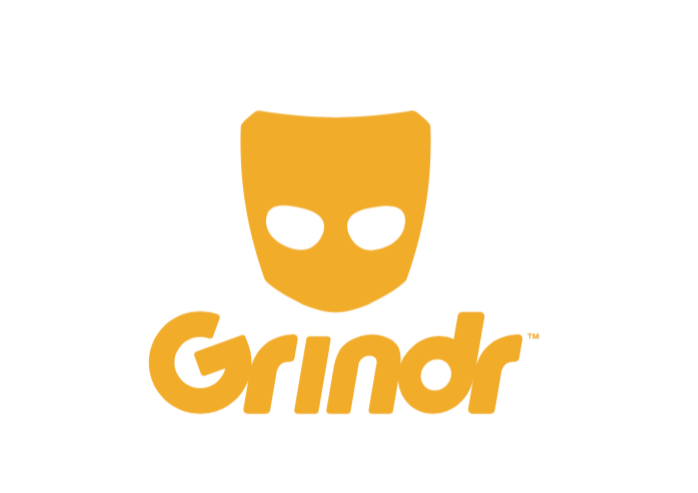 Grindr under fire for GDPR complaint
Grindr has been accused of illegally sharing users' data following an investigation by the Norwegian Consumer Council (NCC). The app, along with a Twitter-owned advertising-tech firm and for other ad-tech companies could all be facing fines as it was discovered they could be in breach of GDPR data rules.
Following the revelation by the NCC, which was part of a larger investigation, Grindr has announced that it is changing its consent platform. Twitter has also temporarily disabled the relevant account.
The NCC's report looked at what it called "out of control" ad-tech practices, finding that the industry has reportedly engaged in "comprehensive illegal collection and indiscriminate use of personal data." The Council commissioned Mnemonic to look at data traffic from ten mobile apps, revealing that apps were found to be sending using data to over 100 advertising or behaviour profiling third parties.
Finn Myrstad, director of digital policy at the council, said: "These practices are out of control and in breach of European data protection legislation. The extend of tracking makes it impossible for us to make informed choices about how our personal data is collected, shared and used."
According to the report, Grindr shared IP addresses, Advertising ID, GPS location, age and gender data with third parties. It also found that MoPub, an ad-tech subsidiary of Twitter, was a mediator for sharing the data.
Following these revelations, the NCC has filed complaints to the Norwegian Data Protection Authority against six ad-tech companies in total for GDPR breaches.
---

YouTube called on to demonetize climate denial videos
YouTube is being criticized for allowing climate denial videos to profit from advertising on the platform.
The US activist group Avaaz performed a study that looked at how Google is contributing to and shaping the current conversation around climate change. The organization found that a number of ads from huge global brands were appearing next to climate disinformation videos on YouTube.
According to the research, of the top 100 related videos when searching for 'global warming' on YouTube, 16% contained misinformation. This is fairly worrying when you consider that the top ten most-viewed videos had, on average, over one million views each.
Julie Deruy, senior campaigner at Avaaz, said: "YouTube s the largest broadcasting channel in the world, and it is driving millions of people to climate misinformation videos.
"This is not about free speech, this is about the free advertising YouTube is giving to factually inaccurate videos that risk confusing people about one of the biggest crises of our time.
"The bottom line is that YouTube should not feature, suggest, promote, advertise or lead users to misinformation."
This report follows on from previous findings that YouTube was allowing anti-vaccination videos to profit from advertising, which is no longer the case. Avaaz is calling for YouTube to take similar steps as it did with anti-vax videos for all content that is sharing misinformation.